San Francisco International Airport (SFO)
Looking for an alternative to the traditional San Francisco Airport shuttle or taxi? Whether you're going from SFO to Napa or from Silicon Valley to SFO, get where you're going with the Uber app you already know. Request a ride to and from SFO at the tap of a button.
San Francisco, CA 94128
+1 650-821-8211
Reserve a ride with Uber in advance at San Francisco International Airport
Complete your plans today by reserving a ride with Uber to San Francisco International Airport. Request a ride up to 90 days before your flight, at any time and on any day of the year.
Request a ride around the world
Tap a button now and get airport transportation at more than 700 major hubs.
Let the app and your driver handle the details, so you don't have to navigate an unfamiliar city.
Find your favorite features, including real-time pricing and cash-free payment, even if you're in a new place.
Pickup at San Francisco International Airport (SFO)
Request when you're ready to go
Choose a ride option that suits your group size and luggage storage needs. If you're requesting UberX, UberPool, or Express Pool from Terminals 1-3, please follow Airport signage to Level 5 of the Parking Garage. If you're requesting Uber Comfort, UberXL, Select, Black, Black SUV, or any product from the International Terminal, you may be picked up from the curb on the Departures level.
Meet your driver at a designated pickup location
For Terminals 1-3, UberX, UberPool, and Express Pool pickups take place on Level 5 of the Domestic Garage, while all other pickups at Terminals 1-3 are curbside on the Departures Level (2nd floor, domestic).
Comfort, XL, and Select pickups will take place curbside starting November 20, 2019. After that, these options will no longer pick up at Garage Level 5.
All pickups at the international terminal are on the 2nd curb on the Departures Level (3rd floor, international).
If you're requesting from the Domestic Garage, you can enter your section letter to help your driver find you. Terminal 1 uses sections B1-3, C1-3. Terminal 2 uses D1-6 and E1-3 F. Terminal 3 uses F1-6 and F/G 1-3.
If you're requesting from the curb (Comfort, XL, Select, Black, and Black SUV only), you may enter your terminal and door number so your driver knows where to find you.
San Francisco Airport Map
Terminals 1-3 are domestic, and Areas A and G are international. Three garages provide access to terminals by AirTrain and a walkway.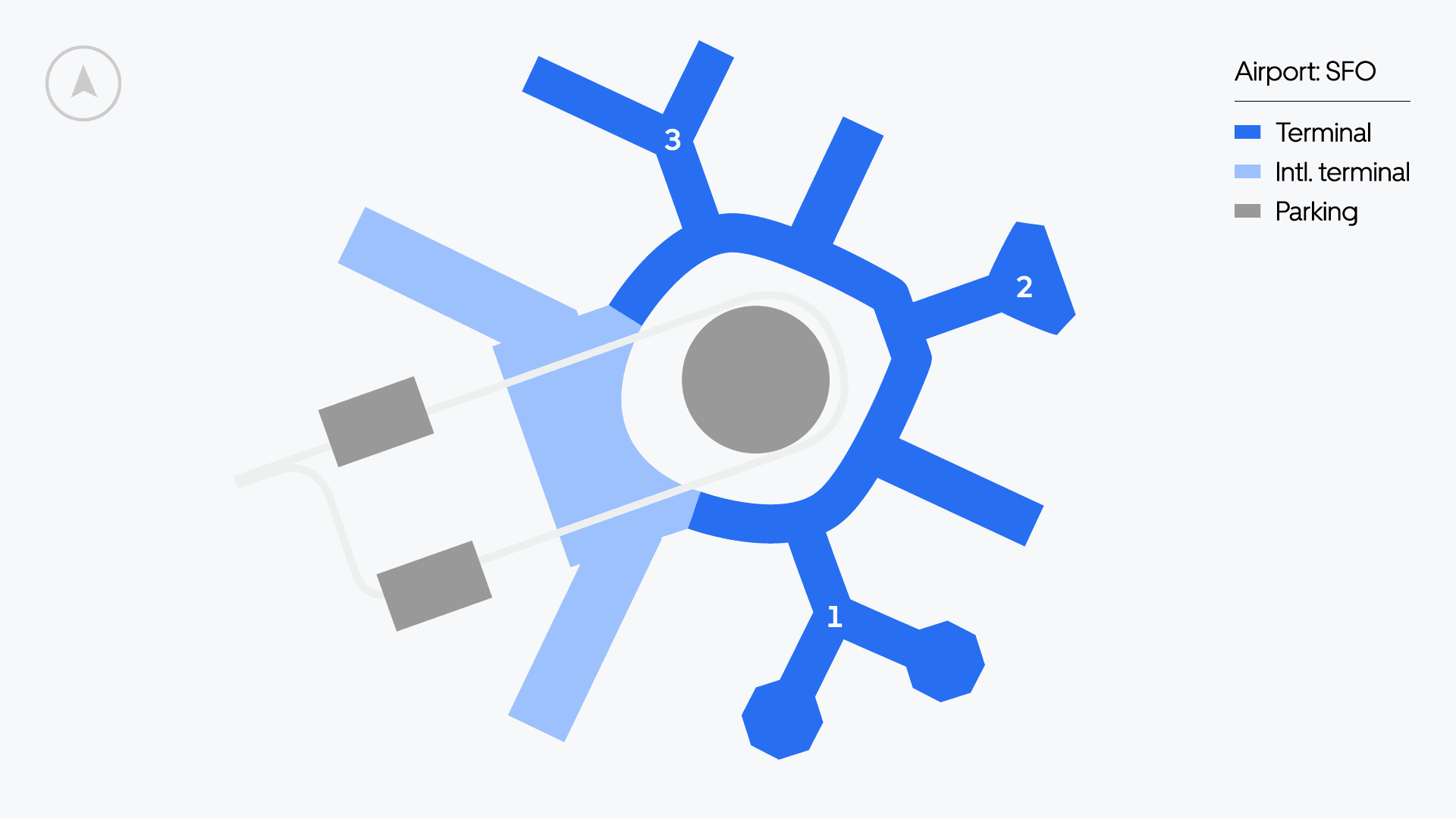 Top questions from riders
Do drivers using Uber pick up at SFO?

How much will an Uber trip to SFO cost?

The cost of an Uber trip to (or from) SFO depends on factors that include the type of ride you request, the estimated length and duration of the trip, tolls, and current demand for rides.

You can see an estimate of the price before you request by going here and entering your pickup spot and destination. Then when you request a ride you'll see your actual price in the app based on real-time factors.

Where do I meet my driver for an airport pickup?

Pickup locations may depend on the type of ride you request and the size of the airport. Follow the instructions in the app about where to meet your driver. You can also look for signs that point to designated airport rideshare zones.

If you can't find your driver, contact them through the app.

What does SFO stand for?

The airport code SFO stands for "San Francisco," with the "O" likely signifying the final letter in the city's name.
From where to pick up riders to following local rules and regulations, find out how to make your airport trips better.

Going to a different airport?

Get dropped off and picked up from more than 700 airports around the world.
San Francisco International Airport (SFO) is Northern California's largest airport. Located about 15 miles (24 kilometers) south of downtown San Francisco, it's easily accessible for travelers going to and from the city of San Francisco. The airport is about a 30-minute drive from downtown SF in ideal road and traffic conditions.
SFO Airport terminals
SFO Airport is divided into 4 terminals: 1, 2, 3, and the San Francisco Airport International Terminal, which consists of Boarding Areas A and G. San Francisco Airport lounges can be found in all terminals. You can plan your trip using the information below.
SFO Terminal 1
Delta
Frontier
Southwest
Delta Sky Club
SFO Terminal 2
Alaska
American
American Airlines Admirals Club
SFO Terminal 3
United
American Express Centurion Lounge
United Club (3)
SFO Airport International Terminal
Boarding for SFO Airport international flights takes place in Areas A and G. SFO offers nonstop flights to more than 45 international cities on 39 international carriers. The International Terminal is home to more than 10 airport lounges, including the Air France–KLM Lounge and the Virgin Atlantic Clubhouse.
Dining at SFO
More than 60 dining options including bars, cafes, and San Francisco Airport restaurants with table service are located throughout the airport. For travelers wishing to eat before going through security, the Main Hall Food Court is located near Boarding Area A in the International Terminal. After security, passengers can buy a snack or a carry-out meal in the Terminal 2 retail section near Boarding Area D. In Terminal 3, another San Francisco Airport food court is located near Gates 80-90.
Getting around SFO
The SFO Airport shuttle, AirTrain, is the airport's free people mover, which connects to all terminals and terminal garages. From Terminals 1, 2, or 3, the AirTrain station is located on the Mezzanine, Level 3, across from the skybridge. From the San Francisco Airport International Terminal, access AirTrain on Level 4. Its 2 lines, the Red Line and the Blue Line, operate 24 hours a day as frequently as every 4 minutes. AirTrain also connects to Bay Area Rapid Transit (BART), an area-wide public transportation system, at the Garage G AirTrain/BART station stop.
Things to do at SFO
San Francisco Airport activities and attractions include an airport museum and library, which features exhibitions throughout the airport showcasing art, aviation history, local culture, and science. Kids can use interactive exploration areas in Terminal 2 in Boarding Area D and in Terminal 3 in Boarding Areas E and F. Spas are located in every SFO Airport terminal.
Currency exchange at SFO
SFO Airport currency exchange offices and machines are located throughout the International Terminal. The main office is near Door 5.
Hotels near SFO
Whether you have a layover or an overnight flight delay, or you need a place to stay for a visit near SFO, there are more than 50 hotels and accommodations nearby.
Points of interest near SFO
Alcatraz Island
Fisherman's Wharf
Golden Gate Bridge
Wine country, Napa and Sonoma counties
Find more information about SFO airport here.
This page contains information from third-party websites that are not under the control of Uber and that may be periodically changed or updated. Any information included on this page that is not directly related to Uber or its operations is for informational purposes only and in no way shall be relied upon, or interpreted or construed to create any warranties of any kind, either express or implied, regarding the information contained herein. Certain requirements and features vary by country, region, and city.