Letar du efter ett alternativ till den traditionella transfern eller taxin på LaGuardia Airport? Vare sig du ska från LaGuardia till Empire State Building eller från Central Park till LaGuardia kan du ta dig dit du ska med Uber-appen som du redan känner till. Beställ en resa till och från LGA med en knapptryckning.
Queens, NY 11371
+1 718-533-3400
Reservera en resa med Uber i förväg till LaGuardia Airport
Slutför dina planer i dag genom att reservera en resa med Uber till LaGuardia Airport. Beställ en resa upp till 90 dagar före flygresan, när som helst och vilken dag på året som helst.
Beställ en resa över hela världen
Tryck på en knapp nu för att ordna transport till och från fler än 700 större flygplatser.
Ta dig runt som en lokalinvånare
Låt appen och din förare hantera detaljerna så att du slipper navigera i en okänd stad.
Känn dig som hemma med Uber
Hitta dina favoritfunktioner, inklusive prissättning i realtid och kontantfria betalningar, även när du befinner dig på en ny plats.
Olika sätt att resa i området
Upphämtning vid LaGuardia Airport (LGA)
Öppna appen för att beställa en resa
När du är redo kan du öppna Uber-appen för att beställa en resa till din destination. Välj det LGA-resealternativ som bäst passar storleken på din grupp och det bagageutrymme ni behöver.
Följ anvisningarna i appen
For Terminal A, head outside from arrivals or baggage claim. This is where Uber drivers at LGA meet travelers for pickup.
For Terminal B, follow the green "Car Services" signs and proceed through the pedestrian walkway to Level 2 of the Terminal B parking garage. Please wait for your driver in the designated lane.
For Terminals C, head outside from baggage claim. Please wait for your rideshare driver in the designated lane.
Gå till den upphämtningsplats på LGA som anges i appen. Observera att denna plats inte nödvändigtvis är vid den utgång som är närmast dig. Din förares namn, registreringsnummer och bilfärg visas i appen. Verifiera bilen innan du kliver in. Om du inte kan hitta din förare kan du kontakta hen via appen.
LGA is one of the 3 airports that serve New York City. It has 3 terminals (A, B, and C).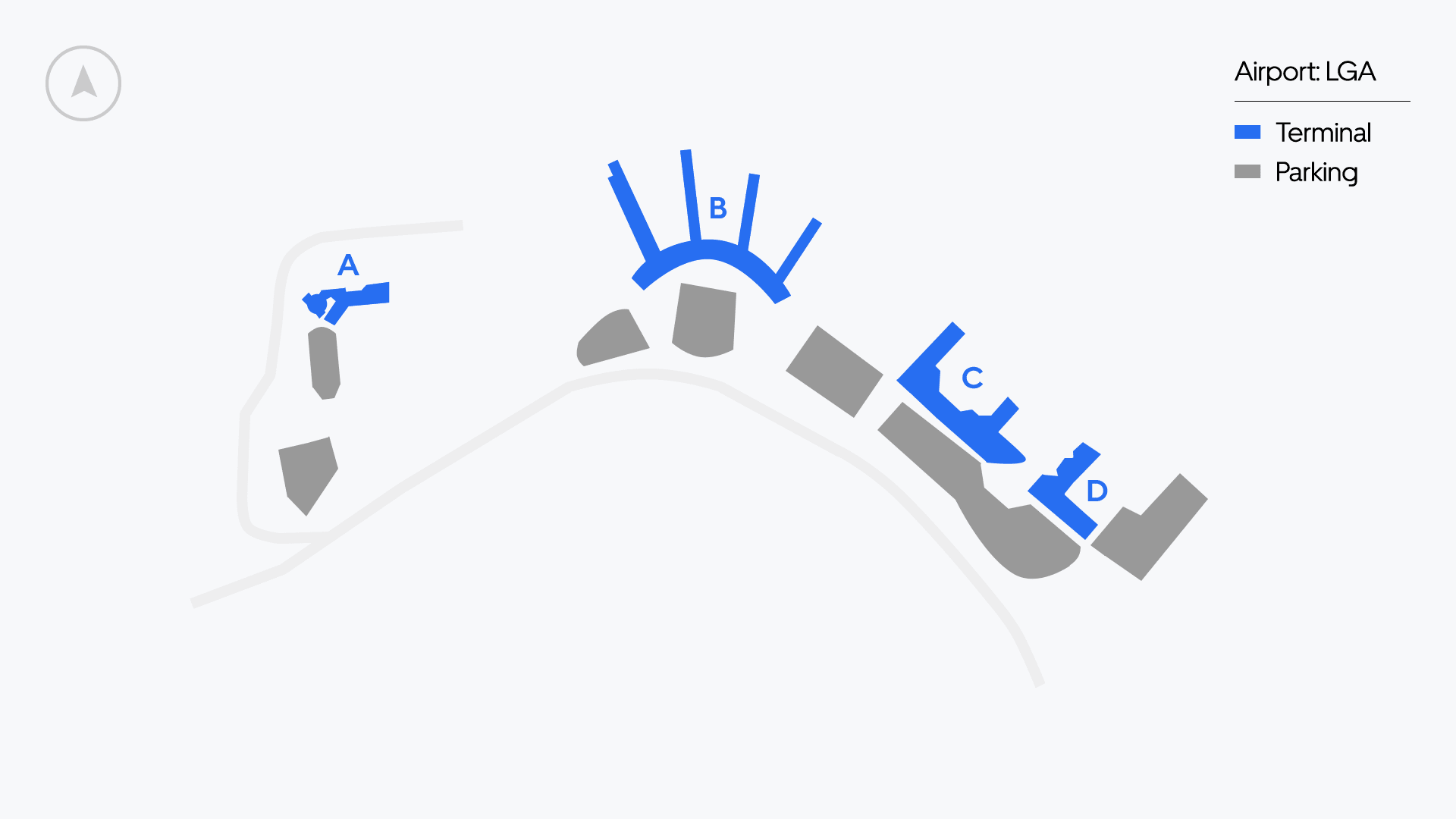 Vanliga frågor från passagerare
Do drivers using Uber pick up at LGA?

Hur mycket kostar en Uber-resa till LGA?

The cost of an Uber trip to (or from) LGA depends on factors that include the type of ride you request, the estimated length and duration of the trip, tolls, and current demand for rides.

You can see an estimate of the price before you request by going here and entering your pickup spot and destination. Then when you request a ride you'll see your actual price in the app based on real-time factors.

Var möter jag min förare vid upphämtning på en flygplats?

Pickup locations may depend on the type of ride you request and the size of the airport. Follow the instructions in the app about where to meet your driver. You can also look for signs that point to designated airport rideshare zones.

If you can't find your driver, contact them through the app.
Få reda på hur du kan förbättra flygplatsresor – var du kan hämta upp passagerare och vilka lokala lagar och förordningar som gäller.

Ska du till en annan flygplats?

Bli avlämnad och upphämtad vid mer än 700 flygplatser över hela världen.
Information till besökare på LaGuardia Airport
LaGuardia Airport is the 12th-busiest airport in the US, serving more than 29 million passengers annually. It is located in Queens, New York, about 9 miles (15 kilometers) from Midtown Manhattan, an 18-minute drive in normal road conditions.
LaGuardia Airport terminals
LGA Airport has 4 terminals: A, B, and C. LaGuardia does not serve international flights, as there is no border control facility at the airport. LaGuardia Airport lounges are located throughout the airport. You can plan your trip using the information below.
LGA Terminal A
LGA Terminal B
Air Canada
American
American Shuttle
JetBlue
Southwest
United
Air Canada Maple Leaf Lounge
American Airlines Admirals Club
The Centurion Lounge
United Club
LGA Terminal C
Delta
Delta Shuttle
Frontier
Spirit
WestJet
Delta Sky Club
Dining at LaGuardia Airport
LaGuardia Airport has an extensive selection of dining options across all terminals. Its 70-plus dining destinations range from major fast-food outlets to table-service restaurants. Two LaGuardia Airport food courts are located in Terminal B, and food halls are located in Terminals C.
Getting around LaGuardia Airport
LaGuardia has a complimentary shuttle bus service to transport passengers between terminals and to parking lots and car service pickup. LaGuardia Airport shuttle stops are located throughout the airport, and buses run every 8 to 10 minutes at peak times.
Things to do at LaGuardia Airport
LaGuardia Airport shops and boutiques are located throughout the airport, with a range of options including fashion and electronics. Spas can be found in Terminals B and C. .
Currency exchange at LaGuardia Airport
There are no currency exchange facilities at LGA. ATMs, however, are located throughout the airport.
Hotels near LaGuardia Airport
Whether you have a layover or an overnight flight delay, or you need a place to stay for a visit near LGA, there are many hotels and accommodations nearby.
Points of interest near LaGuardia Airport
Broadway and the Theater District
Central Park
Empire State Building
Statue of Liberty and Ellis Island
Find more information about LaGuardia Airport here.
Denna sida innehåller information från webbplatser från tredje part som inte kontrolleras av Uber och ibland kan ändras eller uppdateras. Eventuell information som visas på denna sida som inte är direkt relaterad till Uber eller Ubers verksamhet ges endast i informationssyfte och ska inte åberopas eller tolkas som grund för några slags garantier, uttryckliga eller underförstådda, gällande informationen häri. Vissa krav och funktioner kan variera mellan olika länder, regioner och städer.