Lagvardijos oro uostas (LGA)
Looking for an alternative to the traditional Lagvardijos oro uostas shuttle or taxi? Whether you're going from LaGuardia to the Empire State Building or from Central Park to LaGuardia, get where you're going with the Uber app you already know. Request a ride to and from LGA at the tap of a button.
Queens, NY 11371
+1 718-533-3400
Iš anksto rezervuokite "Uber" kelionę į ir iš Lagvardijos oro uostas
Įgyvendinkite dienos planus, – rezervuokite "Uber" kelionę iš šio oro uosto arba į jį: Lagvardijos oro uostas. Užsisakykite kelionę likus ne daugiau kaip 90 dienų iki skrydžio: vairuotojas jus nuveš bet kuriuo metu.
Užsisakykite keliones visame pasaulyje
Bakstelėkite mygtuką ir keliaukite į daugiau kaip 700 svarbiausių oro uostų ar iš jų.
Keliaukite kaip vietiniai
Programėlė ir jūsų vairuotojas pasirūpins, kad nereikėtų ieškoti kelio nepažįstamame mieste.
Su "Uber" jauskitės kaip namuose
Net ir atvykę į naują vietą naudokite savo mėgstamiausias funkcijas, įskaitant realiuoju laiku atnaujinamas kainas bei mokėjimą ne grynaisiais.
Būdai keliauti po šią vietovę
Paėmimas iš Lagvardijos oro uostas (LGA)
Atsidarykite programėlę ir užsisakykite kelionę
When you're ready, open the Uber app to request a ride to your destination. Choose the LGA transportation option that suits your group size and luggage needs.
Vadovaukitės programėlėje teikiamais nurodymais.
For Terminal A, head outside from arrivals or baggage claim. This is where Uber drivers at LGA meet travelers for pickup.
For Terminal B, follow the green "Car Services" signs and proceed through the pedestrian walkway to Level 2 of the Terminal B parking garage. Please wait for your driver in the designated lane.
For Terminals C, head outside from baggage claim. Please wait for your rideshare driver in the designated lane.
Eikite į LGA oro uoste paskirtą paėmimo vietą, kuri nurodyta programėlėje. Atminkite, kad ši vieta ne visada būna prie artimiausio išėjimo. Vairuotojo vardas, automobilio valstybinis numeris ir automobilio spalva bus rodomi programėlėje. Prieš įlipdami, pasitikrinkite kelionės informaciją. Jei nepavyksta rasti vairuotojo, susisiekite su juo per programėlę.
Lagvardijos oro uostas Žemėlapis
LGA is one of the 3 airports that serve New York City. It has 3 terminals (A, B, and C).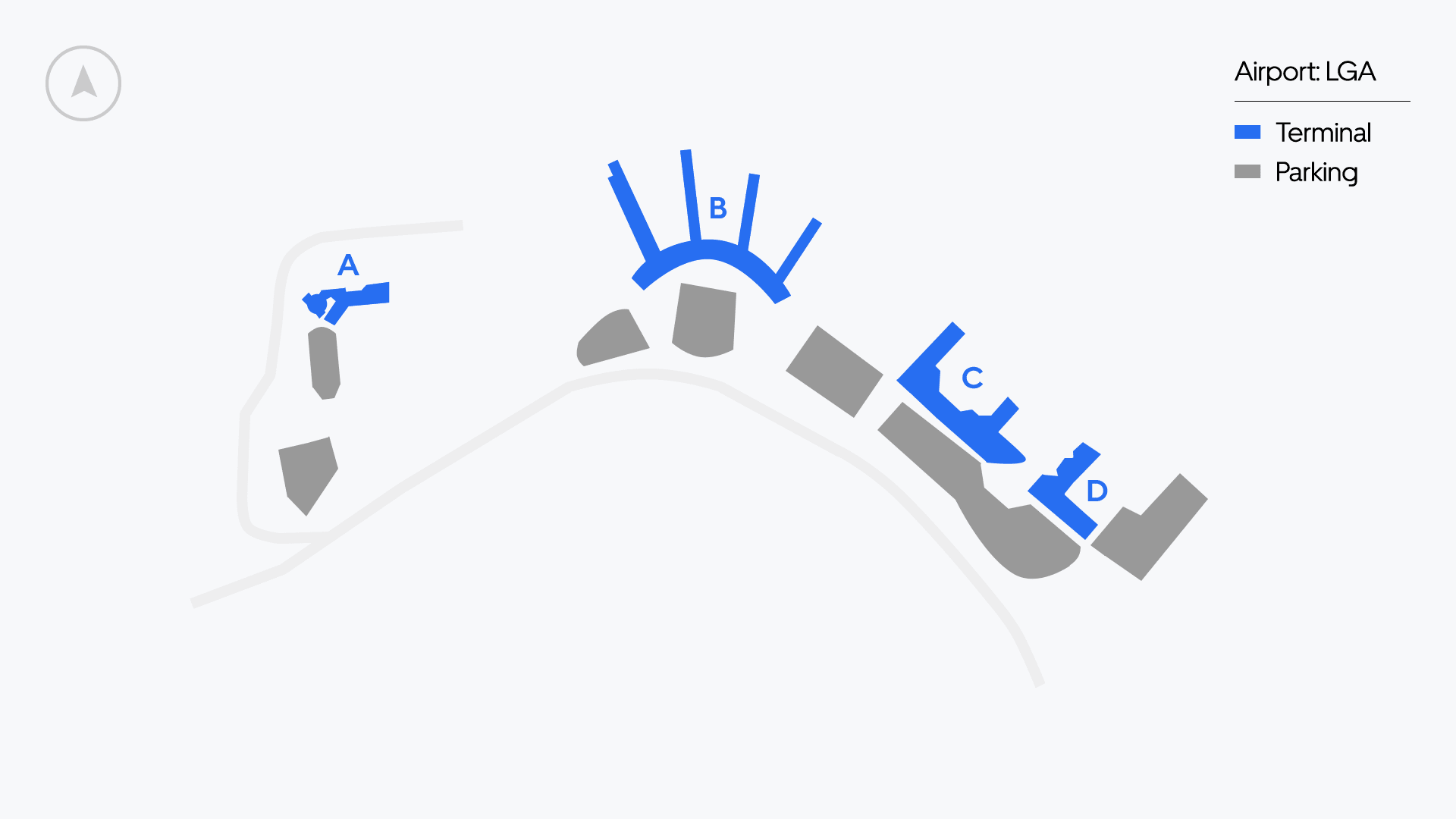 Aktualiausi keleivių klausimai
Do drivers using Uber pick up at LGA?

Kiek kainuos "Uber" kelionė į LGA?

The cost of an Uber trip to (or from) LGA depends on factors that include the type of ride you request, the estimated length and duration of the trip, tolls, and current demand for rides.

You can see an estimate of the price before you request by going here and entering your pickup spot and destination. Then when you request a ride you'll see your actual price in the app based on real-time factors.

Kur pasitikti vairuotoją laukiant paėmimo iš oro uosto?

Pickup locations may depend on the type of ride you request and the size of the airport. Follow the instructions in the app about where to meet your driver. You can also look for signs that point to designated airport rideshare zones.

If you can't find your driver, contact them through the app.
Vairuojate naudodamiesi "Uber"?

Sužinokite, iš kur paimti keleivius pagal vietos taisykles ir reglamentus bei kaip padaryti, kad keliones į oro uostus ir iš jų taptų patogesnės.

Keliaujate į kitą oro uostą?

Išlaipinimas i paėmimas iš daugiau kaip 700 viso pasaulio oro uostų.
Lagvardijos oro uosto lankytojų informacija
LaGuardia Airport is the 12th-busiest airport in the US, serving more than 29 million passengers annually. It is located in Queens, New York, about 9 miles (15 kilometers) from Midtown Manhattan, an 18-minute drive in normal road conditions.
LaGuardia Airport terminals
LGA Airport has 4 terminals: A, B, and C. LaGuardia does not serve international flights, as there is no border control facility at the airport. LaGuardia Airport lounges are located throughout the airport. You can plan your trip using the information below.
LGA Terminal A
LGA Terminal B
Air Canada
American
American Shuttle
JetBlue
Southwest
United
Air Canada Maple Leaf Lounge
American Airlines Admirals Club
The Centurion Lounge
United Club
LGA Terminal C
Delta
Delta Shuttle
Frontier
Spirit
WestJet
Delta Sky Club
Dining at LaGuardia Airport
LaGuardia Airport has an extensive selection of dining options across all terminals. Its 70-plus dining destinations range from major fast-food outlets to table-service restaurants. Two LaGuardia Airport food courts are located in Terminal B, and food halls are located in Terminals C.
Getting around LaGuardia Airport
LaGuardia has a complimentary shuttle bus service to transport passengers between terminals and to parking lots and car service pickup. LaGuardia Airport shuttle stops are located throughout the airport, and buses run every 8 to 10 minutes at peak times.
Things to do at LaGuardia Airport
LaGuardia Airport shops and boutiques are located throughout the airport, with a range of options including fashion and electronics. Spas can be found in Terminals B and C. .
Currency exchange at LaGuardia Airport
There are no currency exchange facilities at LGA. ATMs, however, are located throughout the airport.
Hotels near LaGuardia Airport
Whether you have a layover or an overnight flight delay, or you need a place to stay for a visit near LGA, there are many hotels and accommodations nearby.
Points of interest near LaGuardia Airport
Broadway and the Theater District
Central Park
Empire State Building
Statue of Liberty and Ellis Island
Find more information about LaGuardia Airport here.
Šiame puslapyje pateikiama informacija iš "Uber" nekontroliuojamų trečiųjų šalių svetainių, kurios gali būti periodiškai keičiamos arba atnaujinamos. Su "Uber" arba jos operacijomis tiesiogiai nesusijusi informacija šiame puslapyje pateikiama tik informaciniais tikslais ir ja jokiu būdu negalima remtis ar ją suprasti ir interpretuoti kaip tiesiogiai ar netiesiogiai išreikštą garantiją dėl šiame dokumente pateiktos informacijos. Skirtingose šalyse, regionuose ir miestuose tam tikri reikalavimai ir funkcijos taip pat skiriasi.