Džono F. Kenedžio tarptautinis oro uostas (JFK)
Ieškote alternatyvos tradiciniam maršrutiniam autobusui ar taksi JFK oro uostas? Nesvarbu, ar keliausite iš JFK į "Times" aikštę, ar iš "Empire State Building" į JFK, nuvykite naudodamiesi jums jau žinoma "Uber" programėle. Užsisakykite kelionę iš arba į JFK vienu bakstelėjimu.
Queens, NY 11430
+1 718-244-4444
Iš anksto rezervuokite "Uber" kelionę į ir iš Džono F. Kenedžio tarptautinis oro uostas
Įgyvendinkite dienos planus, – rezervuokite "Uber" kelionę iš šio oro uosto arba į jį: Džono F. Kenedžio tarptautinis oro uostas. Užsisakykite kelionę likus ne daugiau kaip 90 dienų iki skrydžio: vairuotojas jus nuveš bet kuriuo metu.
Užsisakykite keliones visame pasaulyje
Bakstelėkite mygtuką ir keliaukite į daugiau kaip 700 svarbiausių oro uostų ar iš jų.
Keliaukite kaip vietiniai
Programėlė ir jūsų vairuotojas pasirūpins, kad nereikėtų ieškoti kelio nepažįstamame mieste.
Su "Uber" jauskitės kaip namuose
Net ir atvykę į naują vietą naudokite savo mėgstamiausias funkcijas, įskaitant realiuoju laiku atnaujinamas kainas bei mokėjimą ne grynaisiais.
Būdai keliauti po šią vietovę
Nebrangios kelionės, skirtos tik jums

Aukštos klasės kelionės prabangiais automobiliais

Naujesni automobiliai, kuriuose yra daugiau erdvės kojoms

Nebrangios kelionės iki 6 asmenų grupelėms
Standartiniai paketai, iki 30 kg

Affordable rides for you and your pet

Mažos pakuotės, iki 15 kg
Prabangios kelionės su profesionaliais vairuotojais

Aukštos klasės kelionės prabangiais automobiliais pagal valandas

Luxury hourly rides for 6 with professional drivers
NEĮGALIESIEMS PRITAIKYTAS AUTOMOBILIS

1-4

Wheelchair-accessible rides

Rides equipped with a car seat
Paėmimas iš Džono F. Kenedžio tarptautinis oro uostas (JFK)
Atsidarykite programėlę ir užsisakykite kelionę
Kai būsite pasiruošę, atsidarykite "Uber" programėlę ir užsisakykite kelionę į reikiamą vietą. Įvertinę savo grupės dydį ir turimo bagažo kiekį, pasirinkite tinkamą transporto priemonę, kuri prieinama JFK oro uoste.
You'll get directions about JFK pickup points directly in the app.
For Terminals 1-4 and 7-8, head outside from arrivals or baggage claim. Look for "Ride App Pick Up" or "Passenger Pick Up" signs.
Beginning June 6, 2023 at 10:00AM ET, for Terminal 5, proceed to the AirTrain via the Skywalk on Level 4. Take the AirTrain and exit at Terminal 7. Follow signs for Ride App Pick Up to Orange Parking. Request your ride once you have reached the Orange Parking and Ride App Pick Up.
Pasirinkite JFK terminalą ir paėmimo vietą, kaip nurodyta programėlėje. Atminkite, kad ši vieta ne visada būna prie artimiausio išėjimo.
Vairuotojo vardas, automobilio valstybinis numeris ir automobilio spalva bus rodomi programėlėje. Prieš įlipdami, pasitikrinkite kelionės informaciją. Jei nepavyksta rasti vairuotojo, susisiekite su juo per programėlę.
JFK is one of the largest airports in the world, with 128 gates and 5 terminals: 1, 2, 4, 5, 7, and 8.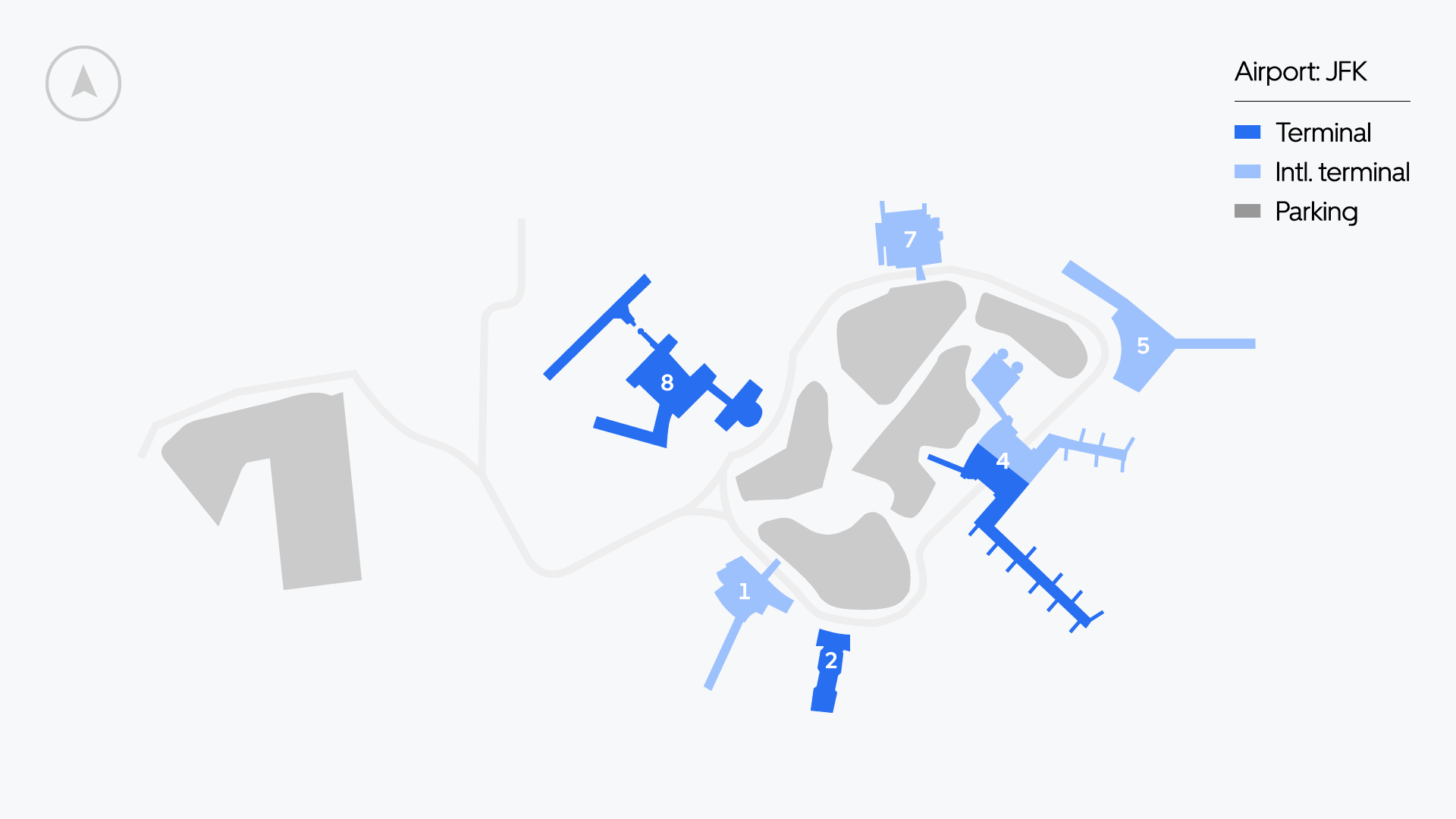 Aktualiausi keleivių klausimai
Do drivers using Uber pick up at JFK?

Taip. Atsidarykite [šį pasaulio oro uostų sąrašą](https://www.uber.com/global/lt/airports/) ir šiame puslapyje galėsite per "Uber" platformą užsisakyti kelionę.

Kiek kainuos "Uber" kelionė į JFK?

The cost of an Uber trip to (or from) JFK depends on factors that include the type of ride you request, the estimated length and duration of the trip, tolls, and current demand for rides.

You can see an estimate of the price before you request by going here and entering your pickup spot and destination. Then when you request a ride you'll see your actual price in the app based on real-time factors.

Kur pasitikti vairuotoją laukiant paėmimo iš oro uosto?

Pickup locations may depend on the type of ride you request and the size of the airport. Follow the instructions in the app about where to meet your driver. You can also look for signs that point to designated airport rideshare zones.

If you can't find your driver, contact them through the app.
Vairuojate naudodamiesi "Uber"?

Sužinokite, iš kur paimti keleivius pagal vietos taisykles ir reglamentus bei kaip padaryti, kad keliones į oro uostus ir iš jų taptų patogesnės.

Keliaujate į kitą oro uostą?

Išlaipinimas i paėmimas iš daugiau kaip 700 viso pasaulio oro uostų.
JFK oro uosto lankytojų informacija
John F. Kennedy International Airport is the 22nd-busiest airport in the world by passenger numbers, serving more than 59 million passengers annually. Located in Queens, New York, it's about 16 miles (26 kilometers) southeast of Midtown Manhattan, a journey that takes 35 minutes in ideal road and traffic conditions.
JFK Airport terminals
JFK Airport has 5 main passenger terminals: 1, 4, 5, 7, and 8, with 128 gates between them. Lounges for many carriers, including American and Delta, can be found in multiple locations throughout the airport. You can plan your trip using the information below.
JFK Terminal 1
Aeroflot
Air China
Air France
Air Italy
Alitalia
Austrian
Azerbaijan
Brussels
Cayman
China Eastern
EVA Air
Fly Jamaica
Japan Airlines
Korean Air
Norwegian Air
Philippine
Royal Air Maroc
Saudia
TAME
Turkish
Viva Aerobus
JFK Terminal 2
JFK Terminal 4
Aeroméxico
Air Europa
Air India
Air Serbia
Asiana
Avianca
Avianca Brasil
Caribbean
China Airlines
China Southern
Copa
Delta
EgyptAir
El Al
Emirates
Etihad
Kenya Airways
KLM Royal Dutch Airlines
Kuwait Airways
Singapore Airlines
South African Airways
Sun Country
SWISS
Thomas Cook Airlines
Uzbekistan
Virgin Atlantic
Volaris
WestJet
XiamenAir
XL
JFK Terminal 5
Aer Lingus
Cape Air
Hawaiian
JetBlue
TAP Air Portugal
JFK Terminal 7
Aerolíneas Argentinas
Alaska
All Nippon
British Airways
Eurowings
Iberia
Icelandair
Interjet
LOT
Qatar Airways
Ukraine International
JFK Terminal 8
American
Cathay Pacific
Finnair
LATAM
Qantas
Qatar Airways
Royal Jordanian
JFK international terminal
JFK New York Airport international flights are served at all terminals. JFK Airport offers nonstop flights to more than 50 countries.
Dining at JFK Airport
John F. Kennedy Airport has an extensive selection of dining destinations across all terminals. With more than 150 dining options, travelers have their pick of places to grab food and drinks, including coffee shops, fast-food chains, and JFK Airport bars. Travelers seeking a meal with table service can opt to dine at one of the JFK Airport restaurants.
Getting around JFK Airport
JFK Airport shuttle transportation is provided by AirTrain, a system that connects all passenger terminals to airport parking lots, the hotel shuttle pickup area, the rental car center, and NYC's public transportation network at Jamaica and Howard Beach stations.
Things to do at JFK Airport
For JFK Airport shopping opportunities, travelers can visit the many stores and newsstands selling souvenirs, gifts, and high-end fashion. Kids can access an enclosed play area in Terminal 5, equipped with interactive activities and toys. For a JFK Airport massage, travelers can visit the spas located in Terminals 1, 4, and 8.
Currency exchange at JFK Airport
JFK Airport currency exchange offices can be found in all terminals.
Hotels near JFK Airport
Whether you have a layover or an overnight flight delay, or you need a place to stay for a visit near JFK, there are more than 10 hotels and accommodations nearby. Visitors can also opt to stay in Manhattan or elsewhere in New York City.
Points of interest near JFK Airport
Broadway and the Theater District
Central Park
Empire State Building
Statue of Liberty and Ellis Island
Find more information about JFK here.
Šiame puslapyje pateikiama informacija iš "Uber" nekontroliuojamų trečiųjų šalių svetainių, kurios gali būti periodiškai keičiamos arba atnaujinamos. Su "Uber" arba jos operacijomis tiesiogiai nesusijusi informacija šiame puslapyje pateikiama tik informaciniais tikslais ir ja jokiu būdu negalima remtis ar ją suprasti ir interpretuoti kaip tiesiogiai ar netiesiogiai išreikštą garantiją dėl šiame dokumente pateiktos informacijos. Skirtingose šalyse, regionuose ir miestuose tam tikri reikalavimai ir funkcijos taip pat skiriasi.