Aéroport international de New York-John F. Kennedy (JFK)
Vous cherchez une alternative à la navette ou au taxi traditionnel de Aéroport international de New York-John F Kennedy (JFK) ? Que vous vous rendiez de l'aéroport JFK à Times Square ou de l'Empire State Building à JFK, arrivez à bon port avec l'application Uber que vous connaissez. Commandez une course aller-retour pour JFK en un clic.
Queens, NY 11430
+1 718-244-4444
Réservez une course avec Uber à l'avance à l'aéroport Aéroport international de New York-John F. Kennedy
Parez à toute éventualité en réservant une course avec Uber pour vous rendre à l'aéroport Aéroport international de New York-John F. Kennedy. Commandez une course jusqu'à 30 jours avant votre vol, à tout moment et n'importe quel jour de l'année.
Commandez une course dans le monde entier
Rejoignez l'aéroport depuis plus de 600 points de transit majeurs, en un clic.
Déplacez-vous en toute simplicité
Laissez l'application et votre chauffeur s'occuper des détails. Plus besoin de trouver votre chemin dans une ville inconnue !
Avec Uber, soyez à l'aise en toutes circonstances
Retrouvez vos fonctionnalités préférées, notamment la tarification en temps réel et le paiement sans espèces, même dans un endroit que vous ne connaissez pas.
Types de courses dans cette zone
Des courses abordables, rien que pour vous

Véhicules et service haut de gamme

Véhicules récents avec plus d'espace pour les jambes

Des courses abordables pour des groupes jusqu'à 6 personnes
Colis standard, jusqu'à 30 lb

Courses abordables pour vous et votre animal de compagnie

Petits colis, jusqu'à 15 lb
Des courses de luxe effectuées par les chauffeurs les mieux notés et les plus expérimentés, et pouvant accueillir jusqu'à [6] personnes

Courses haut de gamme à l'heure dans des voitures de luxe

Luxury hourly rides for 6 with professional drivers
Wheelchair-accessible rides

Véhicules équipés d'un siège enfant
Prise en charge à Aéroport international de New York-John F. Kennedy (JFK)
Ouvrez votre application pour commander une course
Lorsque vous le souhaitez, ouvrez l'application Uber pour commander une course jusqu'à votre destination. Choisissez l'option de transport à l'aéroport JFK qui convient à la taille de votre groupe et à vos besoins en matière de bagages.
You'll get directions about JFK pickup points directly in the app.
For Terminals 1-4 and 7-8, head outside from arrivals or baggage claim. Look for "Ride App Pick Up" or "Passenger Pick Up" signs.
Beginning June 6, 2023 at 10:00AM ET, for Terminal 5, proceed to the AirTrain via the Skywalk on Level 4. Take the AirTrain and exit at Terminal 7. Follow signs for Ride App Pick Up to Orange Parking. Request your ride once you have reached the Orange Parking and Ride App Pick Up.
Confirmez votre emplacement
Sélectionnez votre terminal et le lieu de prise en charge à l'aéroport JFK indiqué dans l'application. N'oubliez pas qu'il ne s'agit pas toujours du lieu le plus proche de votre sortie.
Le nom du chauffeur, la plaque d'immatriculation et la couleur de la voiture apparaîtront dans l'application. Vérifiez les détails de la course avant de monter à bord du véhicule. Si vous ne trouvez pas votre chauffeur, utilisez l'application pour le contacter.
Aéroport international de New York-John F Kennedy (JFK) Carte
JFK is one of the largest airports in the world, with 128 gates and 5 terminals: 1, 2, 4, 5, 7, and 8.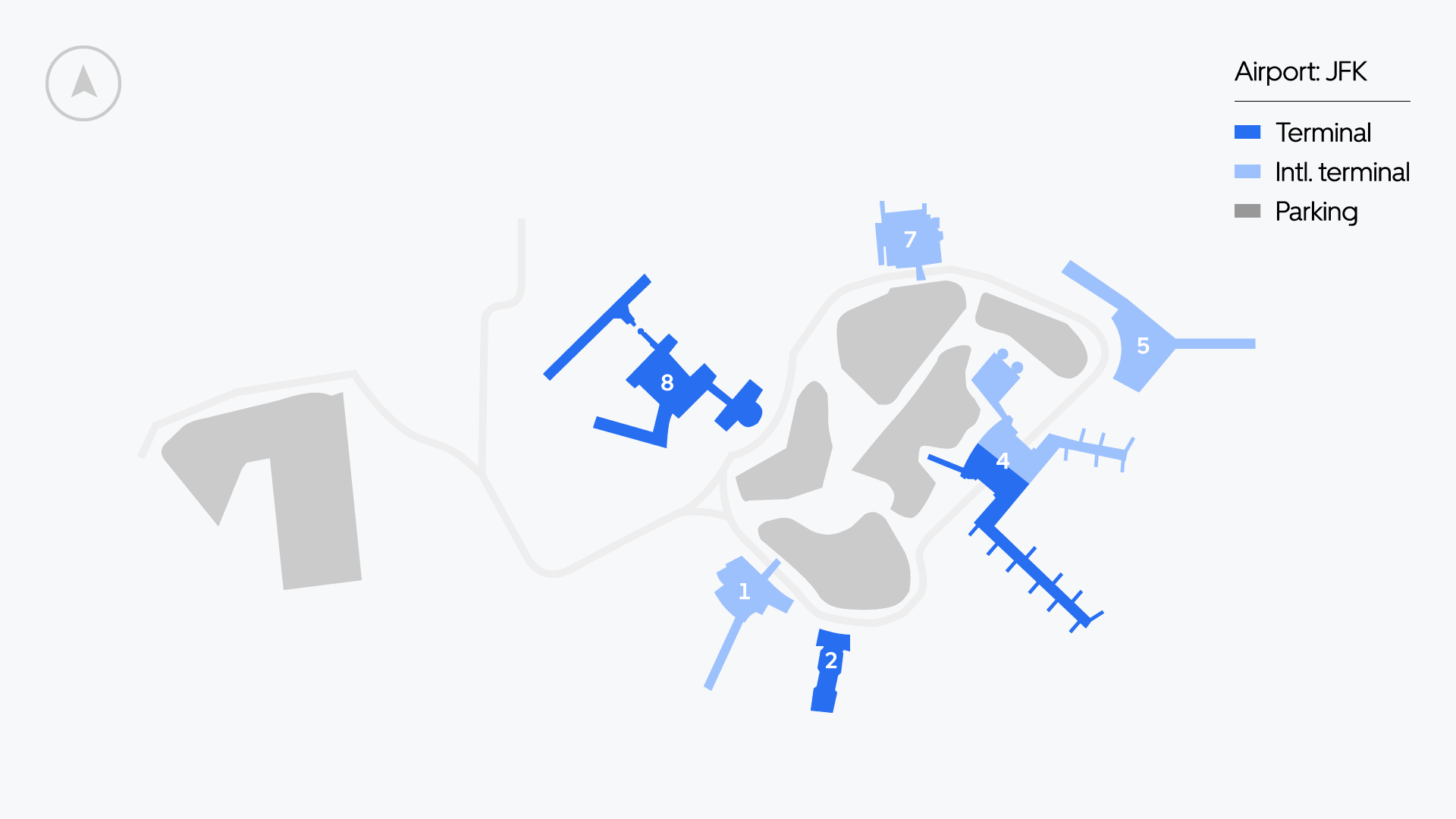 Questions fréquentes des passagers
Do drivers using Uber pick up at JFK?

Quel est le prix d'une course avec Uber à destination de l'aéroport international de New York-JFK ?

The cost of an Uber trip to (or from) JFK depends on factors that include the type of ride you request, the estimated length and duration of the trip, tolls, and current demand for rides.

You can see an estimate of the price before you request by going here and entering your pickup spot and destination. Then when you request a ride you'll see your actual price in the app based on real-time factors.

Où retrouver mon chauffeur pour une prise en charge à l'aéroport ?

Pickup locations may depend on the type of ride you request and the size of the airport. Follow the instructions in the app about where to meet your driver. You can also look for signs that point to designated airport rideshare zones.

If you can't find your driver, contact them through the app.
Êtes-vous chauffeur avec Uber ?

Des lieux de prise en charge aux différentes règles et réglementations locales, découvrez comment optimiser vos courses au départ et à destination de l'aéroport.

Vous vous rendez à un autre aéroport ?

Déplacez-vous au départ et à destination de plus de 600 aéroports à travers le monde.
Informations sur l'aéroport international de New York-John F. Kennedy (JFK)
John F. Kennedy International Airport is the 22nd-busiest airport in the world by passenger numbers, serving more than 59 million passengers annually. Located in Queens, New York, it's about 16 miles (26 kilometers) southeast of Midtown Manhattan, a journey that takes 35 minutes in ideal road and traffic conditions.
JFK Airport terminals
JFK Airport has 5 main passenger terminals: 1, 4, 5, 7, and 8, with 128 gates between them. Lounges for many carriers, including American and Delta, can be found in multiple locations throughout the airport. You can plan your trip using the information below.
JFK Terminal 1
Aeroflot
Air China
Air France
Air Italy
Alitalia
Austrian
Azerbaijan
Brussels
Cayman
China Eastern
EVA Air
Fly Jamaica
Japan Airlines
Korean Air
Norwegian Air
Philippine
Royal Air Maroc
Saudia
TAME
Turkish
Viva Aerobus
JFK Terminal 2
JFK Terminal 4
Aeroméxico
Air Europa
Air India
Air Serbia
Asiana
Avianca
Avianca Brasil
Caribbean
China Airlines
China Southern
Copa
Delta
EgyptAir
El Al
Emirates
Etihad
Kenya Airways
KLM Royal Dutch Airlines
Kuwait Airways
Singapore Airlines
South African Airways
Sun Country
SWISS
Thomas Cook Airlines
Uzbekistan
Virgin Atlantic
Volaris
WestJet
XiamenAir
XL
JFK Terminal 5
Aer Lingus
Cape Air
Hawaiian
JetBlue
TAP Air Portugal
JFK Terminal 7
Aerolíneas Argentinas
Alaska
All Nippon
British Airways
Eurowings
Iberia
Icelandair
Interjet
LOT
Qatar Airways
Ukraine International
JFK Terminal 8
American
Cathay Pacific
Finnair
LATAM
Qantas
Qatar Airways
Royal Jordanian
JFK international terminal
JFK New York Airport international flights are served at all terminals. JFK Airport offers nonstop flights to more than 50 countries.
Dining at JFK Airport
John F. Kennedy Airport has an extensive selection of dining destinations across all terminals. With more than 150 dining options, travelers have their pick of places to grab food and drinks, including coffee shops, fast-food chains, and JFK Airport bars. Travelers seeking a meal with table service can opt to dine at one of the JFK Airport restaurants.
Getting around JFK Airport
JFK Airport shuttle transportation is provided by AirTrain, a system that connects all passenger terminals to airport parking lots, the hotel shuttle pickup area, the rental car center, and NYC's public transportation network at Jamaica and Howard Beach stations.
Things to do at JFK Airport
For JFK Airport shopping opportunities, travelers can visit the many stores and newsstands selling souvenirs, gifts, and high-end fashion. Kids can access an enclosed play area in Terminal 5, equipped with interactive activities and toys. For a JFK Airport massage, travelers can visit the spas located in Terminals 1, 4, and 8.
Currency exchange at JFK Airport
JFK Airport currency exchange offices can be found in all terminals.
Hotels near JFK Airport
Whether you have a layover or an overnight flight delay, or you need a place to stay for a visit near JFK, there are more than 10 hotels and accommodations nearby. Visitors can also opt to stay in Manhattan or elsewhere in New York City.
Points of interest near JFK Airport
Broadway and the Theater District
Central Park
Empire State Building
Statue of Liberty and Ellis Island
Find more information about JFK here.
Cette page comprend des informations provenant de sites Web tiers indépendants d'Uber, susceptibles de faire régulièrement l'objet de modifications ou de mises à jour. Toute information figurant sur cette page et n'étant pas directement liée à Uber ou ses services est uniquement fournie à titre d'information et ne saurait être en aucune façon considérée comme fiable ou pouvant être interprétée dans le but d'établir des garanties quelles qu'elles soient, de manière explicite ou implicite, concernant les informations contenues ici. Certaines conditions et fonctionnalités varient selon le pays, la région et la ville. Réduction promotionnelle réservée aux nouveaux utilisateurs. Cette offre n'est pas cumulable avec d'autres promotions et ne s'applique pas aux pourboires. Disponibilité limitée. L'offre et les conditions sont susceptibles d'être modifiées.