Sydney Kingsford Smith International Airport (SYD)
Looking for an alternative to the traditional Sydney Airport shuttle or taxi? Whether you're going from Sydney Airport to the city or from Central Station to Sydney Airport, get where you're going with the Uber app you already know. Request a ride to and from SYD at the tap of a button.
Sydney, NSW 2020
+61 2-9667-6111
Reserve a ride with Uber in advance at Sydney Kingsford Smith International Airport
Complete your plans today by reserving a ride with Uber to Sydney Kingsford Smith International Airport. Request a ride up to 90 days before your flight, at any time and on any day of the year.
Request a ride around the world
Tap a button now and get airport transportation at more than 700 major hubs.
Let the app and your driver handle the details, so you don't have to navigate an unfamiliar city.
Find your favorite features, including real-time pricing and cash-free payment, even if you're in a new place.
Sustainable rides in hybrid and electric vehicles

Mid-sized zero-emission cars
Affordable rides, all to yourself

Comfortable midsized cars with top-rated drivers

Affordable rides for groups up to 6

Affordable rides for you and your pet

Special assistance from experienced drivers
Premium rides in high-end cars
Pickup at Sydney Kingsford Smith International Airport (SYD)
Find your pickup location
For Uber Premium, head to the Limo Pickup area (kerbside); for other ride options, head to the Priority Pickup area.
Check the app for details
Once you've requested a ride, you'll receive directions through the app. You can also look for signs at SYD that point to the designated Priority Pickup, Limo Pickup, and general passenger pickup areas.
Your driver's name, license plate, and car color will show in the app. If you can't find your driver, contact them through the app.
The designated pickup areas are located outside the terminal on the Arrivals level. The pickup area where you meet your driver will depend on the terminal you're requesting from and the ride option you select.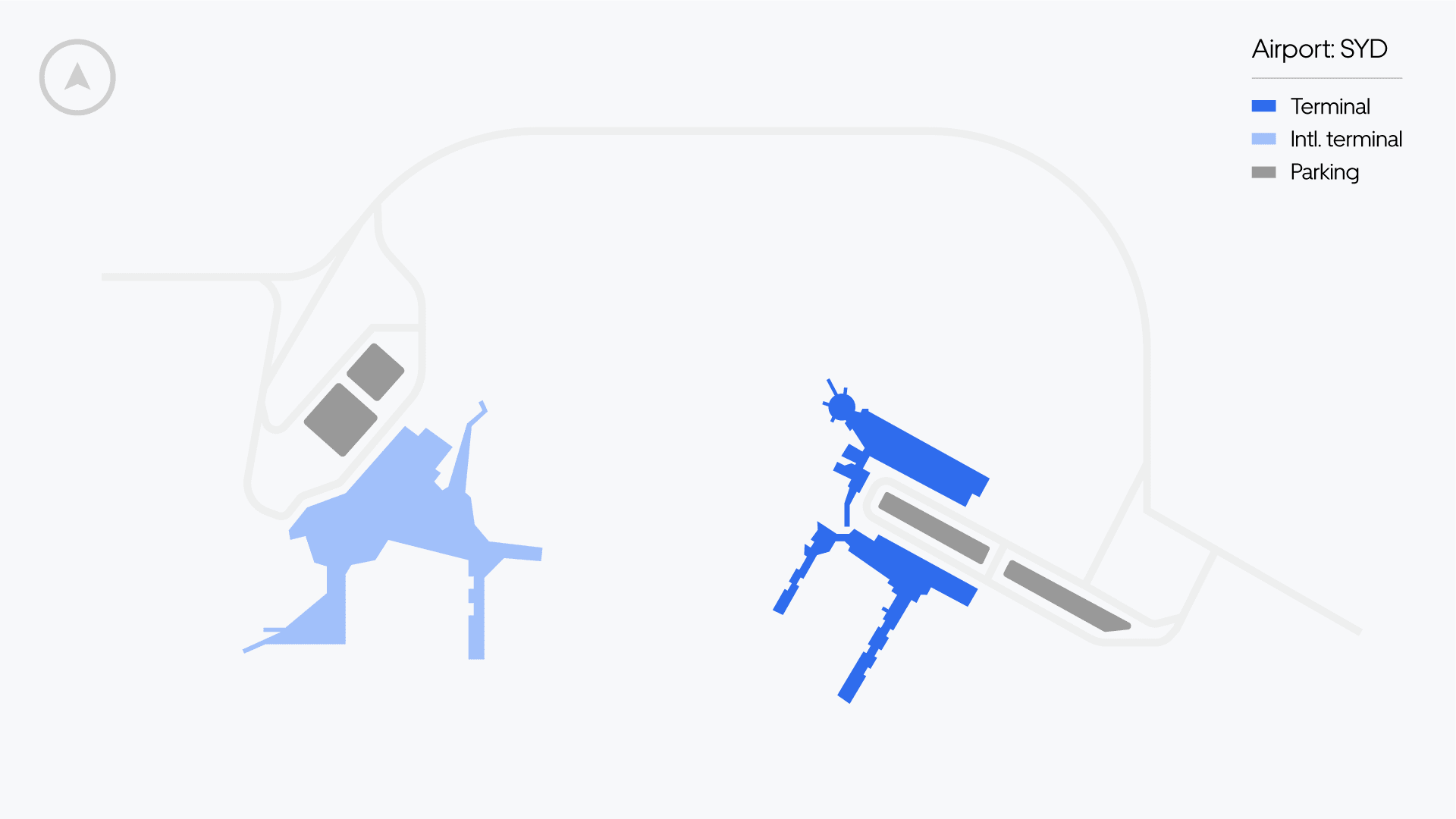 Top questions from riders
Can riders be picked up at Sydney Airport using the Uber app?

Yes, riders can request a ride through the Uber app to and from Sydney Airport.

How much will an Uber trip to or from Sydney Airport cost?

Uber can get you from:

Sydney Airport to Hyde Park starting at $34
Sydney Airport to Bondi Beach starting at $37
Sydney Airport to the Opera House/Circular Quay starting at $37
Sydney Airport to North Sydney starting at $42

These are estimated fares. Actual fares vary based on time of day and pickup and dropoff location. Trips originating from Sydney Airport are subject to an airport pickup fee.

Is there an airport fee for trips requested through the Uber app?

Yes, Sydney Airport charges an access fee for Uber pickups, and it's automatically added to your fare when you request a ride from SYD.

The access fee amount depends on the terminal the trip is requested from and the ride option selected:

Domestic Terminal UberX pickups: $4.20
Domestic Terminal UberXL and Select pickups: $4.20 or $8.40
Domestic Terminal UberBlack pickups: $8.40
International Terminal UberX pickups: $4.20

International Terminal UberBlack pickups: $11

Where do I meet my driver for a pickup at Sydney Airport?

Your pickup location at Sydney Airport depends on your terminal and ride option.

At the International or Domestic Terminal, head to Limo Pickup for Uber Premium. For all other ride options, follow the bright green signs to Priority Pickup.
From where to pick up riders to following local rules and regulations, find out how to make your airport trips better.

Going to a different airport?

Get dropped off and picked up from more than 700 airports around the world.
Sydney Airport visitor information
Sydney Kingsford Smith Airport (SYD) is the busiest airport in Australia.
The airport is about 30 minutes from Sydney's CBD, located in Mascot and south of the city center.
Sydney Airport terminals
Sydney Airport has 3 terminals. Terminal 1 serves international flights, while Terminals 2 and 3 serve domestic flights.
Sydney International Terminal
Terminal 1 serves all international airlines. In addition, Terminal 1 hosts the following airline lounges:
Air New Zealand
Emirates
Etihad
Qantas
Singapore
SkyTeam
American Express
Sydney Airport Terminal 2
Terminal 2 serves all domestic airlines, including:
Airlink
FlyPelican
Jetstar
Qantas flights QF1600 and above
Regional Express (Rex)
tigerair
Virgin Australia
Sydney Airport Terminal 3
Terminal 3 is dedicated to serving domestic Qantas Airways flights QF0400-1599.
Things to do at Sydney Airport
Sydney Airport features a variety of dining options, duty-free facilities, shops, and leisure areas for passengers.
Currency exchange at Sydney Airport
Foreign currency can be exchanged at Global Exchange kiosks located on Levels 1 and 2 of the International Terminal (T1) or at the Travelex store on Level 2 of the Domestic Terminal (T2).
Medical services at Sydney Airport
The Sydney Airport medical center is located on Level 3 of the International Terminal (T1) and offers a range of general medical services for airport visitors. Pharmacies are also located throughout Sydney Airport on Level 2 of the International Terminal (T1) and Level 2 of the Domestic Terminal (T2).
Hotels near Sydney Airport
Whether you have a layover or an overnight flight delay, or you need a place to stay for a visit near Sydney Airport, there are multiple hotels and accommodation options nearby.
Find more information about Sydney Kingsford Smith Airport here.
This page contains information from third-party websites that are not under the control of Uber and that may be periodically changed or updated. Any information included on this page that is not directly related to Uber or its operations is for informational purposes only and in no way shall be relied upon, or interpreted or construed to create any warranties of any kind, either express or implied, regarding the information contained herein. Certain requirements and features vary by country, region, and city.