Mezinárodní letiště Johna F. Kennedyho (JFK)
Hledáš alternativu k tradiční kyvadlové dopravě Letiště JFK nebo taxi? Ať už máš namířeno z letiště JFK na Times Square nebo z Empire State Building na letiště JFK, Uber tě tam zaveze. Objednej si jízdu z letiště JFK. Stačí pár klepnutí.
Queens, NY 11430
+1 718-244-4444
Zarezervuj si dopředu jízdu Uberem na Mezinárodní letiště Johna F. Kennedyho
Zarezervuj si dnes jízdu Uberem na Mezinárodní letiště Johna F. Kennedyho a nenech se ničím překvapit. Jízdu si můžeš objednat až 90 dnů před odletem – kdykoli a na kterýkoli den.
Objednávej si jízdy po celém světě
Klepnutím si objednáš svezení na víc než 700 světových letišť nebo z nich.
Nech se vozit jako místní
Míříš někam, kde to neznáš? O navigaci se ti postará aplikace Uber a tvůj řidič.
Díky Uberu se budeš cítit jako doma
Ať se vydáš kamkoli na světě (i tam, kde to vůbec neznáš), aplikace funguje všude stejně. Rovnou se dozvíš cenu jízdného a zaplatíš přes aplikaci.
Typy aut ve tvojí oblasti
Místo vyzvednutí: Mezinárodní letiště Johna F. Kennedyho (JFK)
Jízdu si objednej z aplikace
Až se připravíš, otevři aplikaci Uber a objednej si jízdu do cíle. Vyber si možnost dopravy na letišti JFK podle počtu cestujících a zavazadel.
You'll get directions about JFK pickup points directly in the app.
For Terminals 1-4 and 7-8, head outside from arrivals or baggage claim. Look for "Ride App Pick Up" or "Passenger Pick Up" signs.
Beginning June 6, 2023 at 10:00AM ET, for Terminal 5, proceed to the AirTrain via the Skywalk on Level 4. Take the AirTrain and exit at Terminal 7. Follow signs for Ride App Pick Up to Orange Parking. Request your ride once you have reached the Orange Parking and Ride App Pick Up.
Vyber místo vyzvednutí na terminálu a na letišti JFK, které ti aplikace přidělila. Upozorňujeme, že místo vyzvednutí nemusí být vždycky u nejbližšího východu.
V aplikaci se ti ukáže jméno řidiče, poznávací značka a barva auta. Před zahájením jízdy ji nezapomeň potvrdit. Jestli řidiče nemůžeš najít, kontaktuj ho přes aplikaci.
JFK is one of the largest airports in the world, with 128 gates and 5 terminals: 1, 2, 4, 5, 7, and 8.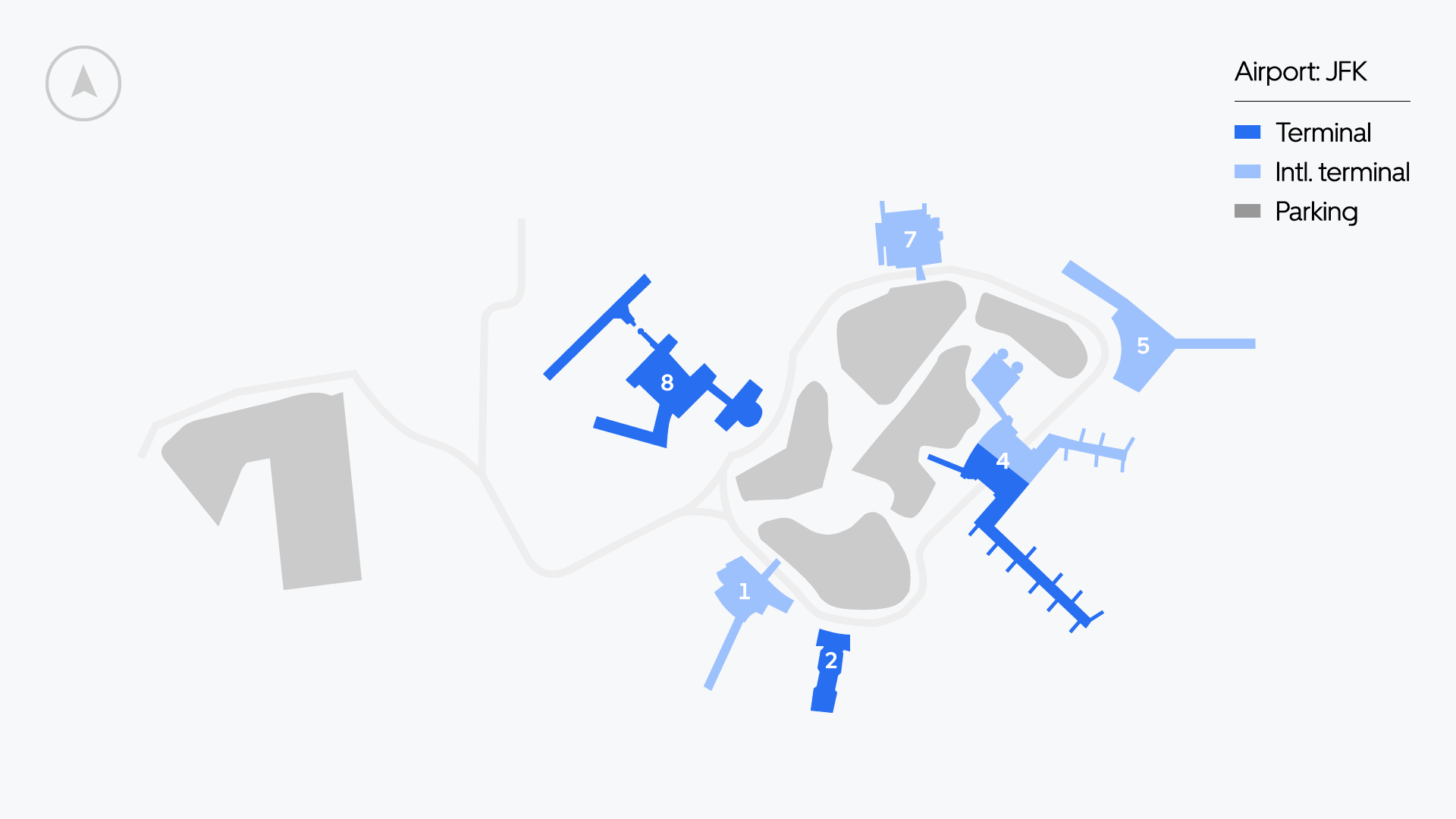 Nejčastější dotazy cestujících
Do drivers using Uber pick up at JFK?

Kolik stojí svezení Uberem na letiště JFK?

The cost of an Uber trip to (or from) JFK depends on factors that include the type of ride you request, the estimated length and duration of the trip, tolls, and current demand for rides.

You can see an estimate of the price before you request by going here and entering your pickup spot and destination. Then when you request a ride you'll see your actual price in the app based on real-time factors.

Kde na letišti mě řidič vyzvedne?

Místo vyzvednutí závisí na objednaném typu auta a velikosti letiště. Na místo, kde se setkáš s řidičem, běž podle pokynů v aplikaci. Nebo můžeš jít podle letištního značení na zastávky vyhrazené pro spolujízdu.

Jestli řidiče nemůžeš najít, kontaktuj ho přes aplikaci.
Podívej se, kde vyzvedávat a jaká pravidla a předpisy se tě týkají, aby se ti na letištích vyzvedávalo a vysazovalo snáz.

Nech se vyzvednout nebo vysadit na víc než 700 letištích po celém světě.
Informace pro návštěvníky letiště JFK
John F. Kennedy International Airport is the 22nd-busiest airport in the world by passenger numbers, serving more than 59 million passengers annually. Located in Queens, New York, it's about 16 miles (26 kilometers) southeast of Midtown Manhattan, a journey that takes 35 minutes in ideal road and traffic conditions.
JFK Airport terminals
JFK Airport has 5 main passenger terminals: 1, 4, 5, 7, and 8, with 128 gates between them. Lounges for many carriers, including American and Delta, can be found in multiple locations throughout the airport. You can plan your trip using the information below.
JFK Terminal 1
Aeroflot
Air China
Air France
Air Italy
Alitalia
Austrian
Azerbaijan
Brussels
Cayman
China Eastern
EVA Air
Fly Jamaica
Japan Airlines
Korean Air
Norwegian Air
Philippine
Royal Air Maroc
Saudia
TAME
Turkish
Viva Aerobus
JFK Terminal 2
JFK Terminal 4
Aeroméxico
Air Europa
Air India
Air Serbia
Asiana
Avianca
Avianca Brasil
Caribbean
China Airlines
China Southern
Copa
Delta
EgyptAir
El Al
Emirates
Etihad
Kenya Airways
KLM Royal Dutch Airlines
Kuwait Airways
Singapore Airlines
South African Airways
Sun Country
SWISS
Thomas Cook Airlines
Uzbekistan
Virgin Atlantic
Volaris
WestJet
XiamenAir
XL
JFK Terminal 5
Aer Lingus
Cape Air
Hawaiian
JetBlue
TAP Air Portugal
JFK Terminal 7
Aerolíneas Argentinas
Alaska
All Nippon
British Airways
Eurowings
Iberia
Icelandair
Interjet
LOT
Qatar Airways
Ukraine International
JFK Terminal 8
American
Cathay Pacific
Finnair
LATAM
Qantas
Qatar Airways
Royal Jordanian
JFK international terminal
JFK New York Airport international flights are served at all terminals. JFK Airport offers nonstop flights to more than 50 countries.
Dining at JFK Airport
John F. Kennedy Airport has an extensive selection of dining destinations across all terminals. With more than 150 dining options, travelers have their pick of places to grab food and drinks, including coffee shops, fast-food chains, and JFK Airport bars. Travelers seeking a meal with table service can opt to dine at one of the JFK Airport restaurants.
Getting around JFK Airport
JFK Airport shuttle transportation is provided by AirTrain, a system that connects all passenger terminals to airport parking lots, the hotel shuttle pickup area, the rental car center, and NYC's public transportation network at Jamaica and Howard Beach stations.
Things to do at JFK Airport
For JFK Airport shopping opportunities, travelers can visit the many stores and newsstands selling souvenirs, gifts, and high-end fashion. Kids can access an enclosed play area in Terminal 5, equipped with interactive activities and toys. For a JFK Airport massage, travelers can visit the spas located in Terminals 1, 4, and 8.
Currency exchange at JFK Airport
JFK Airport currency exchange offices can be found in all terminals.
Hotels near JFK Airport
Whether you have a layover or an overnight flight delay, or you need a place to stay for a visit near JFK, there are more than 10 hotels and accommodations nearby. Visitors can also opt to stay in Manhattan or elsewhere in New York City.
Points of interest near JFK Airport
Broadway and the Theater District
Central Park
Empire State Building
Statue of Liberty and Ellis Island
Find more information about JFK here.
Tahle stránka obsahuje informace z cizích webů, které nejsou pod kontrolou Uberu a které můžou být pravidelně upravovány nebo aktualizovány. Veškeré informace na téhle stránce, které s Uberem nebo jeho činností přímo nesouvisejí, jsou jen orientační, takže nemusí být spolehlivé a nelze je vykládat tak, že z nich vyplývají jakékoli výslovné nebo nevýslovné záruky. Některé požadavky a funkce se v jednotlivých zemích, oblastech a městech můžou lišit.