US

|

Jun 28, 2022
Why your next Uber might just be a Tesla
Written by
Eight months ago, we announced a new partnership with Hertz to make up to 50,000 fully electric Teslas available to rent by 2023, exclusively for drivers using the Uber network in the US. Today, we're thrilled to report that drivers in 30+ cities, including Los Angeles, Houston, Boston, Chicago, Atlanta and Miami, can rent a Tesla through this program. 
To date, nearly 50,000* drivers have rented a Tesla through this program – and they're making a real impact. Together they've completed more than twenty-four million fully-electric trips and driven over 260 million electric miles. 
Drivers are expressing pride in being part of the climate solution and are seeing increased earnings through gas savings, EV incentives and tips. Here's what they're saying.
Saying goodbye to gas
"I haven't had to use gas for six months," said Manuel Barros of Boston, who has driven with Uber for eight years. Barros heard about Uber's partnership with Hertz through the Uber Driver app and said that it was easy for him to reserve a Tesla. 
"When I had a gas car, I would spend $25-30 dollars a day [on gasoline]," said Barros. "I'm saving almost $160 a week, if not more, driving an electric vehicle." Through the partnership with Hertz, drivers have access to the Tesla Supercharger network and to Uber's exclusive EVgo discounts, and others, which help to boost gas savings.
"I've been behind the wheel for 31 years and I've had so many cars," said Barros. "I would rather drive this than any other car."
Earning more behind the wheel of a Tesla
"If I'm putting thousands of miles into the world, I figured a green car would be a better move because it's helping the environment," said Shanita Murray of Los Angeles, who has been driving with Uber since 2016. Shanita isn't the only one that loves her Tesla – riders love it too. "When I provide excellent service, I'm gonna get tips," said Murray.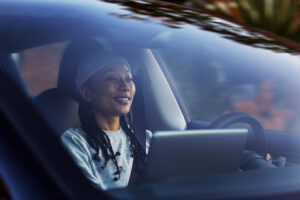 While many drivers have reported increased tips, drivers can also enjoy higher earnings potential due to Uber's Green Future Program, which provides incentives – such as $1 more per trip in a battery electric vehicle, up to $4,000 annually. And now, with the addition of Comfort Electric, Uber's first fully electric rides offering, Tesla drivers in Los Angeles, San Diego and San Francisco can enjoy even better earnings potential.
Murray, who is currently in college studying to advance her degrees in the transportation industry credits Uber with giving her such flexibility. "I've always had a passion for transportation," said Murray. "The freedom I get to choose my schedule and make money is really something I'm grateful for."
Introducing drivers to Electric Vehicles
Drivers report that the partnership has given them a taste of what it's like to go electric – and they like what they see. "It was a great experience, and still is," said Raphael Veira of Los Angeles.
Raphael isn't alone. For 95% of drivers renting a Tesla through Hertz, this was the first-ever electric vehicle they had driven on Uber's platform. "I was always curious as to how an electric vehicle could handle the mileage you put on your car when doing Uber," said Veira. "It handles the mileage really well."
While these drivers are currently renting, 92% of them say they are considering purchasing an electric vehicle. "I want to buy a Model S eventually," said Veira. "And this was a perfect opportunity to see how they drive."
Uber and Hertz require that drivers have at least a 4.85-star rating** and have completed a minimum of 150 trips to be eligible. For drivers who are interested in renting a Tesla through Hertz, they can visit this site for more details.
Teslas are now available to rent in the following cities:
Atlanta, Austin, Boston, Charlotte, Chicago, Cleveland, Connecticut, Dallas, Denver, Detroit, Houston, Jacksonville, Las Vegas, Los Angeles, Miami, Minneapolis – St. Paul, Nashville, New Jersey, New Orleans, NYC Suburbs, Orlando, Philadelphia, Phoenix, Portland, Sacramento, San Antonio, San Diego, San Francisco, Seattle, St Louis, Tampa Bay, Washington D.C.
And, what does this all mean for Uber riders? They'll be seeing (and riding in) electric vehicles more frequently in cities across the country. As the largest expansion of electric vehicles on a mobility platform in North America and one of the largest globally, this partnership with Hertz allows us to continue marching towards our zero-emissions goal.
*January, 2023
**Effective as of January 3, 2022