Hong Kong

|

Mar 29, 2022
A Peek Into Hong Konger's Rider's Rating
Written by
Have you ever wondered how you got your Uber rating? How many driver-partners gave you five stars or even one star? Now, we're making it easier than ever to see exactly how your rating is calculated, and for the first time, we're showing you the good (and the bad) ratings you received. We are also revealing which of the 18 districts in Hong Kong have the best manners – Kwai Tsing, Shatin, Tai Po and Tuen Mun rank top four with average ratings of 4.86/5, and the district ranked last is not too far behind with an average rating of 4.80/5. 
Now available, all Uber users can access a breakdown of their average rating in the Uber App's new Privacy Center. You'll see how many driver-partners gave you a stellar 5-star rating, how many handed out the dreaded single star, and everything in between. 
Both riders and driver-partners can rate one to five stars on a trip. Your rating is the average of your last 500 trips and is measured out of 5 stars. Ratings are anonymous, so neither you nor the driver-partner will see individual ratings
The ratings breakdown is available to all Uber users right in the Privacy Center, which can be accessed by logging into your account online or in the app. 
To access the Privacy Center and ratings breakdown in the app:
In the settings menu, tap privacy and then Privacy Center

In the Privacy Center, swipe to the right and click on the "would you like to see a summary of how you use Uber" tile

Scroll down to the "browse your data" section and tap on "View my ratings" to see the breakdown
In addition to viewing your ratings, users can also review their past trip information, payment details, control marketing preferences, and more in the Privacy Center.
How does your district rank for average ratings?
Driver-partners in Hong Kong take rider ratings seriously – up to 99.5% of all Uber rides in Hong Kong are rated by drivers. Are you curious which districts have the best manners? To celebrate the launch of our new ratings breakdown, we're lifting the lid on how well mannered Hong Kongers are by ranking each district's average ratings against one another, and against the Hong Konger average of 4.83/ 5 stars:
Hong Kong's Best-Mannered Regions in Ranking (out of 5.0 average rating)
New Territories: 4.86
Kowloon: 4.83
Hong Kong Island: 4.82
Hong Kong's Best-Mannered Districts in Ranking (out of 5.0 average rating)
Kwai Tsing, Shatin, Tai Po, Tuen Mun: 4.86
Eastern, Kwun Tong, North, Sai Kung, Tsuen Wan, Wong Tai Sin, Yuen Long: 4.85
Islands, Sham Shui Po, Southern: 4.84
Kowloon City: 4.82
Yau Tsim Mong, Wan Chai: 4.81
Central & Western: 4.80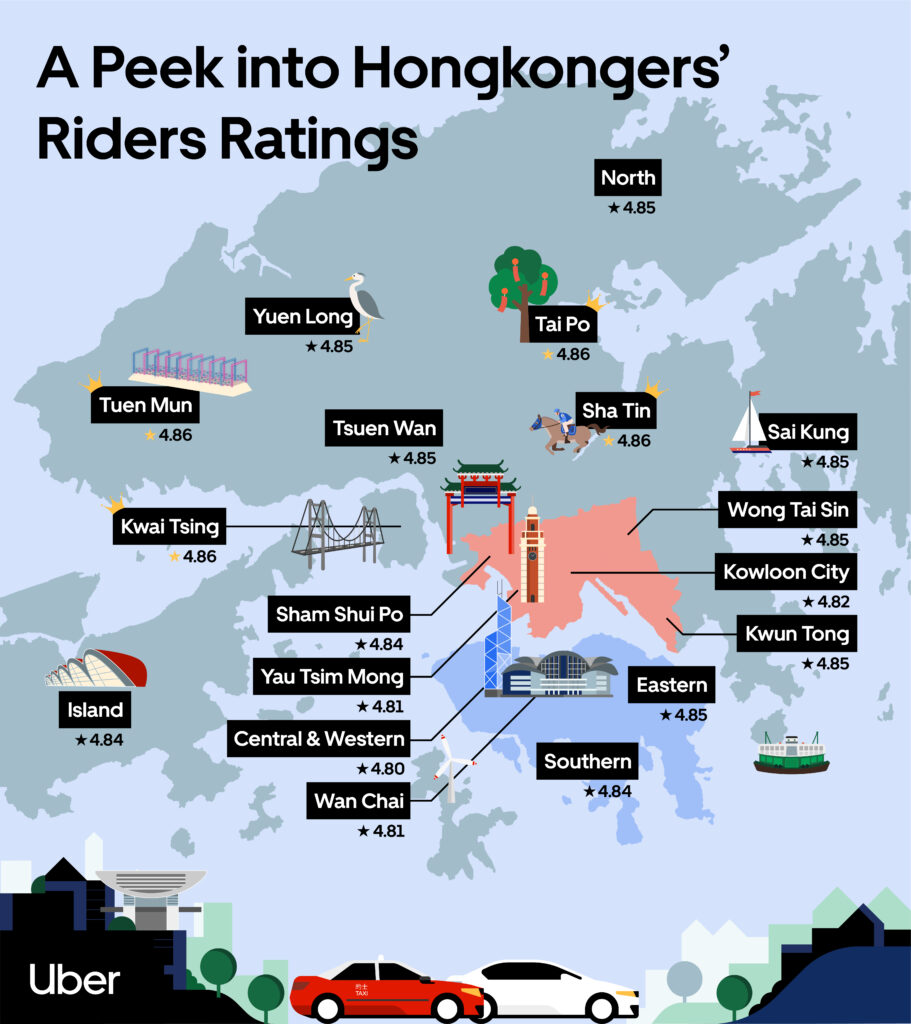 Want to improve your rating?
In Hong Kong, up to 93% of trips rated by driver-partners are 5 stars, only 2% of all rides are rated 1 star. Very few people have a perfect rating, so don't despair if your average doesn't hit a full 5.0. Ratings foster mutual respect between riders and driver-partners. This strengthens our community and helps everyone get the most from Uber. Just as you expect driver-partners to treat you with respect, driver-partners hope to feel the same acknowledgment from riders. Things that seem small to you can matter to your driver, and contribute to increasing your rating. Here are some top tips from driver-partners:
Be ready:

Driver-partners love it when riders are ready to go when they arrive at the pick-up location, and when the location you entered is actually where you'll be. Please show respect for your driver-partner's time and don't leave them waiting. If in doubt, call them via the Uber App!

Leave it as you found it:

Respect the driver-partner's vehicle, always make sure you don't leave any rubbish and belongings behind. Try limiting food and drinks that will leave a lingering smell for days. If you're not feeling well (a big night out?), bring a plastic bag. For riders with furry friends, make sure you do your part to keep the vehicle clean.

Don't create distractions:

When you are on a call or scrolling on your phone, use headphones or keep the volume low. Backseat driving can also affect driver-partners' judgment on the road.

Open the door with extra care:

Streets in Hong Kong are narrow and can be extremely busy at times, observe road conditions carefully before opening the car door and avoid hitting any pedestrians, railings or especially, other vehicles. Also, don't slam the door! Driver-partners have consistently cited door slams as a reason why they deduct ratings.

Treat everyone and everything with respect:

As outlined in our

Community Guidelines

, we want riders and driver-partners to feel safe, respectful, and positive. Always treat your driver and their vehicle as you would want to be treated. We could all benefit from spreading a little kindness. "Hello, how was your day?" can really go a long way. 
The launch of the Privacy Center, which is available to all users globally, highlights our mission of being a trusted steward of our users' personal data in every market where we operate. By offering more transparency and easier access to your data, we hope this gives you all you need to have a 5-star experience on every ride.