Ubers Klimatutvärderings- och resultatrapport
The environmental impact of trips served by Uber's platform matters. It's our responsibility to measure that impact by evaluating data gathered from the real-world use of Uber, share the results publicly for greater transparency, and act to improve our climate performance.
August 2023 update: This page reflects metrics for trips completed by zero-emission vehicles (ZEVs) from the beginning of the first quarter of 2021 to the end of the second quarter of 2023. We also added a new metric: full-year carbon intensity. Note that this report includes information related only to Uber's Mobility business (ridesharing).
"Vägen mot nollutsläpp kräver öppenhet och att ta ansvar för att framsteg görs år efter år. Uber är stolta över att vara den första mobilitetsplattformen som mäter och rapporterar om utsläpp från kundernas verkliga användning av våra produkter."
Dara Khosrowshahi, vd, Uber
More than 61,000 ZEV drivers a month, on average, actively used Uber's app in Q2 2023 in the US, Canada, and Europe.* That's over 2 times higher than the same period a year earlier.
Metric: Average monthly active ZEV drivers on Uber, by quarter, since Q1 2021, the start of the first full calendar year after announcing our sustainability commitment. Drivers using Uber's app are counted as active in a given month if they've completed at least one trip in that calendar month.
In Q2 2023, ZEV drivers provided more than 31 million tailpipe-emissions-free trips using Uber in the US, Canada, and Europe.* This is more than 2 times the number of ZEV trips completed on Uber during the same period a year earlier.
Metric: Number of trips arranged on the Uber app and fulfilled by ZEV drivers, by quarter since Q1 2021.
Användning av utsläppsfria fordon
In Q2 2023, 8.4% of all on-trip miles in Europe* and 5.6% of all on-trip miles in the US and Canada were completed by ZEV drivers. That represents increases of 2.2 and 3.0 percentage points, respectively, compared with the same period a year earlier. ZEV uptake by drivers using Uber's app is over 5 times higher in Europe and over 6 times higher in Canada and the US than that of drivers in the general population, according to the most recent published government figures.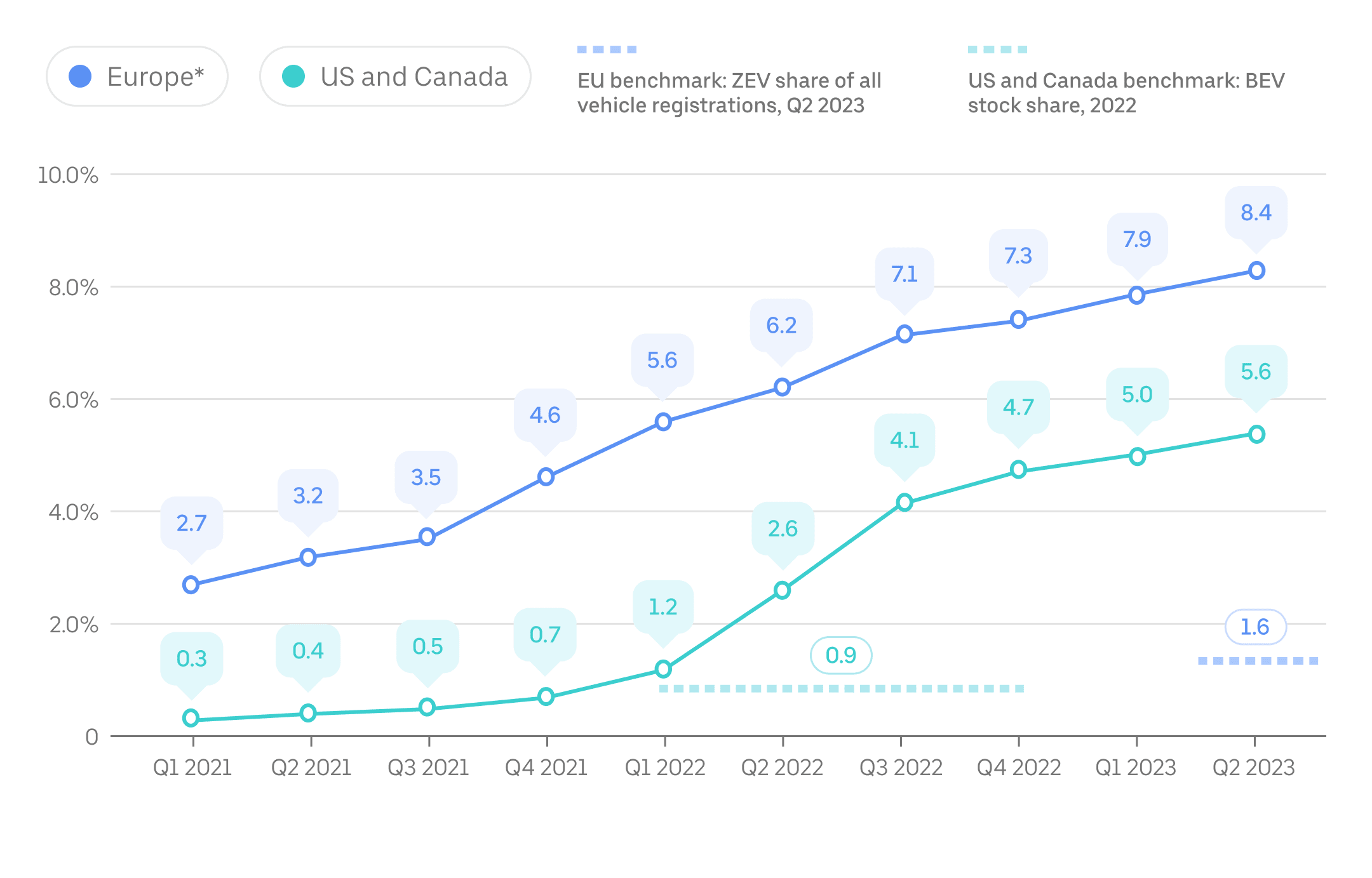 Metric: Share of trip miles completed in ZEVs compared with all trip miles arranged by the Uber app, by quarter since Q1 2021. Canada and US benchmark data is as of 2022 and is sourced from the International Energy Agency. European benchmark data is as of Q2 2023, sourced from the European Commission's European Alternative Fuels Observatory, and only for those European countries indicated below.*
Passenger carbon intensity
In 2022, each mile that a passenger traveled on Uber resulted in an average generation of 147 grams of CO2 in Europe* (or 92 grams of CO2 per kilometer) and 322 grams of CO2 in the US and Canada (or 201 grams of CO2 per kilometer). Compared with 2021, this passenger carbon intensity metric fell 25% in Europe and 11% across the US and Canada. In the US and Canada, 2022 carbon intensity levels continued a 2-year reduction trend, recovering from 2020 highs concurrent with the COVID pandemic to an all-time low since we began measuring more than 6 years ago.
Metric: Passenger carbon intensity, or the estimated grams of CO2 per passenger mile traveled, is a climate and efficiency metric used by Uber—and, increasingly, governments and companies around the world. In the case of ridesharing, or any on-demand mobility service, emissions produced by any "deadhead" miles—vehicle miles traveled without a passenger—are factored into the calculation.
For more details about how we calculate carbon intensity, see our methodology document. Note that significantly lower average fuel economy for vehicles on Uber in Europe versus the US and Canada explain most of the difference in carbon intensity in these 2 geographies. While our fleet composition in Europe is more efficient, with a higher proportion of ZEVs and hybrids, more stringent fuel economy reporting standards in the US also contribute to this discrepancy. Also note that we lack access to sufficient input data to calculate passenger carbon intensity for trips completed in European markets before 2021.
Vad framgår i Ubers senaste klimatutvärderings- och resultatrapport?

Our Climate Assessment and Performance Report provides city officials, environmental advocates, users, and other stakeholders with performance-based metrics on emissions and electrification progress, and efficiency metrics for passenger vehicle trips enabled by the Uber app.

Varför publicerar du den här rapporten?

The environmental impact of trips completed with Uber's app matters. It's our responsibility to report transparently on performance and take action to improve it. Our estimates show that emissions resulting from the use of our platform are the most material component of Uber's carbon footprint. This report, based on real-world use of our platform, provides greater transparency on our climate impact and helps us improve our efforts to support drivers' fair transition to ZEVs and reduce emissions resulting from rides.

You can read our first report (2020) here and our second report (2021) here.

Vilka är de viktigaste mätningarna du använder i Klimatutvärderings- och resultatrapporten?

Metrics include the following:

EV use by drivers on Uber (share of on-trip miles or kilometers completed in ZEVs), which measures our progress toward our goal of 100% zero-emission mobility on Uber globally by 2040
Carbon intensity, which measures the emissions resulting from every passenger mile

Hur kommer den här rapporten att förbättra koldioxidintensiteten för resor med Uber?

We have bold ambitions to reduce the carbon intensity of and increase the use of zero-emission vehicles for trips facilitated by Uber until we realize a fully zero-tailpipe-emissions mobility platform around the world by 2040. We cannot reach that goal without knowing where we stand today.

Do riders take trips with Uber instead of using lower-carbon options like public transit?

Rides with the Uber app are one of many transportation options available to people who are looking for a ride. Trip choice depends a lot on various local market conditions. Our analysis of National Household Travel Survey data shows that a higher per-household utilization of the most sustainable transportation modes (transit, walking, and biking) correlates with a higher utilization of ridesharing and other on-demand solutions.

Kommer ni att mäta samma data för andra länder eller regioner runtom i världen?

Our first report, published in 2020, covered the US and Canada. We added major European markets to our second report, published in 2021. We're committed to regular reporting on climate emissions and other impact areas resulting from trips on Uber and plan to expand the geographic scope of markets covered in the report over time.

Hur ofta uppdaterar ni dessa mätvärden och rapporten?

We update all metrics at least annually and may update some metrics more frequently, as available. We will release emissions metrics (like passenger carbon intensity) annually, aggregated by calendar year.

Vad menar ni med "utsläppsfria fordon"?

Vi använder samma definition av termen "utsläppsfritt fordon" (ZEV) som California Air Resources Board (CARB) och Europeiska federationen för transport och miljö (T&E) gör: för att beteckna fordon som inte genererar direkta utsläpp av CO2 eller andra luftföroreningar (som kväveoxider, atmosfäriska partiklar, CO₂ och svaveloxider) från den inbyggda kraftkällan.

Förare som använder Uber-appen använder idag två typer av utsläppsfria fordon: batteridrivna elfordon och, ytterst sällan, vätgasdrivna bränslecellsbilar (FCEV).

"Zero" (noll) i ZEV syftar naturligtvis på att fordonet inte släpper ut några avgaser och räknar inte nödvändigtvis in alla utsläpp som sker från produktion till bortskaffande av fordonet och dess energikälla. Allt sammantaget visar dock livscykelanalyser utförda av oberoende experter att "utsläppen under en livstid för ett medelstort batteridrivet elfordon som registreras i dag redan är lägre än för jämförbara bensinbilar med 66–69 % i Europa, 60–68 % i USA, 37–45 % i Kina och 19–34 % i Indien."

Kommer ni att mäta påverkan från Uber Eats-, leverans- och Uber Freight-verksamheterna, som nu utgör en stor del av Ubers verksamhet?

In June 2023, we announced our first-ever sustainability commitment for our Delivery business (Uber Eats) to reduce unnecessary packaging waste and delivery trip emissions globally to zero by 2030 and 2040, respectively.

Our Climate Assessment and Performance Report currently covers electrification and emissions metrics only for our Mobility business (ridesharing). We plan to include our Delivery and Freight businesses in this environmental sustainability report in the future.
This page and the related Climate Assessment and Performance Reports and Environmental, Social, and Governance Reports ("the report") contain forward-looking statements regarding our future business expectations and goals, which involve risks and uncertainties. Actual results may differ materially from the results anticipated. For more information, please see our reports.
*In 2020, we set a goal of reaching 50% of trip kilometers completed in battery EVs in 7 European capitals: Amsterdam, Berlin, Brussels, Lisbon, London, Madrid, and Paris. For this reason, all mentions of "Europe" for the metrics reported here refer to all passenger mobility trips completed in the country-level markets corresponding to these 7 European capitals: the Netherlands, Germany, Belgium, Portugal, the UK, Spain, and France, respectively. Further details can be found in our SPARK! Report.