US

|

Nov 13, 2023
Only on Uber: Becoming the best – and fairest – platform for flexible work
Written by
Every month, more than 6.5 million drivers and couriers deliver magical experiences to customers around the globe. We owe it to them to keep innovating towards our goal of being the world's best platform for flexible work. Today we're announcing improvements to the Uber Driver app, while also making earning on Uber safer and fairer. All of it adds up to an experience you can find only on Uber.
At an event this morning in Los Angeles, I gave drivers and couriers a first look at more than 20 new features. Here are some of the highlights, with a full list below: 
Making earning safer
Record My Ride coming to more cities:

We're expanding the

Record My Ride pilot

to iOS drivers in a dozen US cities, including Atlanta, Denver, Dallas, Minneapolis, and select drivers in Los Angeles. Record My Ride allows drivers to record video of trips using their smartphone's front-facing camera, without the need to invest in a separate dashcam. Similar to the

in-app audio recording feature

we rolled out nationwide earlier this year, we built Record My Ride with privacy in mind: every recording is encrypted and stored directly on drivers' devices, and nobody—not Uber, not riders, not drivers—can access it unless a driver chooses to send it to us for review. We believe both of these recording features will help promote safety and allow us to more quickly and fairly resolve any incidents that may arise.

Verifying riders:

Next year, we will significantly expand verification of rider identities to compare rider account details against trusted data sources or an ID document. Over time, we will inform drivers whether they're picking up a verified rider, so they can have more peace of mind before accepting a trip request. This is on top of our existing

verification process

for riders who use certain anonymous payment methods.
Comfort & safety of a big screen:

Following our recent CarPlay integration and the great feedback we received, we are now integrating Android Auto with the Uber Driver app. Drivers using Android can now see demand heatmaps, accept trips, and use on-screen navigation directly from their car dashboard for enhanced safety and convenience.
Improving the app
Easier courier parking & drop offs:

Couriers tell us that one of their biggest challenges is finding parking, especially in cities, so we added a tool in the app that shows them free parking nearby. We're also making it clearer to couriers exactly where the customer requested the food be dropped off, including map labels that specify the exact door and sometimes even photos of the building.
Redesigned, clearer trip information:

We've redesigned trip requests so drivers can more easily decide if the trip is right for them. Trip requests, including on Trip Radar, will now have a clearer action button to accept or match with a trip, to help avoid accidentally accepting a trip they don't want to take.
Improved map clarity:

We created sharper route lines with clearer map markers for pick-up and drop off and animation that more clearly shows the trip direction. 
Real-time navigation feedback & alternate routes:

Drivers continue to cite inefficient routes as one of their biggest pain points. Starting in December, drivers will have the ability to post real-time traffic and route information that will be visible to other drivers, making the experience better for everyone. In addition, drivers have access to automatic information on road work, crashes and lane closures sourced from TomTom and will be offered alternate routes to avoid them.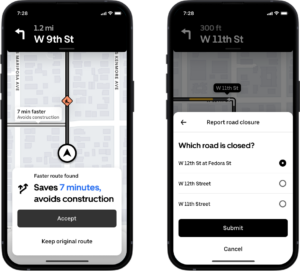 Making earning fairer
We know that to be the best platform for flexible work, we must also be the fairest. Blocking someone from accessing their Uber account is one of the most serious decisions we can make—and one of the most distressing moments that a driver or courier can experience. I've heard from drivers and couriers loud and clear that we need to do a better job listening to all parties involved, communicating our decisions more clearly, and giving drivers and couriers a pathway to appeal if they believe we got something wrong. To address this, we're making some important changes to that process. You can read about all of them here, but some highlights include:
Providing a pathway to review an account deactivation decision:

Our expanded in-app Review Center tells drivers and couriers why their account was deactivated, allows them to request an additional review of the decision, and gives them the opportunity to share any additional information like audio or video recordings.

Protecting drivers from false allegations and unfair ratings:

It's an unfortunate reality that some people report false issues with a driver with the aim of getting a refund from Uber. We've put new systems in place to better protect drivers from this type of false allegation—and to help ensure these reports won't count towards ratings or a deactivation decision. 
Helping US drivers falsely accused of drug-impaired driving get back on the road:

If a driver accused of driving under the influence of drugs wants to take a drug test to disprove the accusation, we now have a program to assist. Going forward, drivers whose accounts are at risk of permanent deactivation for drug-impaired driving will be provided the option to take a drug test through a nationwide partnership with LabCorp. Uber will cover the cost of the testing, whatever the outcome.