South Africa

|

Feb 22, 2023
Ride with Uber for Ukraine and save lives
Written by
After a year of full-scale war, the heroic people of Ukraine need and deserve our support more than ever.
Uber is helping to move refugees to safety, take doctors to hospital, teachers to schools, emergency supplies to frontline communities, and irreplaceable pieces of Ukrainian cultural heritage away from the fighting and into safe storage. And as our CEO, Dara Khosrowshahi, made clear on his recent visit to Kyiv, we will continue to stand with Ukraine for as long as this war lasts.
That's why today we're expanding our partnership with UNITED24, President Zelensky's international donations platform, to give people all across Europe the opportunity to send both a message of solidarity and life-saving aid to Ukraine every time they ride with Uber.
Beginning this week, riders in more than 80 cities across 16 countries in Europe will be able to select the Uber for Ukraine trip option that includes a surcharge to help buy urgently needed ambulances for the Ukrainian Ministry of Health.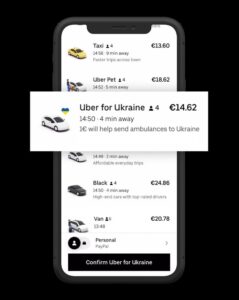 Every day, Ukraine's emergency medical teams are the first to arrive at the scene of attacks and do everything necessary to help the wounded. Despite their immense courage and skill, their ability to save lives depends on how soon they can reach the injured, administer emergency care, and quickly transport them to a hospital.
Through generous rider donations and Uber's matching grants, we've already raised over $3 million to send to Ukraine 50 Type-C ambulances, each equipped with the essential defibrillators, cardiac monitors, oxygen tanks, and artificial lung ventilator devices needed to keep the injured alive. Each of these ambulances will save hundreds of lives—and now Uber for Ukraine gives people all across Europe the chance to help save hundreds more.
"During the full-scale war, both business and people from over 110 countries have been supporting Ukraine via the UNITED24 fundraising platform. Large global companies, like Uber, not only help raise money for ambulances, but also keep Ukraine in the focus of the world's attention. I am grateful to the company and its clients, who support Ukrainian medical workers during this pivotal moment in world's history." – Mykhailo Fedorov, Deputy Prime Minister & Minister of Digital Transformation, Ukraine 
"As the brave people of Ukraine stand strong into a second year of full-scale war, we must continue to stand with them. Together with riders from across the world, we've already donated 50 urgently-needed ambulances to Ukraine. But we must keep going. And so, beginning today, people all across Europe can now make showing their extraordinary solidarity a part of their everyday life." – Dara Khosrowshahi, CEO, Uber