United Kingdom

|

16 Oct 2018
New Safety Toolkit arrives in the United Kingdom
Written by
Every day millions of people put their trust in Uber to get to the train station, to a meeting with friends and family and to order with the best local food. This is not a responsibility we take lightly.
Our CEO Dara Khosrowshahi has made clear that safety is a top priority for Uber. With 15 million trips happening on the Uber app every, we must put safety at the heart of everything we do.
This means working to raise the bar and developing innovative features that increase transparency, accountability, and peace of mind for all customers who use the app.
Today we're proud to announce new safety features in more than 40 towns and cities across the UK, helping you stay safe wherever your journey may take you.
Here is a snapshot of the new rider, driver and courier features you'll see in your app very soon:
Safety Toolkit
We've updated the app for both riders and licensed drivers with safety in mind, locating all things safety in one central place and making it accessible at the touch of a button.
Over the coming weeks, users will see a 'shield' icon in the bottom right-hand corner of the app during their trip which will open up a new Safety Toolkit.
Safety Centre: With the Safety Centre, riders and drivers will now have a dedicated place in the app to learn about key safety tips and information, including – on our 24/7 in-app support, information on the driver and the car, trip GPS-tracking and our rating and feedback system.
Trusted Contacts: It's now even easier for riders and drivers to keep their loved ones in the loop. Users can select up to five friends or family members as Trusted Contacts and select when they want to be prompted to share their trip details. Sharing a late trip home with a loved one? Now you can do it in one tap.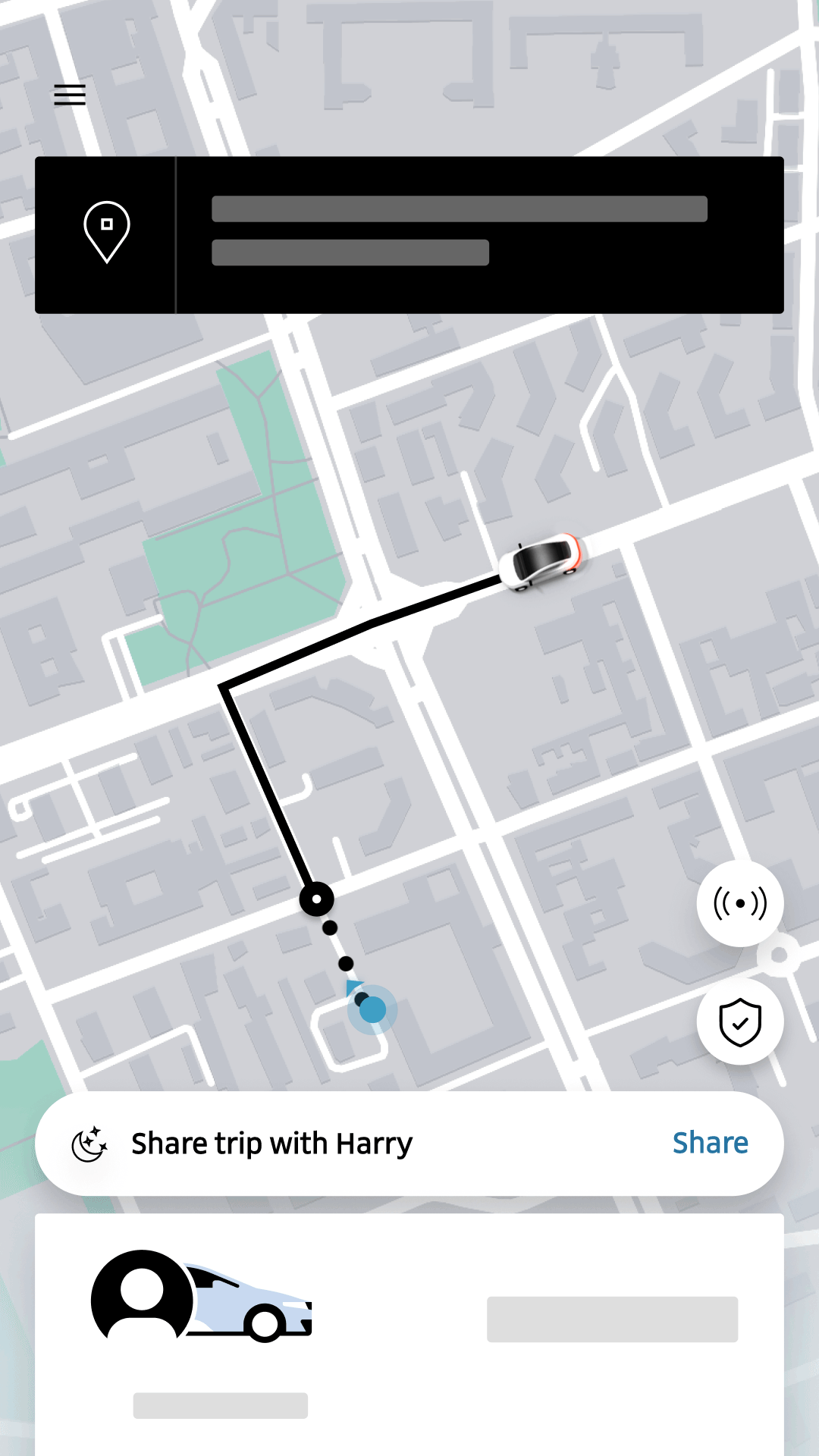 Emergency assistance button: This features allows you to call for emergency assistance from local authorities directly from the app. If ever faced with an emergency situation, we want to help you get the help you need. Before placing a call we'll provide you with useful information, such as your real-time GPS location (both on a map and as an address), car make and model, and license plate so these can easily be shared with the local operator.
Digital Safety
Address Anonymisation: We're not just focused on safety in the physical world; your privacy and the security of your data is also important. Now in addition to real time phone anonymisation and anonymising your name after a trip, the app will now conceal specific pickup and dropoff addresses. Going forward, after a trip ends, the driver's trip log will only show the general area where a trip started and ended, not the address.
Two-Step Verification: We want to give people more control over their account security. In the past, we'd text you a code to verify your account if we detected a suspicious login attempt or new device. While we will continue to provide that protection to all users by default, we're enhancing our two-step verification process to give riders the option to use this feature every time they log into their account. Riders can now choose to use text messages or third-party authentication apps like Google Authenticator, Authy, or Duo by going into their account settings and selecting their preferred method.
For Licensed Drivers and Couriers
In additional to some Safety Toolkit features we're also launching new features in our new app for more than 70,000 licensed drivers and couriers across the UK.
Driver Insurance Hub: Drivers and couriers across Europe are eligible for free AXA insurance coverage which includes sickness, injury and maternity and paternity protections. The new driver app puts all your insurance details in one place so you can easily access documents, such as your proof of insurance, and learn more about coverage both on and off trip.
Speed Alerts: Experts say that letting people know how fast they're going, relative to the speed limit, can help them travel at safer speeds. The new app puts this feature right on the map, so that drivers and couriers always know the speed limit so you can stay safe on the road.
—
When it comes to safety, our work is never done. Uber has a responsibility to help keep people safe, and it's one we take seriously.