Bangladesh

|

Dec 1, 2021
Uber strengthens safety in Bangladesh with new features
Written by
Safety is paramount at Uber. We've strengthened safety and support on our platform to offer improved and timely assistance to riders in Bangladesh when they need it. We've expanded existing safety features – 24×7 Safety line and Ridecheck – to offer enhanced safety on platform trips. We've also launched the Moto Safety Checklist that will help make Moto trips safer in the region. 
The expanded and new features include: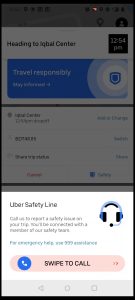 Uber 24X7 Safety Line: Riders in Bangladesh will now have extended support during their trip and up to 30 minutes after the trip ends via a 24X7 Safety Line. By tapping the blue shield icon within the app or dialing +880-9612-8881111 from the registered mobile number, riders will be able to connect with an Uber safety expert anytime, any day, to report an urgent but non-emergency issue during a trip, such as reporting misbehavior by a co-passenger, a dispute with a driver or a break-down. The average response time for answering an incoming call on the helpline is less than 30 seconds. This number will only be functional when dialed from a registered mobile number during a trip or up to 30 minutes after the trip ends.
Ridecheck 3.0: We've expanded our tech-enabled safety feature, RideCheck, which flags certain trip irregularities that may indicate an increased safety risk. Now, any instance of a route deviation or a midway drop will be detected as an anomaly that will initiate a Ridecheck. Our representatives will contact the rider and driver to check on their safety and understand the reason behind the irregularity. This feature already existed for long, unexpected stops on a trip in Bangladesh. This marks our first step to proactively reach out to users during a trip and offer tools they may need to get help.
Moto Safety Checklist: We've launched the Moto Safety checklist for riders and drivers in Bangladesh to enhance safety on every Moto trip. This feature prompts a rider and driver to follow a Go-online checklist before starting a Moto ride. The driver is required to check whether he is wearing a helmet and carrying one for the rider. The driver must also check that the motorbike is trip-ready with the apt tire pressure, functional front and rear brakes, and working vehicle lights such as blinkers and headlights. We recommend there are no phone distractions for the driver and the driver wears protective clothing (pants, jacket, closed-toe shoes).
Enhancing safety on our platform is an ongoing process. We have continually introduced a variety of other safety and feedback measures on our app. Riders can easily access the Rider Safety Toolkit which includes a Safety Centre, 'Share My Trip' option, and 999 assistance.