US

|

Apr 18, 2017
UberEATS: Using technology to build a reliable food delivery experience
Written by
A little over a year ago, we set out to put a new spin on an old classic: make reliable food delivery available at the tap of a button. Back then, we started by offering food in the UberEATS app from 1,000 pioneering restaurant partners in four cities. And today, more than 40,000 restaurants globally—from poke shops to pasta spots—are sharing food with customers through UberEATS.
Now, instead of picking up the phone or wondering "where's my pizza?" people in 71 cities are able to order food and track it wherever they are.
With a growing restaurant community comes more choices and more complexity. So we're cooking up features to continue to make UberEATS easy and reliable. Here is a taste:
See tailored recommendations
When you open UberEATS you should be able to find what you want with ease. We are using machine learning to help surface recommendations like your go-tos, 30 minute delivery options, and popular options near you based on past orders and details like time of day and delivery location.
Filter for the right food
Exploring should be just as easy. That is why you can also look up restaurants according to specific criteria like speed, price, and dietary constraints. Want to see all gluten free options available within 30 minutes? No problem. Dish information and average prep times help us share the right dishes that will come at the right time.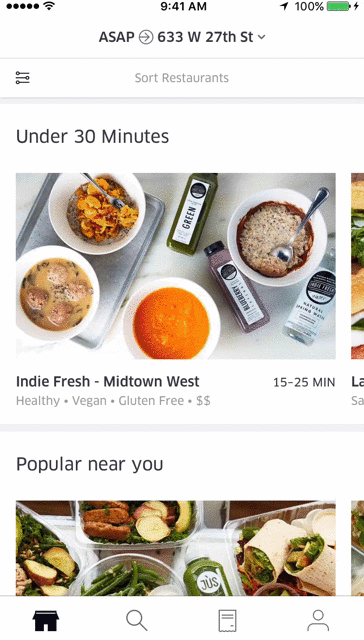 Customize the drop-off
Ever wonder whether a delivery will come to your door or the lobby? We actually see that some of the most popular places for UberEATS orders are hospitals and office buildings, outside the home. Now you can determine exactly how you'd like your food dropped off. Whether you're at home, at the office or even relaxing with your family at the park, you can enter even more specific instructions and request to "meet your food at the curb," or have your food "delivered to the door."
Track your order
Say goodbye to the black box of delivery. Now, you'll know exactly where your order is every step of the way. Watch in real time as your food is prepared, picked up, and delivered to you. This is the reliability you've come to expect from Uber–no surprises, but with the tech built for food.
Schedule orders
Sometimes convenience means being able to plan ahead. For the planners out there, we've introduced the ability to schedule an order ahead of time. You can schedule an order anytime up to an hour before the desired delivery window–and as far as a week out. So if you know you'll need cupcakes for a coworker's birthday next week or want to get ahead of breakfast tomorrow you can set your order, and leave the rest to UberEATS.
Not in the UberEATS app? Now you can order on UberEATS.com—sometimes food looks better on the big screen! And, of course, when you are taking an Uber ride, you can also pop open the UberEATS app or website and see how many minutes after you get dropped off you can start enjoying that pasta or salad you've been thinking about all day.
We're dedicated to building technology that makes getting the food you want, when you want it, a piece of cake. We can't wait to serve you. And when we do, we hope we can make your day a little easier, a little happier, and a little more delicious. Stay tuned for more!