US

|

Oct 17, 2014
The Weekender
Written by
Photo via crainsnewyork.com
We put up with a lot as New Yorkers. Crowds, traffic, insanely high rent, long lines—it's all part of the game. But of course, the city has its perks (or else, why would we put up with it all?). This weekend, we suggest you go out and take advantage of all the amazing arts and culture activities NYC has to offer. While there are countless options that are available to you every day—not just this weekend—we've compiled a list of suggestions below to make your decision making a touch easier. So go out and get some cultcha'.
---
photo via brokelyn.com
It's opera season in New York City. Even if you know nothing about opera, it's worth getting dressed up and treating yourself to a special night on the town. Roll up to Lincoln Center in an Uber and "ooh and ahhh" by the fountain like a tourist before entering the magnificent Metropolitan Opera House. This weekend you have three great options—Carmen, Macbeth, and Le Nozze di Figaro are all playing.
photo via nytimes.com
Not in the mood for opera? Understandable. You can also Uber over to Lincoln Center to see the NYCB. There are various performances happening throughout the weekend, so you can pick and choose.
Flamenco Fridays | St. Mazie
photo  via nytimes.com
Enter this cozy New Orleans-inspired cocktail bar in Williamsburg on a Friday night and you may be surprised by how un-Brooklyn and un-New Orleans the scene actually is. Every Friday, St. Mazie hosts Flamenco musicians and dancers, transforming the upstairs into a tucked-away Sevillano Flamenco bar.
photo via aiphotos.com
This weekend at the Jazz Standard, saxophonist James Carter takes the classic sound of Django Reinhardt and molds it into his own. Instead of Reinhardt's guitar, you'll be serenaded by Carter's smooth-jazz-cat sax playing. You'll still get that Midnight in Paris feel, but just with a different instrument taking the lead.
photo via bam150years.blogspot.com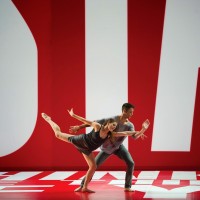 There's always something interesting happening at BAM, and this weekend is no exception. Grab tickets to see the L.A. Dance Project, a three-piece performance choreographed by Benjamin Millepied (that guy who choreographed Black Swan and married Natalie Portman), Justin Peck, and William Forsythe. If modern dance isn't your thing, there are plenty of other options for you at BAM including art exhibits, music, talks, and movies (have you seen Gone Girl yet?!)
Graffiti Art | Bushwick
photo via untappedcities.com
Sure, there's the Met, the Whitney, the Guggenheim, and Chelsea galleries, but you can also simply walk down Troutman St. in Bushwick to find some pretty fantastic art right by the sidewalk. Start over by Montana's Trail House and walk down to Knickerbocker Ave. Check out all the beautiful graffiti-covered walls and get up close to see the detail. While you're there, make time to stop in one of the many bars and restaurants and make a day out of exploring the ever-changing Bushwick neighborhood.
Home |
Cities |
NYC |
October 17, 2014