US

|

Dec 6, 2011
Take Uber's New Logo For a Spin
Written by
Well, here we go. We're about to roll out a bold rebranding of Uber. The Uber you know and love is getting a wardrobe change. I know the first question everyone's going to ask…
"I love the Uber icon!  Why the h*%k are you changing the BIG RED U??!!"  or "What happened to my big red, lovable MAGNET?!"
I know. It's hard for us too. There are many reasons for the change, but the most important is that Uber is getting ready to go global – I mean an Uber in every major city in the world. We need an identity that the world can understand and one that would get us out of the trademark infringement trouble that our BIG RED U was bound to get us into. Here's one of a big supermarket chain in France:
Now, of course, if you're going to change, you want to make your logo/brand closer to the experience of the product – our new logo is our attempt to do that.
But First, a Quick History
When we first got going in 2010, Garrett Camp, our beloved co-founder and graphic designer extraordinaire spent a couple hours in photoshop designing a logo for UberCab. He made a 'U' for the Uber, and turned it around for the 'C' – *genius*.
In October 2010, a few months after we launched, there were still only 5 of us, we got a nastygram (aka, a Cease and Desist) from the city of San Francisco saying amongst other things, that our name UberCab means we are marketing ourselves as a cab company.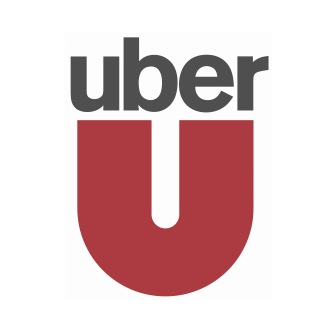 We responded within 24 hours by changing our name to Uber, and thus our logo changed with it. Ryan McKillen, Uber's 2nd full-time engineer, likes to take credit for the logo you have all come to love. It was him that went into photoshop and took the big red 'C' off. Conrad Whelan was the most eloquent about the change, "We were always Uber, but now it's official!"
So Tell Me About the New Look
The primary guiding principle in designing the logo was to find an identity that most closely represents our riders' experience when using Uber. Now obviously everyone has a different perspective, but there are common threads.
Some words that come to mind: Distinguished, Efficient, Elegant, Convenient, Modern, Luxurious, Quality, Service, Baller, Like-Woah.
Is it luxury?  Well, not quite, but maybe "grounded" luxury (you get it? ;)), or what I call "vulnerable luxury".
Our service is very good, but it still is not perfect and has its flaws. We didn't want to float above water looking down on everyone who tried to approach us. Instead, it's luxurious, but has its quirks, and its panache and is intended to have a level of approachability.
A Work in Progress
With our imminent launch into Europe, it was important to have our new logo ready to go . That said, there are areas which even still we would like to incorporate into the identity over time. We think that approachability of the brand is important, and you will see changes that bring more of that to the table.
Another area that needs a bit of work is communicating the Uber "winky-face" in our identity. Anyone who keeps up with our blog and emails, or is familiar with our city promotions, knows that we have a healthy irreverence for the status quo, we poke fun at ourselves and others. We have fun and we don't take ourselves too seriously. It is important that we incorporate those personality traits which are already Uber into the Uber identity – expect to see more here over the coming weeks and months.
Uber is still Uber
This week Uber is going global. Every month you will find we are in more of the cities that you live in and travel to – in the US and abroad. And with that we think we have a logo and identity that better fits with the Uber brand and experience – better serving as a platform for us to expand globally. But fair warning, we are not changing who we are. Our values around service, availability, convenience continue. The service is the same, though we will strive to improve it every day (yes, we're talking to you New York). Our goal to deliver products that reach more and more of a cities' population also remain.
We are 'Everyone's Private Driver'. We are Uber and we're rolling out a transportation system in a city near you.
Travis
Uber Co-founder, CEO