US

|

Mar 11, 2011
SXSW Day 1: Live Blogging the #UberPedicabSXSW Madness!
Written by
2.16am
Day 1 of SXSW ends with – as said by Uber and StumbleUpon Founder Garrett Camp (@gmc) – 'the geekiest moment of SXSW'. Thanks to @deviantART for the photo and to Formspring Founder Ade Olonoh (@adeolonoh) for modeling!
1.08am
Uber CEO Travis Kalanick (@tkalanick) and some of the Uber crew catch up with our VIP limo near the W Hotel.
11.21pm
As midnight approaches, SXSW party people are just getting started!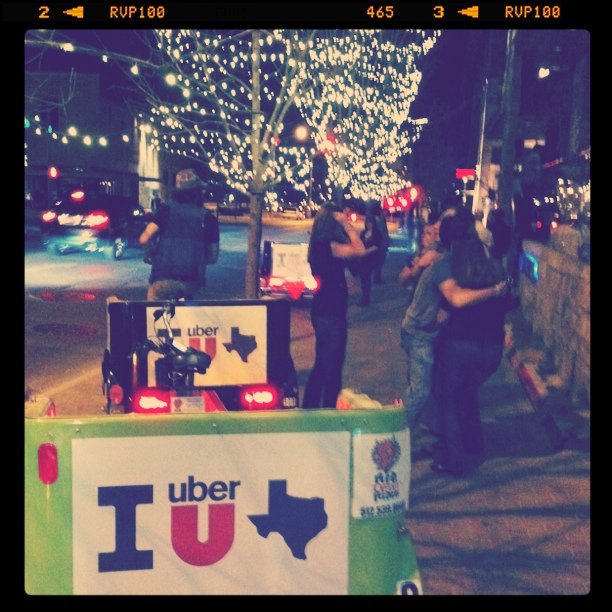 10.46pm
@delynator gives you a bird's eye view of the cashless payment experience with our iPhone app.
9.35pm
Uber VIPs get their first look at our 1978 Cadillac Limo officially arriving into Austin!
9:01pm
Thanks to Jeff Slobotski (@slobtski) for the props and this great shot of Uber pedicabs in the wild.
7:45pm
We get our first night time snap of Day 1 from @devon. We're running until the early hours, so let us help you get home tonight!
6:08pm
@macaby gets her first taste of Uber Pedicab action at the SXSW Purevolume House.
6:05pm
@bmull Nice shot! Does that lady have a dog?
5:09pm
Thanks @irinatag!!! Nice use of the Poprocket Instagram filter. Keep the #UberSpotting coming (and use the tweet so we can HOOK YOU UP!!!)
5:01pm
Check out this ride along the beautiful river! So rad!
Make sure these guys get a solid tip & remember, 20% is going to LIVESTRONG!
4:46pm
Mad props to Ron (@tobiasblue) who did the awesome Uber designs for SXSW!!!
Ron – So fun to see my @uber designs in such awesome context RT @mbaratz This is easily becoming a habit @ On an uberhttp://instagr.am/p/CKesc/

4:16pm
MOAR #UberSpotting!!!
And Mashable wrote a great piece of the Uber Pedicabs!
"The Uber Pedicab program makes for a cashless transportation experience and is designed to turn downtown transports into fun rides for the SXSW Interactive crowd. So far, so good, says vice president of business operations Ryan Graves. "People really love it," he says, explaining that attendees are jubilantly tweeting and Instagraming (using the hashtag #uberspotting) about their pedicab rides."
4:12pm
Our Twitter client just went into meltdown, which can only mean one thing – Mashable's Uber SXSW post is online now!
3:46pm
Uber pedicab to the rescue! "@MargieNewman: #sxsw shuttles are MIA. Thanks, pedicab guy, for getting me to my next session"
3:30pm
Thanks, Lance! You're way. Too. Awesome. Too.
2:59pm
Uber Ops team, hard at work to make your SXSW an Uber Pedicab extravaganza!
1:55p
Uber GM Ryan Graves took a ride with Mashable reporter Jenn Van Grove (@jbruin) and had a blast. Looking forward to seeing her video post later today. Thanks so much, Jenn!
1:42p
Our favourite quote by a pedicab driver so far (via @caro): "I love this thing. It's like I'm in a video game, a little blue dot chasing all these people."
1:33p
Day 1 is heating up – and our drivers are ready and waiting to serve!
Follow us on Instragr.am (ubersxsw) and also be sure to tag all your Uber photos with #uberspotting for the chance to get free Uber credits for your next ride.
12:08p
Thanks @NihalMehta for #UberSpotting a shot that may very well go down in Uber history… game on folks & welcome to SXSW 2011!