US

|

Nov 12, 2012
San Diego, The Choice Is Yours!
Written by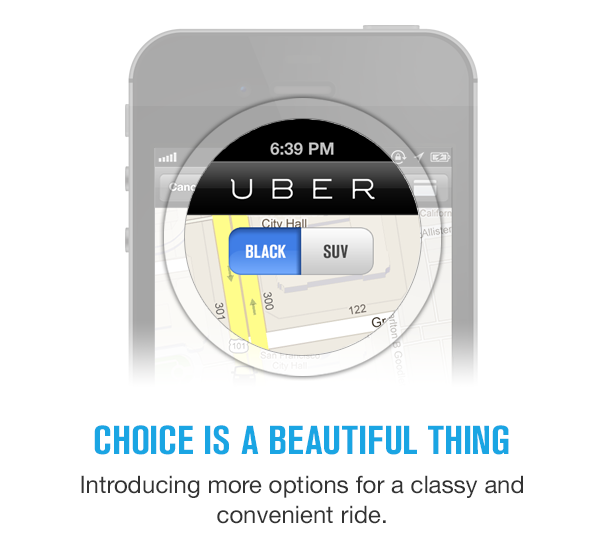 Your emails, tweets and midnight phone calls were loud and clear.  You wanted the ability to request an SUV to fit all your friends, family, or fellow night owls you just met at the bar (no judgey).  For the past several months, we had to say "please folks, hang in there, we're working on it."  Today, (drum roll please) Uber San Diego is excited to give you what you've been asking for! The classic black car option which you know and love, and now the almighty SUV — the choice is yours!
BLACK
Our standard black car service. The Uber you know and love! Choose this option and either a high-end sedan or SUV will be curbside in minutes. We guarantee cars in this option will seat up to 4 people. Note: when you choose "Black" and are picked up by an SUV, you will not be charged our SUV rates.
SUV
TA-DAAAAA! These baller SUVs will seat up to 6 people, now your 5th & 6th wheels don't have to take their own Uber! PARTY!




To choose what type of vehicle you want, you'll need to use our iPhone or Android apps. At the top of the map, select the type of vehicle you want. Set your pickup location, hit request and that's it! As usual, you'll receive a text letting you know that your driver is on the way, and another when the driver has arrived. At any time, you can also view our rates by selecting the vehicle types icon in the top right corner.
We hope you're as excited as we are about this! Now, what are you waiting for? Go grab your Uber of choice!
– Team Uber SD