US

|

May 14, 2018
Getting better every ride with your on-trip feedback
Written by
Since the beginning, we've given both riders and drivers the opportunity to rate their trip and provide feedback after every ride. This helps us to understand whether you had the 5 star experience we always want you to have, and know what's working and not working.
But when you have feedback to share, you shouldn't have to wait to share it with us. You've got places to go and things to do, and we never want to miss an opportunity to listen and improve.
That's why we're introducing the ability to rate, compliment, tip, and share feedback during your ride — and doing more with the feedback you share with us.
When you're having a great ride, let us know by adding a compliment, thank you note, or tip. Your positive feedback will be used to recognize top quality drivers and encourage continued outstanding service through a new program launching in June.
And if you notice something that needs improvement, we'll go beyond just sharing this with drivers. We'll use your feedback to improve our technology by analyzing rides with issues around things like  "navigation" and "pickups" to identify unsolved technical problems.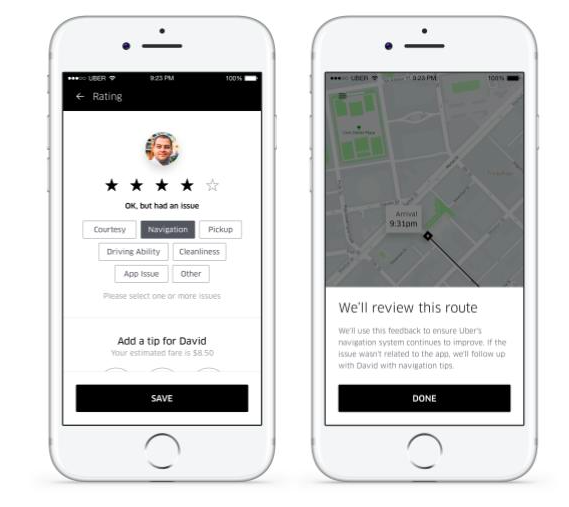 This may seem like a small change but it's just the beginning of our investment in products and policies that make the Uber experience better in the key areas riders care about most.  
Look for more announcements in the coming weeks, and in the meantime, we'll be working with our community of riders and drivers to make progress every day.