US

|

Apr 9, 2015
Meet All of The Sixth Star Award Winners
Written by
Since we kicked off the
"Sixth Star Award"
program fueled by American Express in October, we have been honored to recognize U.S. driver partners who have gone above and beyond.
Each week we recognized a partner driver from a different US region. These drivers and so many others make an important difference out on the roads and in our communities every single day.
---
MEET THE SIXTH STAR AWARD WINNERS
Click the image below to read each story.
---
Edith From Atlanta
Edith is a driver-partner in Atlanta who has been driving full-time after having been retired for 15 years. Edith was the first partner to be awarded the Sixth Star Award on the East Coast after being nominated by one of her riders, Robert. He's what he said about Edith:
"I am currently healing from an amputation surgery and use a walker to get around. Edith picked me up, and I told her I had two stops to make, including a supermarket. After she dropped me off at the supermarket, I was in the store and heard someone calling my name behind me. There was Edith with a shopping cart. I just couldn't believe it! She went with me throughout the store, helped me check out and even carried all my groceries inside when we got back to my house. Now who does that? Edith does. She is a WONDERFUL person, not just a driver!"
For Edith, going above and beyond is just part of her personality.
"I'm known in my community as the lady that's willing to help everybody," Edith said. "Everybody has different gifts. It just so happens that my gift is helping people."
Edith used the $1000 from American Express to by a new computer and printer — purchases she had been saving for but was able to put her money towards other important things."
---
Billy From Milwaukee
Billy is a partner in Milwaukee and the very first partner in the Central Region to be awarded the Sixth Star Award after he drove a rider — Sal — home who was impaired. Billy stood out to Sal during this night and since. Here's what he said about Billy:
"Around 12:30 am, I found myself impaired and decided that it would not be a good idea to drive home. I requested an UberSUV. I can't tell you how courteous, conscientious, responsible, and professional Billy was. I asked if we could return to my car to retrieve my house keys. Billy noticed that my car was not parked legally and graciously asked if I would be okay with him moving it about 50 feet forward so I wouldn't get a ticket overnight. He also noticed that I had valuables sitting out in the open on my seat and brought them to me. He even offered to stop and buy me water in case I was thirsty! I have been chauffeured by first class corporations around the country, and this gentleman stood out above the rest to exceed my expectations as a professional chauffeur that valued his client's safety throughout the trip home."
Though he began by driving himself when Uber in Cincinnati first opened, he now manages a fleet of vehicles and other partners. Still, that doesn't change Billy's approach to service.
"Whatever I do is to ensure that whoever is in my vehicle gets home safe," Billy said. "That's the goal every day I send those 10 cars out."
Billy spent the thousand-dollar gift card on his family, joking that his wife wanted it for herself. "I went home and said, 'Hey hun, I won the Sixth Star Award and got a gift card today.' As soon as I put it on the counter, she took it away from me."
---
Mikyahel From Los Angeles
Mikyahel is a driver-partner in Los Angeles who has been driving since 2013. He was the first West Coast partner to be awarded the Sixth Star in September after he helped his rider, David, move and ship over 300lbs of his belongings across the country.After stopping to ship David's things, they arrived at the airport only to find that check in had closed and David couldn't bring his remaining possessions on the flight.
"I took a giant leap of faith and begged Mikhayel to mail me two of the bags the next day and gave him money to do so," David said. "I had no idea if there was anything valuable in them or if he would actually send them." 24 hours after arriving, David awoke to a text message from Mikayel with a picture of the package and the tracking number. Less than a week later, the package came.
"I only wish that you could move Mikhayel to Philadelphia," rider said. "He knew that I could not give him repeat business as I was moving, yet still treated me like a VIP."
---
Muhammed From Orange County
Muhammed is a driver-partner in Orange County who was awarded a Sixth Star after helping a rider, Erica, get her car towed when she got a flat tire.
"I was having an awful day and pinged Uber after my car got a flat tire and needed to be towed. Muhammed picked me up, and I was super upset, because I was very far from home and late for work," said Erica, his rider. "Muhammed overheard me on the phone, and once I finished my call, he offered to help me get my car towed rather than drive me all the way home."
Muhammed took Erica back to her car and helped her get it towed, staying with her and helping her the whole way through.
"He even helped me find a place in the area to get a new tire so I could drive back 100 miles home," Erica said. "He genuinely wanted me to be ok."
---
JB From San Antonio
JB is a driver-partner in San Antonio who was awarded the Sixth Star in October when he helped his rider, Janice, after she crashed her bike 15 miles from home and was pretty banged up. JB even offered to stop by the pharmacy to pick up first aid supplies and insisted upon carrying Janice's bike up to the third floor for her.
"I wish I could give 10 stars! JB was such a professional driver with courtesy you just don't see everyday," Janice said.
But JB says it is just part of his personality, and that when he gets behind the wheel, "it just carries over."
"I remember when I received [the Sixth Star Award], I was like, 'Is that for real?' When the box showed up, and I was like, 'Wow, that's so cool,'" JB said. "There was definitely that sense of pride when I started learning from other folks about what goes into being a 6 star winner."
---
Reggie From Washington, D.C.
Reggie is a driver-partner in Washington, D.C. who was awarded the Sixth Star in October after he helped save a 2-year-old boy's life who was suffering from a seizure. Reggie stopped his car when he saw a woman on the side of the road holding the boy and screaming for help. While his rider, Cari-anne, called 911, Reggie helped keep traffic away from the scene.
"He was not only a wonderful and charismatic driver but a literal lifesaver," Cari-anne said. "He deserves praise for going far above and beyond the call of duty."
While Reggie doesn't feel like he did anything extraordinary on that day, he did say that it felt good to win the Sixth Star Award as recognition of his commitment to providing a top-notch experience for his riders.
"I felt like it was sort of a validation of the experience I try to give people," Reggie said. He's planning to save half of the thousand-dollar gift card and spend the other half on the Apple Watch.
---
Yonas From Seattle
Yonas is a driver-partner in Seattle who received the Sixth Star Award after his rider, Daniel, realized he left his backpack, with four laptops and a work iPad at home. His wife was home with his kids and couldn't leave to bring his bag to him, so he turned to Uber.
"Yonas went to my house, got my bag from my wife, and drove it to me at the airport in record time, despite construction impediments," Daniel said. "I think this speaks first to Uber's trustworthiness that I didn't think twice about putting $5000 of hardware into a drivers hands, and second — even more importantly — to Yonas' quality of service."
---
Neel From Austin
Neel is a driver-partner in Austin who considers himself a serial entrepreneur. As a real estate broker, landlord, and property manager, Neel likes to take advantage of free time in between appointments to drive and meet new people. Neel received the Sixth Star Award after driving a family member of Uber user Amy to a doctor's appointment. Because Neel noticed that there weren't many Uber cars near the location of the drop-off, Neel waited for the rider until the appointment was over to take him back to his apartment. Amy was struck by his willingness to help her family member and nominated for the Sixth Star.
Neel explains the key to his award-winning driving is a treating his riders like they are a friend.
"But most importantly, I try and always make them laugh," he said.
---
Mouhamed From New York City
Mouhamed is a driver-partner in New York City who has been driving for about nine months. He was awarded the Sixth Star after driving his rider, Ina, and her 18-month-old baby. While they were parked, a pick-up truck hit the car, resulting in a 3-car accident. But Mouhamed handled it like a pro.
"A 5-star rating system is in no way sufficient to express how exemplary Mouhamed was in this case — he was clearly shaken, as was I, but his first and only concern was for the condition of my child," Ina said." He treated us like his own family, and I insisted the paramedics check him. Even when I called him later that night to check on him and his vehicle, he kept asking me how the baby was."
"That's just me," Mouhamed said. "I want to treat everyone how I want to be treated."
Mouhamed hasn't spent the $1000 from American Express yet, but he knows what he wants: a new sofa to enjoy with his pregnant wife.
---
John From Los Angeles
John is a driver-partner in Los Angeles who received the Sixth Star award after he helped his rider, Katie, who ripped her shirt on the way to her first day at a new job. John agreed to stop at a store so she could buy a new shirt, but she soon realized she had forgotten her wallet and had no money.
"John lent me the money, which I am so grateful for," Katie said. "He waited for me to run into the store and buy a new shirt and drove me to work making sure I wasn't late. I honestly do not know what I would do if it weren't for wonderful drivers such as John."
For John, winning the Sixth Star Award was a nice way of being recognized for the effort he puts forth every day.
"I have always gone the extra mile by just doing extra things to help people out, but it confirmed to me that people do take notice and appreciate what I do," John said. He plans to use the thousand-dollar gift card on gold coins so that he can save for retirement.
---
Henry From Chicago
Henry is a driver-partner in Chicago. In addition to partnering with Uber, Henry volunteers with the Chicago Public School's "Safe Passage" program, where he helps ensure that students arrive safely to and from school in areas prone to gang violence.Henry was awarded the Sixth Star when he helped a rider, Bob, who has trouble walking because of cancer.
"I had Henry drive me to a nearby Target to get a few things," Bob said. "Of his own volition, he came into the store and met me at checkout just to make sure I was okay."
"When I saw Bob with a boot cast on his leg, it was sort of like instinct or sixth sense. I just felt the urge to go help this guy shop, so I did," Henry said.
"Winning the Sixth Star award has to be the highlight of my career," Henry said. "I was so humbled, so proud, so blessed and so thankful. I'm just so proud to represent Uber."
Henry used the thousand-dollar gift card to treat his granddaughter, who is graduating from high school in May.
---
Sonia From New Jersey
Sonia is a driver-partner in New Jersey, where she has been driving since December. Sonia started driving for Uber because she wanted the flexibility to earn money while she was going to college and taking care of her daughter. She was awarded the Sixth Star when she gave a ride to an elderly, blind woman, whose neighbor — Mike — had called Sonia to arrange her ride to the doctor.
"Sonia answered her phone immediately when I called to explain the situation, and she was able to help this elderly woman down the steps and into her vehicle," Mike said. "Sonia brought the woman to the medical center promptly, going above and beyond the role of a normal pick-up."
"I go out of my way to help each and every rider, so it felt great to win the award," Sonia said.
---
Vanya From San Francisco
Vanya is a driver-partner in San Francisco who was awarded the Sixth Star after he assisted his rider, Emily and her friend, who were going to pick up their towed car.
"The towing yard wasn't in the best neighborhood and he insisted he stay with us and wait until we got the car," his rider, Emily, said. "He even walked us in and pretended to be our dad! He was so great and we both felt super safe with him watching out for us."
"It's the way I was raised — I like to help people," Vanya said. "It felt good to have Uber recognize that I did a good job for my riders," he said.
---
Dahir From Washington, D.C.
Dahir is a driver-partner in Washington, D.C. who was awarded the Sixth Star in January after helping his rider Nick when his car battery died. Dahir picked Nick up from the airport late at night and drove him to his car only to discover that it wouldn't start. He then offered to drive to two gas stations to buy jumper cables and then helped get the car started and didn't leave until Nick was able to drive away.
"I can't even put into words how thankful I am Dahir was our driver on Saturday night," Nick said. "I tried to offer him money and he refused, doing it out of the goodness of his heart."
"I want to help people because I know they're going to help me somewhere else later on," Dahir said.
Dahir spent the thousand-dollar gift card on his family, but he said it was about much more than the monetary value.
"The name 'Sixth Star' meant more to me than the $1,000," he said. "I'm so happy and grateful to be recognized in general."
---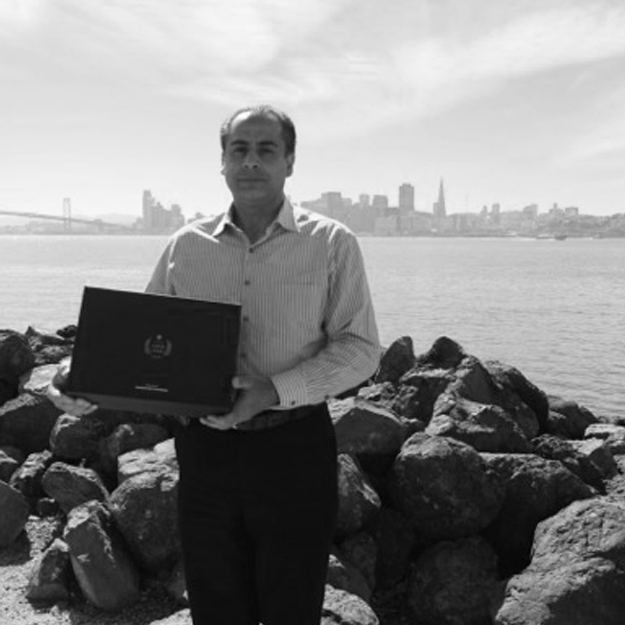 Ghassan From San Francisco
Ghassan is a driver-partner in San Francisco. He received the Sixth Star after driving a rider, Robby, and his mom, who started to have a stroke in the back of the car while en route to their destination.
"Ghassan was very calm and attentive and helped me get my mom to the hospital in a short amount of time," Robby said. "Without his efforts, my mom would probably be dead or have serious brain damage. I cannot thank him enough and am so blessed to have had him be my driver today."
---
Erik From Houston
Erik is a partner in Houston who was awarded a Sixth Star after offering to drive a woman home who needed help out of a potentially unsafe situation.After arriving at their destination, Ryan and Erik came across a woman who said she was being harassed by a man on the street.

"While my friend confronted the man, I asked Erik — who had been patiently waiting for the scene to simmer down — if he could drive her to whatever address she gives him," Ryan said. "He readily agreed."
Erik then proceeded to drive the woman home safely. He even took the initiative to call Ryan and confirm that she was okay.
"Erik went above and beyond the call of duty one Saturday night," said Ryan. "We ran into the same woman the next day who confirmed everything that had happened, and she was incredibly grateful for our support.Five out of five stars does not do him justice. Erik did a great deed that night."
---
Abdulshakur From Denver
Abdulshakur is a driver-partner in Denver who was awarded a Sixth Star after proactively returning items left in his car by his rider, Bayen.Abdulshakur picked up Bayen and took him to a meeting place downtown, but in his rush, Bayen left his laptop and very important items — including documents and keys — in the car. It took about 30 minutes after Abdulshakur dropped him off before Bayen realized he left his belongings in the car.
"Since my phone was off, I could not call him or reach him," Bayen said. "However, what he did next is unbelievable: He waited the whole time at [the place where he picked me up] to make sure I got my items. I couldn't believe that he took the time to return my items to me. He's amazing!"
---
Ron From Phoenix
Ron is a driver-partner in Phoenix who was awarded the Sixth Star after he comforted his rider, Sam, who he had picked up from the funeral of a close family member.
"When Ron showed up, I was crying-blubbering mess," Sam said. "It was an hour trip home, but on the way, Ron made me feel much better with his wisdom and insight and even made me laugh a couple times. Ron even waited for 20 minutes with me after he had ended the ride because I forgot my key and he didn't want to leave me alone in my time of sorrow."
"I'm kind of a caregiver type of guy," Ron said. "I was really surprised when I got the Sixth Star award, because I hadn't seen the review. It was…'wow.' I was a little speechless."
---
Romy From Chicago
Romy is a driver-partner in Chicago, where he has been driving since January. Romy was awarded the Sixth Star after he picked up his rider, Tom, and brought him to the aid of his wife and children who had just been in a car accident.
"Romy was absolutely amazing today. He picked me up and drove me to the site where my wife and children were in an accident and stayed with us to make sure everyone got home safely. He helped make a very traumatic morning much less so by being so kind and helpful – we were so thankful to have him there with us this morning."
We asked Romy what he thought of his experience, and he replied with, "I thought of my own family, and I did what any father would do. I tried to be as calming as possible."
Romy said that on a day-to-day basis, he tries to be a good listener and as helpful as possible, so he was surprised when he was awarded the Sixth Star. "I didn't expect it, but it was an honor," he said.
---