US

|

Aug 27, 2016
Celebrating the Uber All-Star driver-partners of 2016
Written by
Every day, Uber driver-partners do a tremendous job getting riders around SF safely. That's why we decided to team up with the San Francisco Giants to recognize "All-Star" drivers!
Throughout the course of the baseball season, you can nominate your driver by writing #UberAllStar in your rating comment. The winning drivers will receive tickets to a Giants game and will be honored as All-Stars in an on-field ceremony at AT&T Park. Read more about the 2016 Uber All-Star team below.
#UberAllStar 1: Kimberly
Originally from Connecticut, Kimberly moved to California over 20 years ago, and now calls the North Bay home. Riders nominated her because of her warm energy and positivity.
#UberAllStar 2: Burhan
As a San Francisco native, Burhan is a big Giants fan. He received over 8 #UberAllStar nominations from riders.
#UberAllStar 3: Collin
Collin received his nomination because of his enthusiasm. He enjoys meeting new people and listening to good music in the car together.
#UberAllStar 4: Elizabeth
Giants fan Elizabeth started driving this year because she wanted to spend more time taking care of her grandma Holly, who's turning 100 years old this year. At the Uber All-Star recognition, Elizabeth said: "She's my All-Star."
#UberAllStar 5: Sau
Originally from Hong Kong, Sau has been in California for 30 years now. She's close to hitting 14,000 trips this summer so the chances are high that you have taken a trip with her once!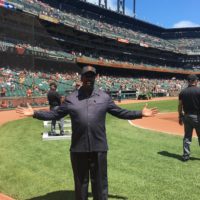 #UberAllStar 6: Michael
Michael is a music teacher in Oakland, as well as a musician. He drives with Uber every day after school, and especially during summer breaks. As a teacher, he believes that music helps children learn in different ways, and loves giving back to the community by doing so. Michael became a grand father for the first time of a beautiful grand daughter named Faith.
#UberAllStar 7: Duncan
He is originally from Jacksonville, and has been in the Bay Area for over 30 years now. He owns a catering business, is a part-time DJ, and started driving with Uber a year ago. As a huge Giants fan, he has attended over 200 games so far.
#UberAllStar 8: Claes
After servicing the country as a military policeman, he built a few businesses by himself where he always focused on providing excellent customer service. Thanks to Claes' friendly personality, he received over 260 nominations this summer, making him the driver-partner with the most selections of the season!
#UberAllStar 9: Stephanie
She is from Atlanta, and lived in New York City and Johannesburg before moving to the San Francisco Bay Area. She is a lifestyle photographer, who started driving with Uber in between her photography projects.
How to nominate
If you have an awesome driver, write "#UberAllStar" on the Additional Feedback screen after your trip to nominate him/her for the All-Star recognition.
Keep nominating all summer! Each time you nominate a driver, you'll be entered to win SF Giants tickets for two.
Follow @Uber_SF on Instagram and Twitter to stay up-to-date.
Terms and Conditions here.