US

|

Apr 12, 2018
Getting serious about safety
Written by
Every day, our technology puts millions of people together in cars in cities around the world. Helping keep people safe is a huge responsibility, and one we do not take lightly. That's why as CEO, I'm committed to putting safety at the core of everything we do.
Today, I'm announcing several new improvements to double down on safety in our app, strengthen our  screening process, and bring a new powerhouse advisor on board to help shape Uber's next chapter.
Here's a snapshot of what's coming to the U.S. this summer.
New Features and Investments
We've updated our app with safety in mind, locating all things safety in one central place and making it accessible directly from the home screen during a trip. Existing features like Share My Trip will be easier to find and we'll add new ones:
Safety Center: Riders will soon have a dedicated place in the app where they can learn about key safety information, including tips built in partnership with law enforcement, driver screening processes, insurance protections and community guidelines.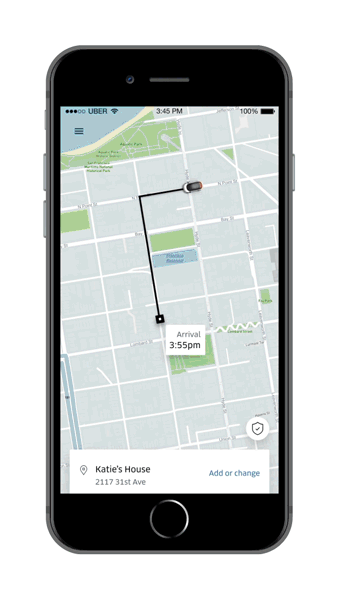 Trusted Contacts: Riders will be able to designate up to five friends and family members as Trusted Contacts, and be prompted to share trip details with them during every ride. This makes it easier than ever to share your trip, so loved ones can follow along and know when you've arrived. Prefer to share your trip during evening rides only? Night time sharing will be an option.
911 Assistance: While no one should ever have to call 911 when using Uber, no form of transportation is 100 percent free of incidents. If ever faced with an emergency situation, we want to help you get the help you need. That's why the Uber app will soon include a new emergency button that will connect you directly with 911. Importantly, this feature will show you your real-time location in the app—both on a map and as an address—so you can share it directly with the 911 operator. We'll also soon launch this feature for drivers.
911 integration pilot: Federal regulators estimate about 10,000 lives could be saved every year if first responders were able to get to a 911 caller just one minute faster. We're teaming up with RapidSOS to pilot 911 integration with local emergency authorities, starting in Denver. If a rider uses Uber's emergency button in one of our pilot cities, their location and trip details will be automatically sent to the 911 dispatcher. We'll be monitoring this pilot closely and evaluating further expansion.
Modernizing 911 communications: Eighty percent of 911 calls come from cell phones and, because of the way wireless technology works, calls are sometimes routed to the wrong 911 center. We're partnering with the National Emergency Number Association on a project to improve communications between the nation's thousands of 911 centers. In the short term, this investment will create an enhanced, geographically searchable database to help emergency dispatchers more quickly connect callers to the correct 911 center.
Strengthening Driving Screening
Since Uber got started nearly nine years ago, we have conducted criminal and driving record screenings on millions of people. While no background check is perfect, our process is thorough, fair, and relevant to the work at hand. However, we can do more to ensure drivers continue to meet our standards on an ongoing basis, long after they take their first trip. Moving forward we will increase due diligence to strengthen our screening process:
Annual reruns: In the past, Uber conducted background check reruns in jurisdictions where required. Going forward, we'll proactively rerun criminal and motor vehicle checks each year, regardless of whether there is a legal obligation to do so.
New offense notifications: Uber will go beyond annual reruns and be among the first to invest in technology that rapidly identifies new offenses. Using data sources that cover most new criminal offenses, we will receive notifications when a driver is involved and leverage this information to help continuously enforce our screening standards.
We will investigate and verify any potentially disqualifying information from public records, such as a new and pending charge for a DUI, to ensure the driver is still eligible to use Uber.
Expanding our Safety Advisory Board
Uber's Safety Advisory Board was created in 2015 to bring new approaches, feedback, and expertise to our safety processes and technology. Today I'm excited to announce our first chairman of the board:
Welcome Jeh Johnson: Former U.S. Secretary of Homeland Security Jeh Johnson will join Uber's Safety Advisory Board as Chairman. From leading the country's efforts to keep Americans safe to protecting the traveling public from the Ebola virus, Secretary Johnson brings global expertise that reflects Uber's size and scale. He also co-authored the report that paved the way for the repeal of the "don't ask, don't tell" policy by Congress. Johnson will lead the six-member board, which consists of law enforcement, road safety, criminal justice, sexual assault and domestic violence prevention experts.
Since 2009, Uber has been helping people move safely around their cities, countries, and the world. These changes will build on the safety benefits that ridesharing already brings, such as helping people avoid drunk driving, providing GPS tracked records of every trip, and 24/7 feedback and response from our safety team.
Technology can make travel safer than ever before. And while there's been a lot of progress, we're committed to doing more.
When it comes to safety, Uber is ready to move forward.