US

|

Dec 11, 2014
Driving out childhood hunger with #1MillionMore Meals
Written by
Earlier this week, we pledged to make a donation and raise funds to connect children in need with #3MillionMeals when we announced our first national giving campaign supporting No Kid Hungry. As an organization, Uber made a donation of 1 million meals to No Kid Hungry towards that goal, and through the generosity of the Uber community nationwide – in less than 48 hours, we have exceeded our original goal of #3MillionMeals.
Thank you Uber Riders and Driver Partners for joining Uber to provide #3MillionMeals
We are humbled and inspired by the incredible effort the Uber community has already made. Uber has decided to increase our own contribution to No Kid Hungry, and together — with the support of riders and driver partners — we are confident we can reach #1MillionMore by the end of the week.
Let's give #1MillionMore together!
There are still ways to join this movement to drive out childhood hunger. We've extended the timeframe on the DONATE option in the Uber app in participating cities through Friday; UberLUNCH ran in nine cities today; and tomorrow in Boston, Chicago, DC and Seattle we are hosting UberCHEF with on-demand professional chefs.  Every dollar is donated directly to No Kid Hungry.
---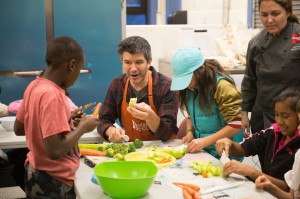 Yesterday members of the Uber team including CEO Travis Kalanick volunteered at Cooking Matters, a program affiliated with No Kid Hungry, which provides important cooking skills and resources.
---
It's clear just how much the Uber community can accomplish when we come together.  We're excited to keep this giving campaign going, and we hope you will join us in providing #1MillionMore meals to children in need.