US

|

Apr 12, 2021
Donate a ride to someone in need
Written by
This time last year, the world was full of uncertainty. Much has changed since then and, despite the pandemic's tragic toll, we've all felt a growing sense of optimism that better days are ahead. But there is still work to be done to make sure we can all share equally in the recovery. 
This year, Uber has so far provided more than 2 million free or discounted trips to organizations around the world as part of our larger commitment  to help connect people in underserved communities with available vaccines. Building on that commitment, we are excited to continue this work with incredible partners—and hope you will join us too. 
Uber's Vaccine Access Fund
The White House recently called on corporations to join in the effort to fight the pandemic and promote the use of vaccines. Answering the call, Uber, PayPal, and Walgreens created the Vaccine Access
Fund. People can support the Vaccine Access Fund by donating to PayPal Giving Fund, which is a registered 501(c)(3) charity, including through the Uber app. The fund will be granted to and managed by the Local Initiatives Support Corporation (LISC), a national nonprofit community development organization, to help ensure transportation is never a barrier to getting a vaccine.
The three companies have contributed $11 million to the fund for rides to vaccination sites. LISC, which has invested more than $24 billion over the last 40 years to catalyze opportunities in underserved communities, will grant the money to local organizations that deliver social and economic services, especially for people who have been disproportionately affected by the pandemic. LISC will provide technical support, enabling these groups to provide rides to people using Uber's ride booking technology regardless of whether or not the individuals themselves have smartphones or credit cards.
We've already begun to see the impact that providing access to rides is having. From Los Angeles to Jersey City, we have been working with cities and nonprofits to help provide rides to vaccination sites. In Atlanta last month, Uber and Walgreens partnered with three prominent churches to vaccinate nearly 5,000 people over three days. Uber and UNESCO also recently joined forces to provide 1 million free rides to vaccination sites for teachers around the world. Now, we hope to reach even more people in need with the Vaccine Access Fund.
We are thrilled to have PayPal and Walgreens as founding partners of the fund and looking forward to expanding our reach with the help of other corporations and Uber users. 
Tap a button, donate a ride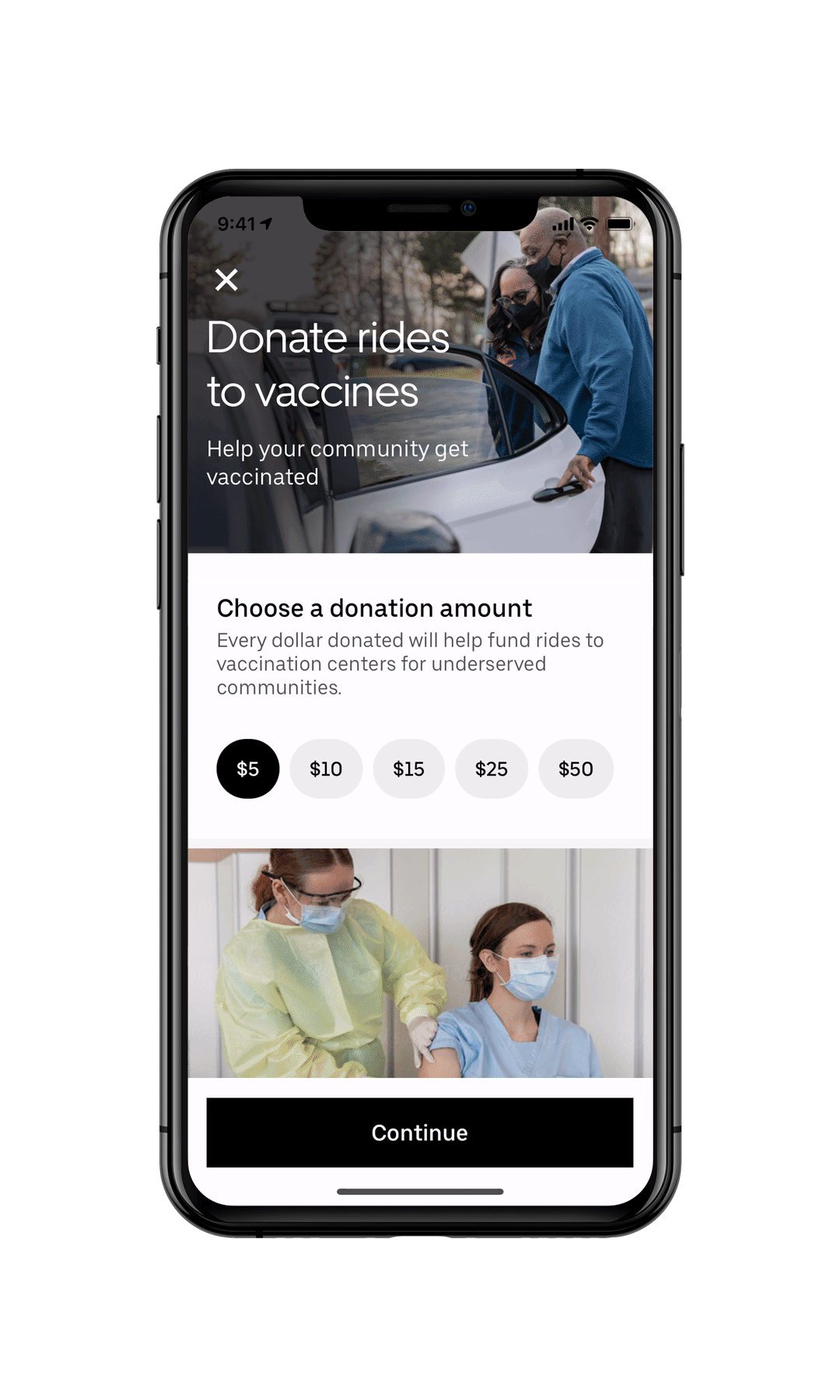 Nobody should miss their opportunity to get the vaccine because they don't have a ride—yet nearly half of Americans can't access public transportation and millions miss medical appointments due to a lack of transportation. Uber can help bridge that gap and, with our new in-app donation feature, supported by the PayPal Giving Fund, we can all pitch in. 
Starting today, Uber users in the United States can support the Vaccine Access Fund through  their Uber or Uber Eats app. Simply tap here to donate or open your Uber or Uber Eats app, tap the donate message and choose your donation amount. When rides to vaccine sites aren't needed anymore, any remaining funds will be used to advance health equity in underserved communities including helping to provide rides to medical appointments.
Together with PayPal and Walgreens, we're excited to expand our impact with the Vaccine Access Fund. We can't move forward until we can all move forward.