South Africa

|

Jan 21, 2015
Creating jobs one ride at a time
Written by
In the short time we have been in South Africa, Uber has created over 2,000 jobs. This number could easily grow to over 15,000 in the next two years.
Using our technology, we have connected a great number of South Africans and visitors with safe, reliable rides across the country. While we may provide the technology– the real thank you goes to our partner drivers. They are the ones who drove you to your first date, picked you up after a late night on the town, and made sure you got to that important meeting on time. Without our partner drivers, you wouldn't have access to reliable rides in our four biggest cities. 
Today, the spotlight is on these drivers. Here are their stories: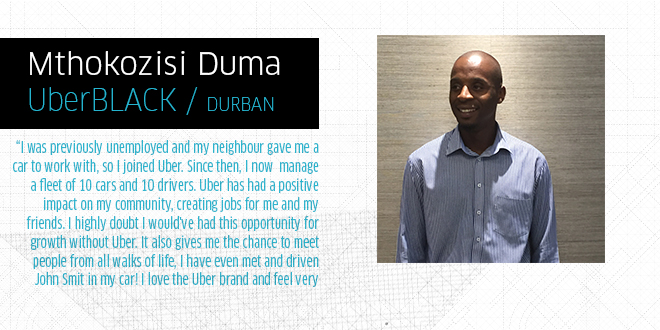 Uber's focus is and always has been to deliver as much value to partner-drivers as possible, and we will continue to support and empower our  partner-drivers through increased economic opportunity.
Share your stories!
Post your favourite driver story to our Facebook using the hashtag #UberPartnerLoveSA.
Or, tweet some #UberPartnerLoveSA and spread the love! We will be sure to pass on the feedback to your favourite partner drivers 🙂 
Lots of love,
Uber South Africa