Sri Lanka

|

Mar 31, 2020
Introducing Essential Supplies Delivery On Uber Eats
Written by
The government of Sri Lanka and Uber Eats have joined forces to deliver essential supplies to households in Colombo and the suburbs. To support communities during the ongoing curfew and traffic restrictions, users can now get everyday essentials safely delivered on the same day, in full compliance with hygiene measures and traffic restrictions, and have the option of paying through card or cash.
The service will provide everyday essential food items to people who are supporting the government's efforts to slow the rapid spread of COVID-19 by staying at home. Following the temporary closure of all restaurants and shopping centres, Uber Eats has partnered with supermarkets and small independent businesses to meet the growing needs of the public.
Getting essential items delivered is very easy: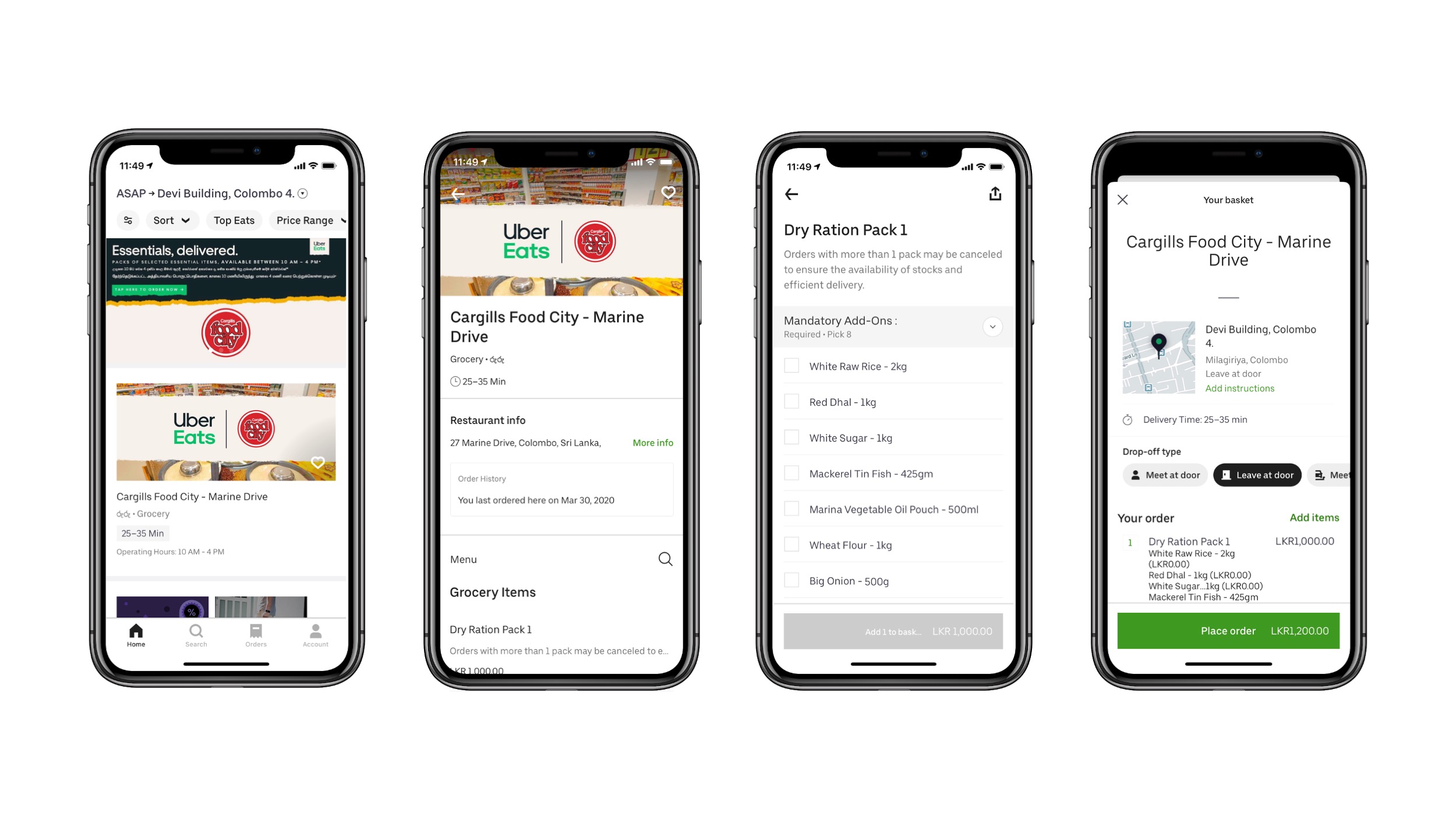 Download the app

– Just search for Uber Eats on the App Store or Play Store

 Register your account

– Sign up with the same details used for Uber Rides or a valid e-mail address to create a new account

 Pick your delivery location

– Enter the address where you would like your groceries delivered

 Find the items you need

– Browse through local grocery vendors or search by item, and sort according to price and speed, to find the essentials you need

 Place your order

– Pick the items you want right away or schedule your order to arrive at your convenience

 Pay through Card or Cash

– Pay through your Debit/Credit card or choose cash on delivery

 Track the progress of your delivery

– Get updates as your order is prepared and track it in real-time as the order gets delivered to your destination

Contactless delivery

: Users can request deliveries be left on their doorsteps when placing an order
All deliveries placed via the Uber Eats app can be contactless. For your safety, as well as the safety of delivery people, we recommend that customers avoid all contact and comply with guidelines shared by the Health Promotion Bureau. The safety of all Sri Lankans is the top priority for Uber Eats and we are determined to stand together to try to contain the spread of the pandemic.
We want to ensure small business to quickly pivot, to be able to keep their doors open and continue to feed their community with essential supplies. If would like to partner with us to ensure these supplies reach the people in need, please write to us on restaurants.colombo@uber.com .