Canada

|

Jan 13, 2016
It's Our Birthday, Edmonton!
Written by
One year ago, we began providing riders throughout Edmonton with access to safe, reliable transportation. Through thick and thin, we've grown from just a few cars on the road to helping thousands of Edmontonians get from A to B, all thanks to your support. Since we can't throw a party big enough to thank each and every one of you who has helped us get here, we're bringing the party to you!
IN CELEBRATION OF OUR FIRST BIRTHDAY, FROM 11AM TO 3PM TOMORROW, WE'LL BE DELIVERING FREE CRAVE CUPCAKES ON DEMAND TO DOWNTOWN EDMONTON AND WHYTE AVE AREA!
HOW IT WORKS:
1. Download the Uber app for iPhone, Android, or Windows
2. Between 11am and 3pm tomorrow, January 14th, slide over to the 'CUPCAKES' option at the bottom of the Uber app
3. Tap 'REQUEST CUPCAKES' – you'll get a call from your driver to confirm your order
4. A special Uber birthday cupcake from Crave Cupcakes will be delivered to you in minutes!
We expect demand to be high, please be patient!
Note: Quantities will be limited, one cupcake order per requestor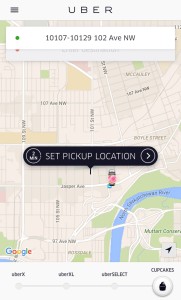 WHAT KIND OF CUPCAKES?:
Each package contains one handmade cupcake from Edmonton's Crave Cupcakes featuring Crave's moist chocolate cake topped with their specialty "Uber Blue" vanilla buttercream and finished with signature clear sprinkles. *Note: Product may contain nuts.
Let's get the #UberCUPCAKES party started!
SHARE WITH FRIENDS