Canada

|

May 12, 2023
2022 US & Canada Merchant Impact Report
Written by
In a year of economic uncertainty, higher labor costs and broader inflation, small and medium-sized businesses (SMBs) are more important to communities than ever. At Uber Eats, our merchant partners play a fundamental role not just in the success of our business, but in keeping us connected to the customers we serve. Whether it's the go-to breakfast taco place, the neighborhood florist, or the coffee shop that has great espresso and even better pastries, our team shares the same excitement for the local favorites available every day on Uber Eats.
That's why we're committed to building products and services that bring measurable value to small business owners. And why for the second consecutive year, we're proud to publish the results of the 2022 US & Canada Merchant Impact Report—which come directly from a survey of merchant partners across the region. The report represents what they care most about, and helps us understand how we can best continue to serve them as we build our businesses together.  
In 2022, Uber Eats helped facilitate billions of dollars in orders to local restaurants, grocery, alcohol and convenience stores, resulting in deliveries to more than 50 million customers across the US and Canada. As a result, US&C merchants earned more than $15 billion in sales through Uber Eats.
Once again, merchants who partner with Uber Eats made it clear that their top priorities are reaching new customers and increasing sales—that remains a consistent theme when it comes to why merchants choose us. But this year in particular, they called out ongoing challenges in retaining staff and reported that partnering with Uber Eats has been crucial to fueling business growth in the current economic environment.
We know that business growth is real: According to our merchant survey, more than 85% of merchants report that using Uber Eats has increased their revenue since joining the platform and more than 80% report that their businesses are more profitable with Uber Eats than they would be without it. 
Today and every day, we're focused on partnering with SMBs to help them grow their businesses on their own terms—especially when times are hard. Whether through investments like our Grants for Growth Program or by partnering with other leading technology solutions to simplify operations, our teams are building new tools and resources to help merchants grow at their own speed, and in their own way.
The 2022 Merchant Impact Report provides a deep dive into Uber's work with SMB merchants, their priorities, and how our work together impacts local communities and economies.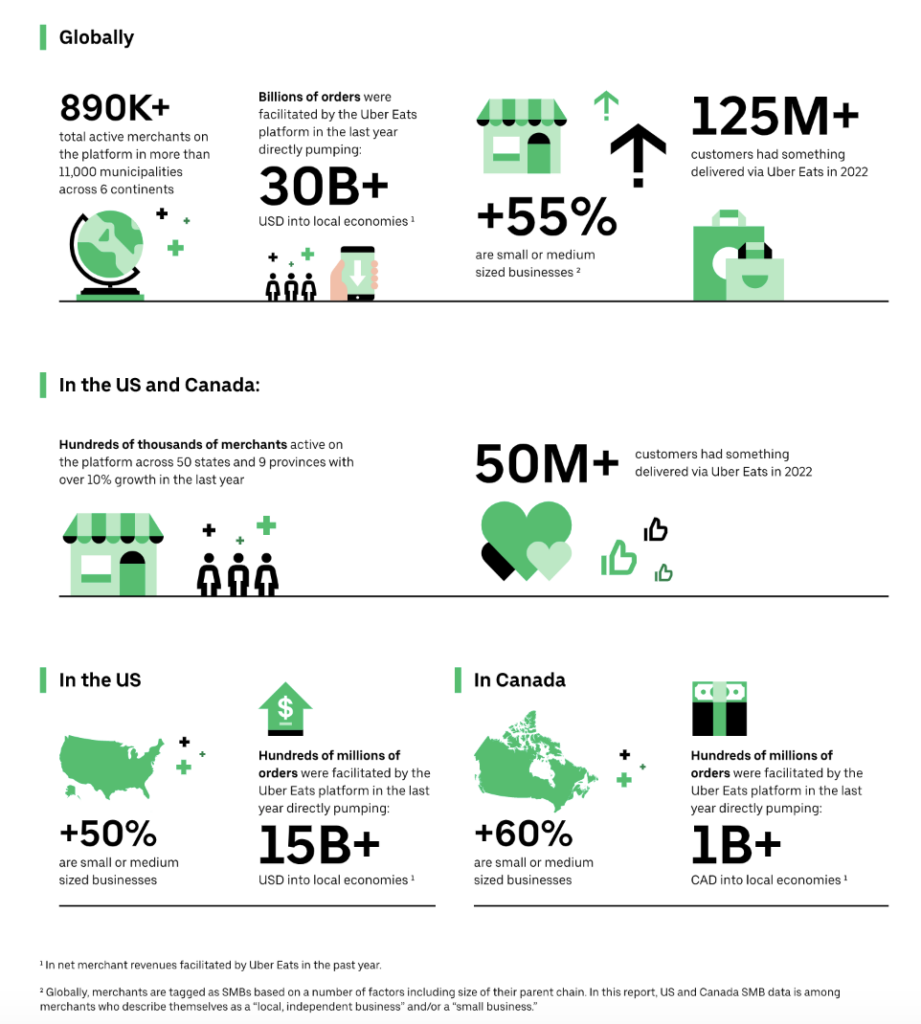 Digging deeper, SMB merchants reported that:
Uber Eats is a valuable and reassuring long-term part of SMB growth—particularly in the face of inflation and general economic uncertainty
94% (US) and 96% (CAN) plan to keep partnering with Uber Eats in a year from now

91% (US) and 90% (CAN) expect their revenue from Eats to stay the same or increase in the next year

70% (US) and 72% (CAN) agree that Uber Eats is a reassuring source of business and revenue as inflation and other financial challenges are top of mind

70% (US) and 67% (CAN) feel that Uber Eats has a positive impact on their business's ability to manage current economic challenges
Uber Eats is an important part of SMB success in driving both higher revenue and profit
86% (US) and 85% (CAN) report that using Uber Eats has increased their revenue since joining the platform

The average reported change in revenue was an increase of 10.5% in the US and 13.1% in Canada.

82% (US) and 80% (CAN) report that their businesses are more profitable with Uber Eats than they would be without it

Over half of SMBs in US and CAN say that more than 10% of their business's total sales come from online delivery platforms

More than half of SMBs in US and CAN feel that Uber Eats is crucial to their business success
Uber Eats is a key partner in helping SMBs achieve their top two business objectives: new customer acquisition and growth. 
89% (US) and 86% (CAN) report that Uber Eats has helped them reach new customers they otherwise wouldn't have been able to reach

Customer reach has made the cost of delivery and pick up with Uber Eats worthwhile (83% in the US/79% in Canada)
Uber Eats enables SMBs to grow their businesses in ways they otherwise wouldn't be able to pursue without the partnership
81% (US) and 81% (CAN) agree that Uber Eats provides delivery options that they would not be able to handle in-house without the partnership
85% (US) and 84% (CAN) agree that Uber Eats allows them not to have to worry about the additional costs or logistics challenges of operating delivery in-house