Aeroportul Internațional Miami (MIA)
Cauți o alternativă la serviciul tradițional de transfer sau taxi din Aeroportul Miami? Dacă mergi de la Aeroportul Miami către South Beach sau de la Ocean Drive către MIA, ajungi unde dorești cu aplicația Uber pe care deja o știi. Apeși doar un buton și comanzi o cursă către și de la MIA.
Miami, FL 33126
+1 305-876-7000
Rezervă în avans o cursă cu Uber la Aeroportul Internațional Miami
Încheie-ți planurile pentru astăzi rezervând o cursă cu Uber la Aeroportul Internațional Miami. Comandă o cursă cu până la 90 de zile înainte de zbor, la orice oră și în orice zi.
Comandă o cursă oriunde în lume
Apeși pe un buton acum și beneficiezi de transport la peste 700 de aeroporturi din întreaga lume.
Deplasează-te prin oraș ca un localnic
Lasă aplicația și șoferul partener să se ocupe de detalii când străbați un oraș necunoscut.
Cu Uber te simți ca acasă
Găsește funcțiile tale preferate, inclusiv tarife afișate în timp real și plăți electronice, chiar dacă te afli într-un loc nou.
Modalități de a călători în zonă
Preluare de la Aeroportul Internațional Miami (MIA)
Deschide aplicația pentru a comanda o cursă
Când ești gata, deschide aplicația Uber pentru a comanda o cursă către destinație. Alege o opțiune de transport din Aeroportul Miami potrivită pentru numărul de persoane și de bagaje cu care călătorești.
Vei primi indicații de orientare referitoare la locurile de preluare din Aeroportul MIA, direct în aplicație.
Ieși pe la nivelul inferior, de la sosiri sau plecări, în cazul tuturor locurilor de preluare de la Aeroportul Miami.
La nivelul "Sosiri", locurile de preluare pentru cursele împărțite (ridesharing) se află pe trotuarul interior din mijloc.
Confirmă locul în care te afli
Selectează terminalul și locul de preluare din Aeroportul MIA, după cum se specifică în aplicație. Reține că este posibil ca locul respectiv să nu fie întotdeauna lângă ieșirea cea mai apropiată de tine.
Numele șoferului partener, numărul de înmatriculare și culoarea mașinii vor fi afișate în aplicație. Verifică vehiculul înainte de a te urca în el. Dacă nu găsești șoferul partener, contactează-l prin intermediul aplicației.
Aeroportul Miami are 131 de porți în șase terminale. Aproape toate terminalele deservesc sosiri internaționale, cu excepția Terminalului G.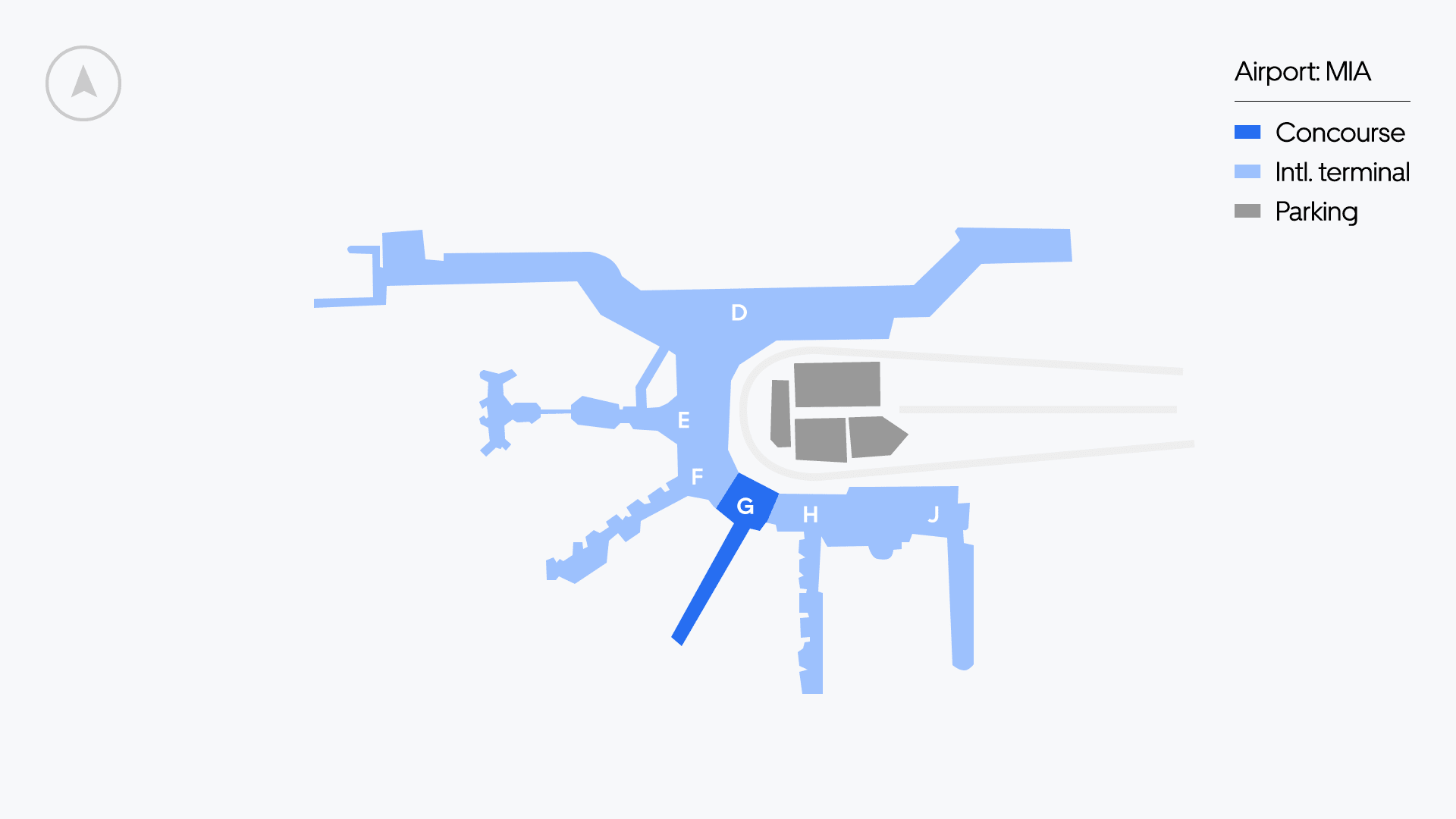 Cele mai frecvente întrebări ale pasagerilor
Do drivers using Uber pick up at MIA?

Cât costă o cursă Uber până la Aeroportul Internațional Miami (MIA)?

The cost of an Uber trip to (or from) MIA depends on factors that include the type of ride you request, the estimated length and duration of the trip, tolls, and current demand for rides.

You can see an estimate of the price before you request by going here and entering your pickup spot and destination. Then when you request a ride you'll see your actual price in the app based on real-time factors.

Unde mă întâlnesc cu șoferul pentru preluare de la aeroport?

Pickup locations may depend on the type of ride you request and the size of the airport. Follow the instructions in the app about where to meet your driver. You can also look for signs that point to designated airport rideshare zones.

If you can't find your driver, contact them through the app.
Află detalii care îți îmbunătățesc cursele de aeroport: de la locurile de preluare a pasagerilor până la regulile și reglementările locale ce trebuie respectate.

Curse la și de la peste 700 de aeroporturi din întreaga lume.
Informații pentru vizitatorii Aeroportului Miami
Miami International Airport (MIA) is the 12th-busiest airport in the US based on passenger traffic, serving more than 44 million travelers annually. Located 8 miles (13 kilometers) from downtown Miami, the airport is about a 25-minute drive in ideal road and traffic conditions.
Miami Airport terminals
MIA Airport has 3 main terminals: North Terminal, Central Terminal, and South Terminal. Each terminal houses concourses for the different boarding gates. Miami Airport lounges are located in all terminals. You can plan your trip using the information below.
MIA North Terminal (D Concourse)
American
British Airways
Centurion Lounge
American Airlines Admirals Club
MIA Central Terminal (E, F, and G concourses)
Aer Lingus
Aeroflot
Air Europa
Air Italy
Aruba
Avior
BoA
Cayman
Finnair
Flair
Frontier
Iberia
Interjet
Qatar
Spirit
Sun Country
Surinam Airways
Swift Air
TAP Air Portugal
TUI fly
United
Volaris
WestJet
World Atlantic
XL Airways France
Club America
MIA South Terminal (H and J Concourses)
Aerolíneas Argentinas
Aeroméxico
Air Canada
Air France
Alitalia
Austrian
Avianca
Bahamasair
Caribbean Airlines
Copa
Delta
El Al
GOL
KLM
LATAM
Lufthansa
Miami Air
SAS
Spirit
Sunwing
SWISS
Turkish
Virgin Atlantic
Viva Air
Avianca VIP Lounge
Delta Sky Club
VIP Lounge Miami
MIA international terminal
Miami Airport international flights depart from all 3 terminals. MIA Airport offers nonstop flights to 107 international destinations.
Dining at Miami Airport
There are more than 130 Miami Airport food and beverage destinations across all of MIA's terminals and concourses. From fast-food chains to restaurants and cafes serving international cuisine, travelers have a variety of dining places to choose from. MIA Airport restaurants with table-service options are located throughout the terminals.
Getting around Miami Airport
The MIA Mover, an automated people mover system, provides Miami Airport transportation to passengers between Miami International Airport's main terminal building and the Miami Intermodal Center (MIC). The MIA Mover is one of the Miami Airport shuttles operating at the airport. Another is the Skytrain, which operates within Concourse D.
Things to do at Miami Airport
Miami Airport hosts art throughout the airport terminals, including several art galleries and exhibits. The airport is also home to an interactive children's play area called Plane Fun, located in Concourse E near Gate E5 and accessible from Concourse D. For adults, spas are located on the 2nd level of South Terminal H and on the 2nd level of South Terminal J, offering pedicures, manicures, and massages.
Currency exchange at Miami Airport
Miami Airport currency exchange offices are located in Concourse D (East), Concourse E, Concourse F, Concourse G, and Concourse H.
Hotels near Miami Airport
Whether you have a layover or an overnight flight delay, or you need a place to stay for a visit near MIA, there are more than 40 hotels or accommodations nearby.
Points of interest near Miami Airport
Collins Avenue
Key Biscayne
Miami Design District
South Beach
South Pointe Pier
Virginia Key
Find more information about Miami Airport here.
Această pagină conține informații de pe site-uri web ale terților, asupra cărora Uber nu are niciun control și care pot fi modificate sau actualizate periodic. Toate informațiile de pe această pagină care nu sunt asociate în mod direct companiei Uber sau operațiunilor sale au scop exclusiv informativ și nu trebuie să fie luate ca referință ori interpretate sau înțelese ca oferind garanții de orice fel, în mod explicit sau implicit, în ceea ce privește conținutul lor. Anumite cerințe și caracteristici variază în funcție de țară, regiune și oraș.