O'Hare'i rahvusvaheline lennujaam (ORD)
Kas otsid alternatiivi tavalisele Chicago O'Hare'i lennujaam transfeerile või taksole? O'Hare'ist Navy Pierile või Cloud Gate'ist lennujaama sõites saad juba tuttava Uberi rakenduse abil soovitud sihtkohta jõuda. Telli sõit lennujaama ORD või sealt tagasi ühe nupuvajutusega.
Chicago, IL 60666
+1 800-832-6352
Broneeri Uberi sõit lennujaama O'Hare'i rahvusvaheline lennujaam
Vii oma plaanid juba täna täide, broneerides Uberi sõidu lennujaama O'Hare'i rahvusvaheline lennujaam. Telli sõit kuni 90 päeva enne lendu, igal ajal ja igal päeval aastas.
Puuduta ekraanil nuppu ja telli lennujaamatransport enam kui 700 suuremas keskuses.
Lase rakendusel ja juhil üksikasjade eest hoolitseda, et Sa ei peaks võõras linnas ekslema.
Tunne end koos Uberiga koduselt
Leia oma lemmikfunktsioonid, muu hulgas reaalajas hinnad ja sularahavabad maksed, isegi kui oled uues kohas.
Piirkonnas sõitmise viisid
Pealevõtmine asukohast O'Hare'i rahvusvaheline lennujaam (ORD)
Sõidu tellimiseks ava rakendus
Kui oled valmis, ava Uberi rakendus ja telli sõit oma sihtkohta. Chicago O`Hare´i lennujaama puhul vali sõiduk, kuhu mahub kogu Su seltskond oma pagasiga.
You'll get directions about ORD pickup points directly in the app. Pickup locations may vary by terminal and product.
For most requests, you'll meet your rideshare driver on the Departures level of Terminal 2.
For requesting Uber Black or SUV at ORD, please meet your driver on the Arrivals level of any terminal.
Vali rakenduses näidatud terminali ja ORD pealevõtmiskoht. Pane tähele, et see koht ei pruugi alati olla Sulle lähima väljapääsu juures.
Rakenduses kuvatakse Sinu juhi nimi, numbrimärk ja auto värv. Enne sisenemist kontrolli, kas sõiduk on õige. Kui Sa ei leia juhti üles, võta temaga rakenduse kaudu ühendust.
Chicago O'Hare'i lennujaam Kaart
ORD lennujaamas on 4 reisijaterminali – terminalid 1, 2, 3 ja 5 – milles on kokku 191 väravat. 5. terminal tegeleb kõigi rahvusvaheliste saabuvate lendudega.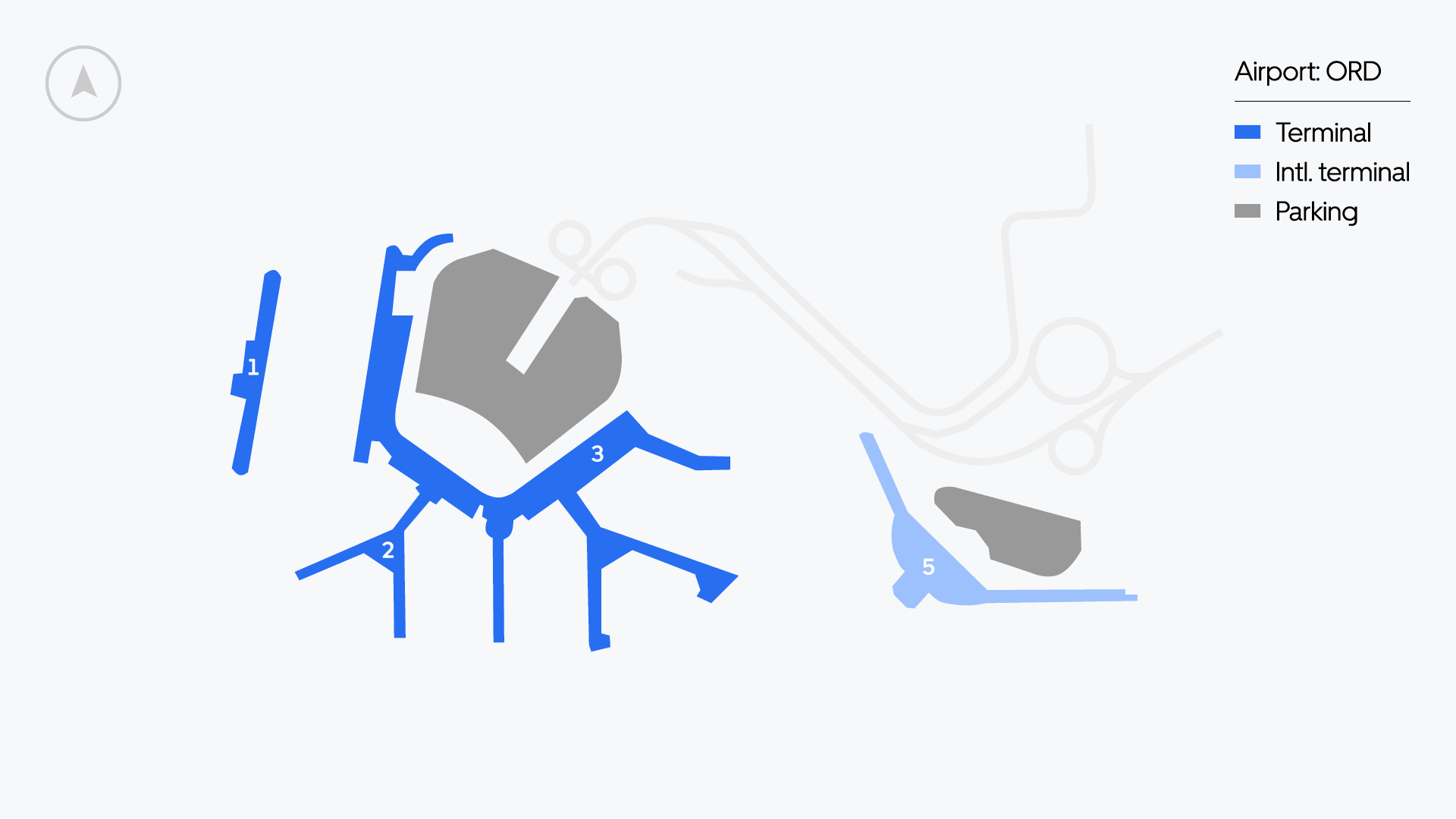 Sõitjate levinuimad küsimused
Do drivers using Uber pick up at ORD?

Kui palju maksab Uberi sõit ORD-sse?

The cost of an Uber trip to (or from) ORD depends on factors that include the type of ride you request, the estimated length and duration of the trip, tolls, and current demand for rides.

You can see an estimate of the price before you request by going here and entering your pickup spot and destination. Then when you request a ride you'll see your actual price in the app based on real-time factors.

Kus ma juhiga lennujaamast pealevõtmiseks kokku saan?

Pickup locations may depend on the type of ride you request and the size of the airport. Follow the instructions in the app about where to meet your driver. You can also look for signs that point to designated airport rideshare zones.

If you can't find your driver, contact them through the app.

Mida ORD tähendab?

Chicago O'Hare'i rahvusvaheline lennujaam oli kunagi lennukitehas nimega Orchard Place. Sealt pärinebki lennujaamakood ORD.
Alates sõitjate pealevõtmiskohtadest kuni kohalike reeglite ja eeskirjadeni – vaata, kuidas oma lennujaamasõidud paremaks muuta.

Kas lähed teise lennujaama?

Lase ennast peale võtta ja maha panna enam kui 700 lennujaamas kogu maailmas.
O'Hare'i lennujaama teave külastajale
O'Hare International Airport (ORD) is the 6th-busiest airport in the world, serving almost 80 million passengers annually. O'Hare sits 16 miles (26 kilometers)—about a 35-minute drive in ideal road and traffic conditions—from downtown Chicago and the shores of Lake Michigan.
ORD Airport terminals
ORD has 4 terminals: Terminal 1, Terminal 2, Terminal 3, and Terminal 5. Chicago Airport lounges are located across all terminals. You can plan your trip using the information below.
ORD Terminal 1
All Nippon
Lufthansa
United
United Club & Polaris lounge
ORD Terminal 2
Air Canada
Alaska
JetBlue
United Club
ORD Terminal 3
American
Cape Air
Contour Airlines
Denver Air Connection/Key Lime
Iberia
Japan
Southern Airways Express
Spirit
American Airlines Admirals Club & Flagship Lounge
ORD Terminal 5
Aer Lingus
Aeroméxico
Air France
Air India
Air New Zealand
All Nippon
Austrian
British Airways
Cathay Pacific
Copa
Delta
Emirates
Etihad
Ethiopian
EVA Air
Finnair
Frontier
Icelandair
KLM Royal Dutch
Korean Air
LOT Polish
Qatar
Royal Jordanian
Scandinavian
Southwest
Sun Country
SWISS
TAP Air Portugal
Turkish
VivaAerobus
Volaris
WestJet
Delta Sky Club
SAS Lounge
Swissport Lounge
ORD international terminal
Boarding and arrivals for O'Hare Airport international flights can be found predominantly in Terminal 5, but some international flights depart from Terminals 1 and 3.
Multi-Modal Facility (MMF)
Multi-Modal Facility (MMF): The Multi-Modal Facility (MMF or Economy Parking Lot F) at 10255 W. Zemke Blvd., Chicago, IL 60666 is now the pick up site for regional buses including:
Coach USA / Van Galder
Express Air Coach (EAC)
Lafayette Limo
Peoria Charter Coach
Reindeer Shuttle
Wisconsin Coach USA
Dining at ORD Airport
More than 135 Chicago Airport food options, including cafes, bars, fast-food chains, and Chicago Airport restaurants with table service, are located throughout the airport. Travelers can find a variety of food at ORD, including sushi, Mediterranean food, cookies, popcorn, California-style fare, Neapolitan pizza, and more.
Getting around ORD Airport
Travelers can use the Chicago Airport transportation system, called Airport Transit System (ATS), to get around. This 2.5-mile-long automated people mover (4 kilometers) operates 24 hours a day, connecting all 4 terminals and the remote parking lots. Stations are clearly marked within each terminal.
Things to do at ORD Airport
Chicago Airport is home to a variety of attractions, including a public art program featuring sculptures, paintings, murals, and exhibits located throughout the airport. A 72-foot-long Brachiosaurus skeleton model (22 meters), on loan from Chicago's Field Museum, is found on the upper level of Terminal 1 in Concourse B. A yoga room featuring a sustainable bamboo wood floor, floor-to-ceiling mirrors on one wall, and exercise mats, is available to use in the Terminal 3 rotunda next to the Urban Garden. Chicago Airport shops include newsstands and high-end fashion boutiques.
Currency exchange at ORD Airport
Currency exchange offices for passengers at O'Hare are located in the following areas:
Terminal 1: Gates B9 and C18
Terminal 2: Main hall
Terminal 3: Gate K11
Terminal 5: Upper and lower levels
Hotels near ORD Airport
Whether you have a layover or an overnight flight delay, or you need a place to stay for a visit near ORD, there are more than 30 hotels and accommodations nearby, as well as many hotels to choose from in and around downtown Chicago.
Points of interest near ORD Airport
Chicago's aquarium
Chicago's art museums
The Magnificent Mile
Navy Pier
Willis Tower
Find more information about ORD Airport here.
Sellel lehel on muude pakkujate veebilehtede andmed, mida Uber ei kontrolli ja mida võidakse regulaarselt muuta või uuendada. Kogu siin lehel toodud teave, mis pole otseselt Uberi või selle tegevusega seotud, on puhtalt informatiivne ja sellele ei tohi ühelgi juhul toetuda ega tõlgendada seda mingi otsese või kaudse garantiina siin sisalduva teabega seoses. Teatud nõuded ja funktsioonid sõltuvad riigist, piirkonnast ning linnast.