Laramie Regional Airport (LAR)
Looking for an alternative to the traditional Laramie Airport shuttle or taxi? Whether you're going from Laramie Airport to a hotel or from your home to LAR, get where you're going with the Uber app you already know. Request a ride to and from LAR at the tap of a button.
Laramie, WY 82070
+1 307-742-4164
Reserve a ride with Uber in advance at Laramie Regional Airport
Complete your plans today by reserving a ride with Uber to Laramie Regional Airport. Request a ride up to 90 days before your flight, at any time and on any day of the year.
Request a ride around the world
Tap a button now and get airport transportation at more than 700 major hubs.
Let the app and your driver handle the details, so you don't have to navigate an unfamiliar city.
Find your favorite features, including real-time pricing and cash-free payment, even if you're in a new place.
Pickup at Laramie Regional Airport (LAR)
Request when you're ready to walk outside
Choose a ride option that suits your group size and luggage storage needs. And select your pickup location in the app.
Exit the terminal from arrivals
Head outside to your pickup location.
If you can't find your driver, contact them through the app.
Laramie Regional Airport has one terminal that handles only domestic flights.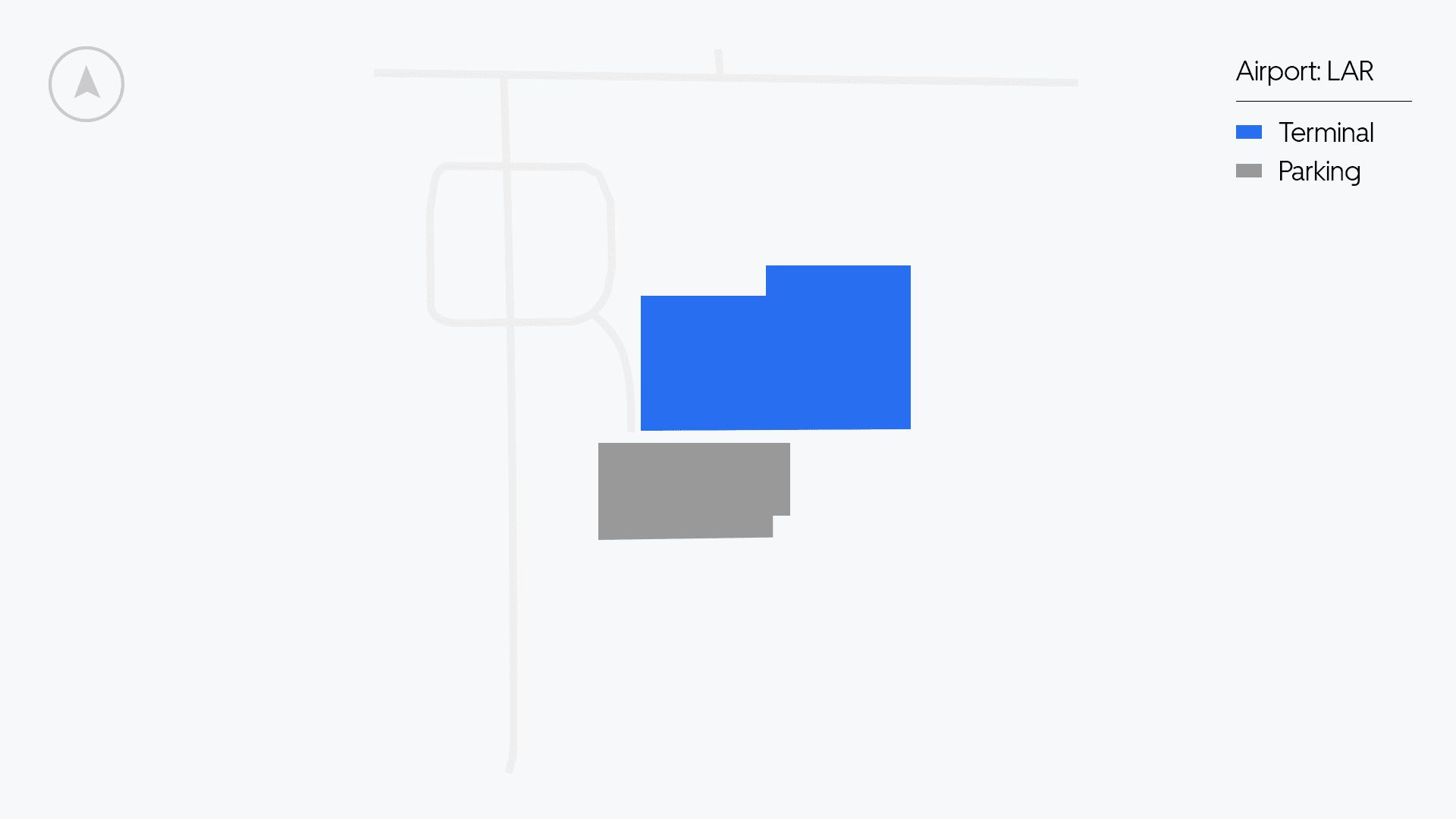 Top questions from riders
Do drivers using Uber pick up at Laramie Airport?

How much will an Uber trip to Laramie Airport cost?

The cost of an Uber trip to (or from) Laramie Airport depends on factors that include the type of ride you request, the estimated length and duration of the trip, tolls, and current demand for rides.

You can see an estimate of the price before you request by going here and entering your pickup spot and destination. Then when you request a ride you'll see your actual price in the app based on real-time factors.

Where do I meet my driver for an airport pickup?

Pickup locations may depend on the type of ride you request and the size of the airport. Follow the instructions in the app about where to meet your driver. You can also look for signs that point to designated airport rideshare zones. If you can't find your driver, contact them through the app.
From where to pick up riders to following local rules and regulations, find out how to make your airport trips better.

Going to a different airport?

Get dropped off and picked up from more than 700 airports around the world.
Laramie Regional Airport visitor information
Laramie Regional Airport serves the city of Laramie, Wyoming, and handles around 30,000 travelers annually. LAR Airport is about an 11-minute drive in ideal road and traffic conditions from downtown Laramie, which is located 6 miles (10 kilometers) from the airport.
Laramie Airport terminal
Laramie Regional Airport has one main passenger terminal. There are no international flights at Laramie Regional Airport and no airport lounges. You can plan your trip using the information below.
Laramie Regional Airport airline
Hotels near Laramie Airport
Whether you have a layover or an overnight flight delay, or you need a place to stay for a visit near LAR, there are more than 15 hotels and accommodations nearby.
Points of interest near Laramie Airport
Bamforth National Wildlife Refuge
Laramie Plains
Medicine Bow–Routt National Forests
Washington Park
Find more information about LAR here.
This page contains information from third-party websites that are not under the control of Uber and that may be periodically changed or updated. Any information included on this page that is not directly related to Uber or its operations is for informational purposes only and in no way shall be relied upon, or interpreted or construed to create any warranties of any kind, either express or implied, regarding the information contained herein. Certain requirements and features vary by country, region, and city.