Gimpo International Airport (GMP)
Looking for an alternative to the traditional Gimpo Airport shuttle or taxi? Whether you're going from Gimpo Airport to Incheon Airport or Seoul Station to Gimpo Airport, get where you're going with the Uber app you already know. Request a ride to and from GMP at the tap of a button.
7505
+82 1661-2626
Reserve a ride with Uber in advance at Gimpo International Airport
Complete your plans today by reserving a ride with Uber to Gimpo International Airport. Request a ride up to 90 days before your flight, at any time and on any day of the year.
Request a ride around the world
Tap a button now and get airport transportation at more than 700 major hubs.
Let the app and your driver handle the details, so you don't have to navigate an unfamiliar city.
Find your favorite features, including real-time pricing and cash-free payment, even if you're in a new place.
Pickup at Gimpo International Airport (GMP)
Request a ride when you're ready to walk outside the gate
Choose a ride option that suits your needs for comfort, group size, luggage storage, and language.
Your ride option will determine your pickup point:
Uber Black: Gate 1 for international terminal, Gate 6 for domestic terminal
International Taxi: Gate 3 at international terminal only
You can contact your driver through the app.
Please check the terminal you're using. You can go to another terminal by airport shuttle bus.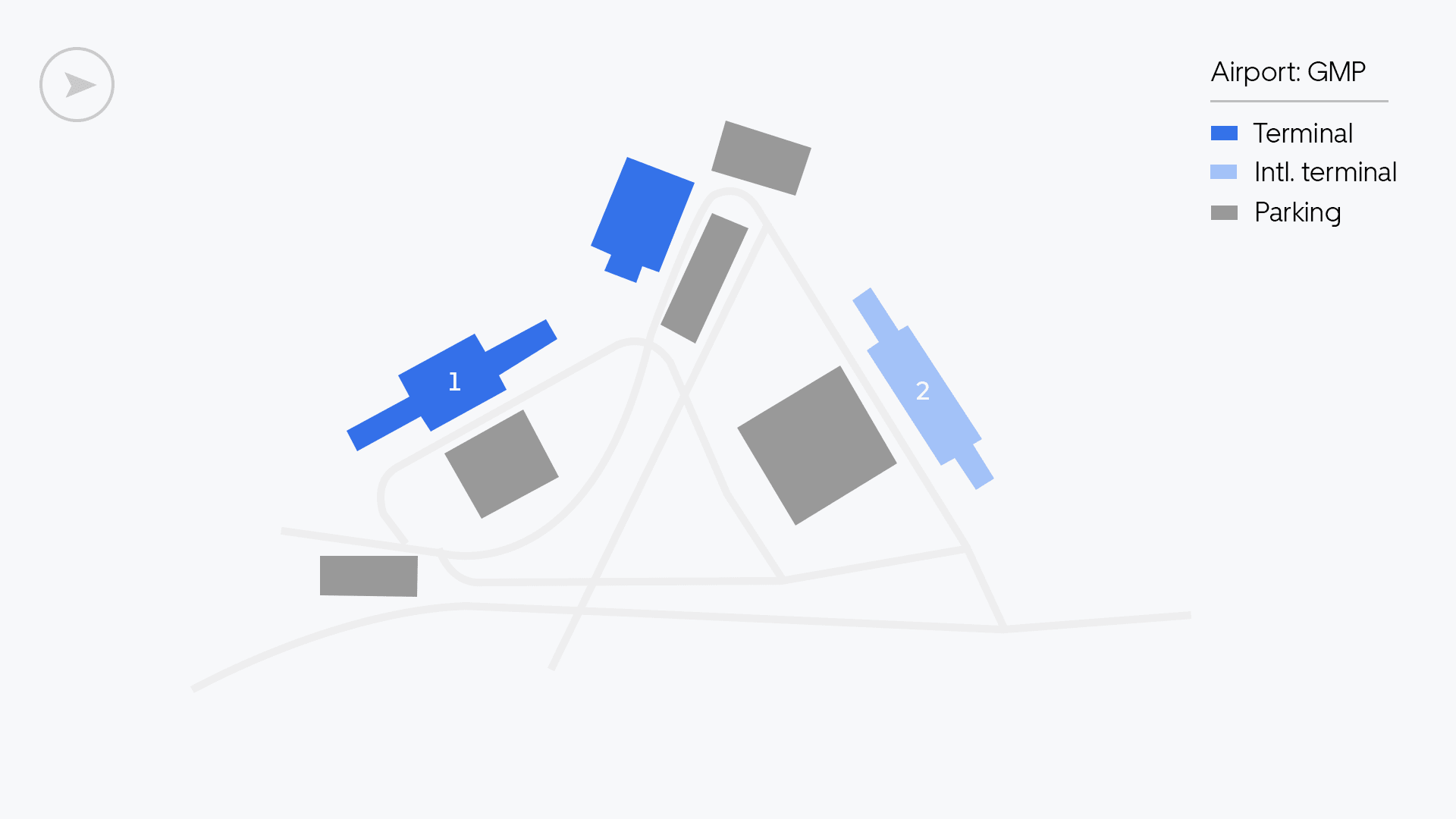 Top questions from riders
Is Uber available at Gimpo Airport?

Yes. Riders can request a ride with the Uber app.

How much will an Uber trip to Gimpo Airport cost?

It depends on where you're being picked up. Uber offers a variety of options in a reasonable price range.

Is there an Uber airport fee?

No. There is no separate airport fee for Uber airport trips.

Where do I meet my driver for an airport pickup?

Uber Black drivers are waiting at Gate 1 if you're at the international terminal and at Gate 6 if you're at the domestic terminal.

International Taxi drivers are waiting at Gate 3 of the international terminal.
From where to pick up riders to following local rules and regulations, find out how to make your airport trips better.

Going to a different airport?

Get dropped off and picked up from more than 700 airports around the world.
Gimpo Airport visitor information
Gimpo International Airport (GMP) is the No. 1 domestic airport in South Korea.
Opening in 1958 as an international airport of South Korea, it became hard for Gimpo Airport to meet the increasing demand as overseas travelers to Korea skyrocketed in the 1980s. This led to the construction of a new international airport in Incheon, and Gimpo Airport operating domestic lines only. A few years later, Gimpo Airport restarted international flights, reclaiming its title as Gimpo International Airport.
Nonetheless, domestic demand accounts for a large portion of GMP flights, thanks to the close distance from Seoul and tightly developed domestic lines. Gimpo Airport is located 20 minutes from Seoul Station, the center of the capital city of South Korea.
Gimpo Airport terminals
As international and domestic flights are separated into 2 terminals in Gimpo Airport, you have to move to another terminal if you need to transfer flights. You can take a free airport shuttle bus to get to another terminal.
Things to do at Gimpo Airport
At the observatory at the Korea Airports Corporation (KAC) building next to Gimpo's domestic terminal, visitors can enjoy the view and take photos with Porty, KAC's mascot. GMP is linked to Sky Park, a nature-friendly rest area open to all visitors that also has a huge shopping mall encompassing a department store, a supermarket, and a cinema.
Find more information about Seoul Gimpo International Airport (GMP) here.
This page contains information from third-party websites that are not under the control of Uber and that may be periodically changed or updated. Any information included on this page that is not directly related to Uber or its operations is for informational purposes only and in no way shall be relied upon, or interpreted or construed to create any warranties of any kind, either express or implied, regarding the information contained herein. Certain requirements and features vary by country, region, and city.